Blanched Asparagus with Mediterranean Salsa
Blanched Asparagus with Mediterranean Salsa is a wonderful side dish to accompany most main dishes.  It's a two-fer:  Blanched asparagus can be eaten on their own and the mediterranean salsa can be served over grilled chicken, on bruschetta or alongside pita chips.  
But, top the asparagus with the salsa and you've got one heck of an eye-pleasing, palate-happy dish!
The salsa comes together easily:  just combine the cherry tomatoes, shallots, garlic, herbs, kalamata olives and jalapeño pepper together in a bowl.  Drizzle with lemon juice and olive oil and mix together.  Season to taste with kosher salt and freshly ground pepper.  Set this aside while you are blanching the asparagus.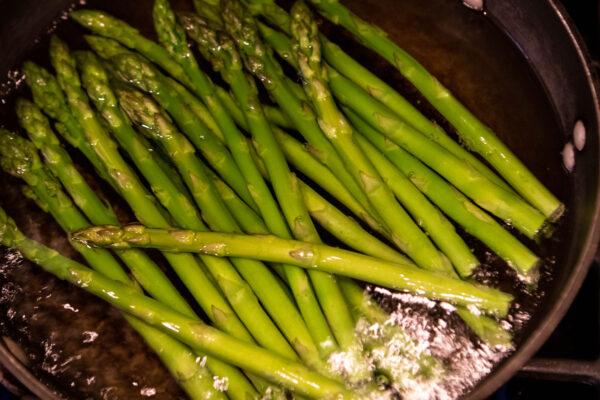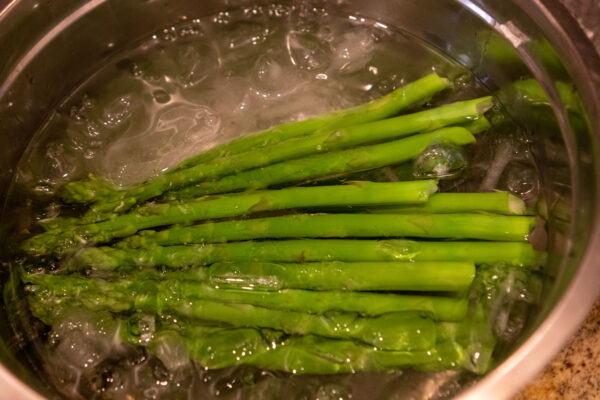 Blanching asparagus is an easy way to cook asparagus.  It also allows the deliciousness of asparagus to shine through.  But you have to know how to do it or you will end up with a mushy, grey pile of unappetizing stalks.  That doesn't sound very good.
It's really such a simple technique.  Bring a big pot of water to a boil and add a few tablespoons of salt.  Drop the asparagus into the water and boil for about 3 or 4 minutes, no longer unless they are exceptionally thick.
You will want to have an ice bath on hand close to the asparagus.  This is simply a bowl filled with water and ice.  Make sure that the water is very cold.
Using tongs or a slotted large spoon, remove the asparagus from the boiling water and drop them into the ice bath, making sure they are fully immersed.  This shocks the asparagus, stopping the cooking and delivering their most green color.  This shock technique is also great for broccoli, carrots, green beans and more vegetables.
Once the asparagus are fully cold, drain them from the ice bath and pat them dry on paper towels or a clean kitchen towel.
Move the asparagus to a platter, squeeze a little lemon juice, olive oil and salt & pepper over them and serve them as is or topped with Mediterranean Salsa.  Enjoy this vibrant, easy side dish!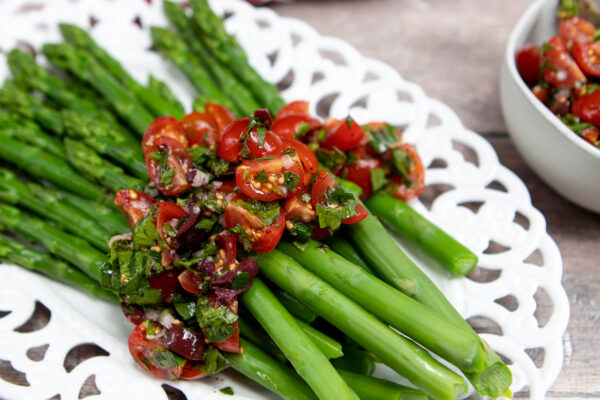 Lastly, if you make Blanched Asparagus with Mediterranean Salsa, be sure to leave a comment and/or give this recipe a rating! Above all, I love to hear from you and always do my best to respond to each and every comment. And of course, if you do make this recipe, don't forget to tag me on 
Instagram
! Looking through the photos of recipes you all have made is one of my favorite things to do!
Blanched Asparagus with Mediterranean Salsa
Makes: 4 servings
Prep Time: 12 minutes
Cook Time: 4 minutes
Total Time: 16 minutes
Ingredients
Mediterranean Salsa:
12 oz cherry tomatoes, cut into quarters

1 to 2 shallots, finely chopped

1 garlic clove, minced

1/2 cup chopped fresh parsley

1/2 cup chopped fresh mint

6 to 7 pitted kalamata olives, chopped (optional)

1 jalapeño pepper, finely chopped (optional if you want to add heat)

Kosher salt and pepper

1/2 tsp to 1 teaspoon

sumac

2 to 3 tsp lemon juice

Extra virgin olive oil
Asparagus:
1 & 1/2 pounds asparagus, tough ends trimmed

Zest of 1 lemon
Instructions
Mediterranean Salsa:
Place quartered cherry tomatoes, chopped shallots, minced garlic, chopped fresh herbs, chopped kalamata olives (if using), and chopped jalapeño (if using) in a mixing bowl. Season with kosher salt, pepper, and sumac (start with a heaping 1/2 teaspoon sumac, add more later if needed). Toss gently.
Add lemon juice and a generous drizzle of quality extra virgin olive oil. Toss to combine. Set aside for a few minutes to let the flavors marry.
Blanched Asparagus:
In a cooking pot or large saucepan, bring 8 cups of water, seasoned with 2 tablespoons of kosher salt, to a boil. Have a large bowl of ice water ready next to it (this is an ice bath for the blanched asparagus).
When water comes to a rolling boil, add the prepared asparagus. Boil until tender, 3 to 4 minutes (depending on thickness). Remove with tongs, or drain in a colander, and immediately transfer to the bowl of ice water for 1 minute to stop the cooking process. Drain; set aside to cool down a bit (or if you prefer to serve it as a salad, chill in the fridge for a bit).
When ready to serve, arrange the asparagus on a serving platter. Season with salt and pepper. Add a drizzle of good extra virgin olive oil and lemon zest. Top with Mediterranean Salsa.
Recipe by The Mediterranean Dish
Blanched Asparagus with Mediterranean Salsa