Mint-Chocolate Ice Cream Cake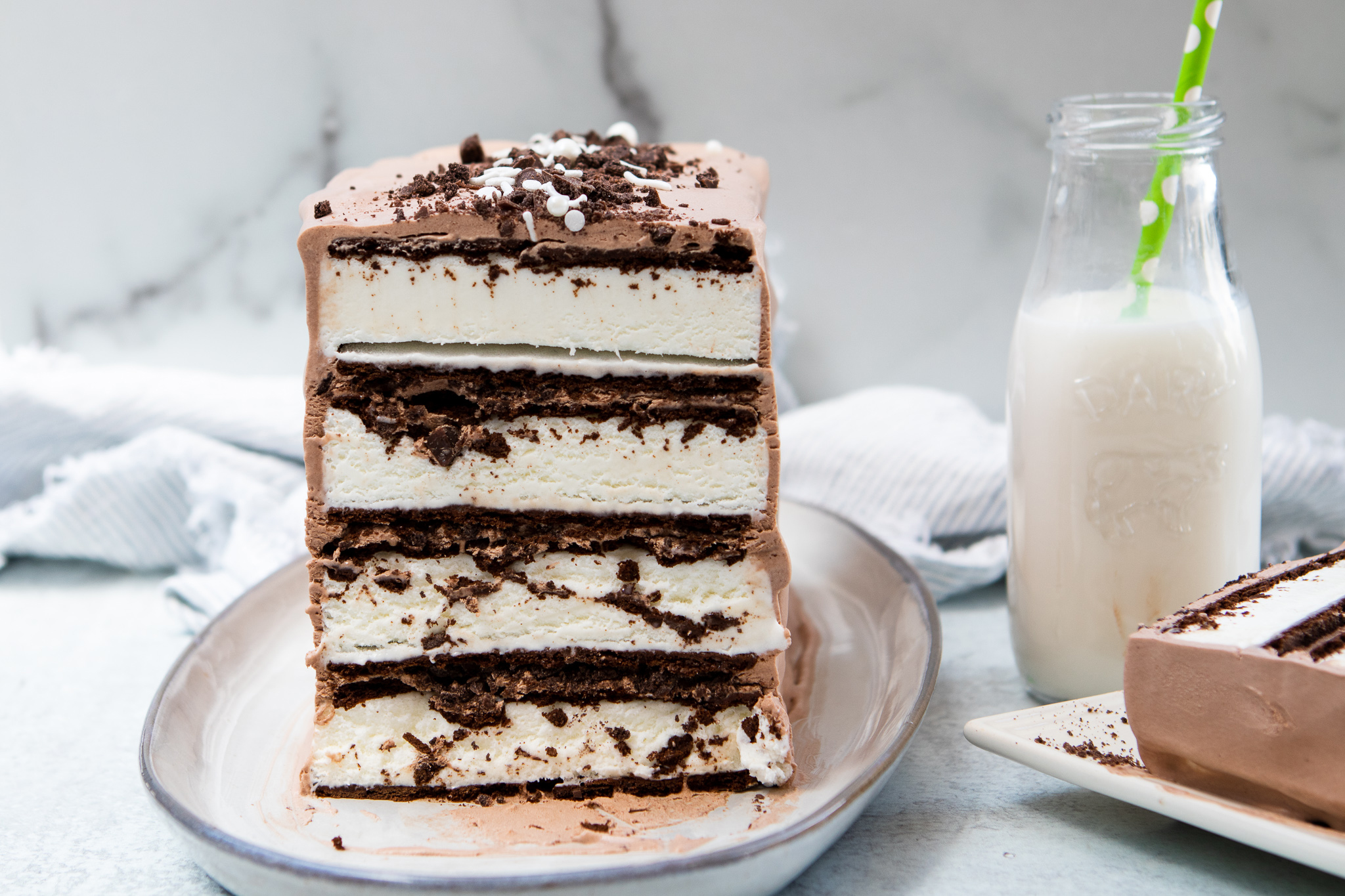 With Father's Day right around the corner, you need to channel Dad's inner child and make this mint-chocolate ice cream cake.  This is a throwback to dad's childhood, when he ate ice cream sandwiches while sitting on the porch on a hot summer's day.  Okay, maybe he still does that!!  But, this complicated-looking cake is simply stacked ice cream sandwiches layered with mint-chocolate whipped cream and  mint-chocolate cookies.  So easy.  So pretty.  So retro!
What I love about this recipe, besides how delicious it tastes, is the ease with which such a showstopper can be made.  Now, some purists may say that it's all store-bought ingredients, to which I reply "And the problem is"?  Look, we all want delicious beautiful desserts, but who really wants to work their tails off to produce it, especially in the summer?  I want simple and easy, but tasty and pretty!  So, forget what a purist might say (btw, I don't know any!) and try this one out!
It starts with whipping some heavy cream that you add chocolate syrup and peppermint extract to.  Then, crush up some mint-and-fudge cookies, such as Keebler Grasshopper cookies.  The next step is to layer ice cream sandwiches, mint-chocolate whipping cream and crushed cookies.  Continue that until you have 4 layers for a tall, stacked beauty of a dessert.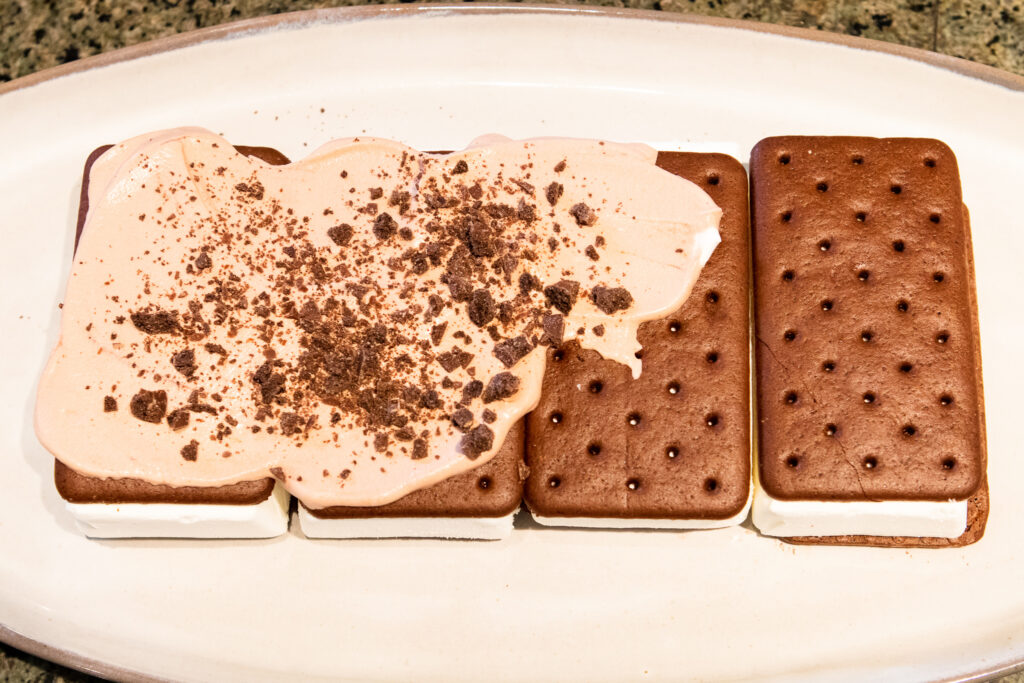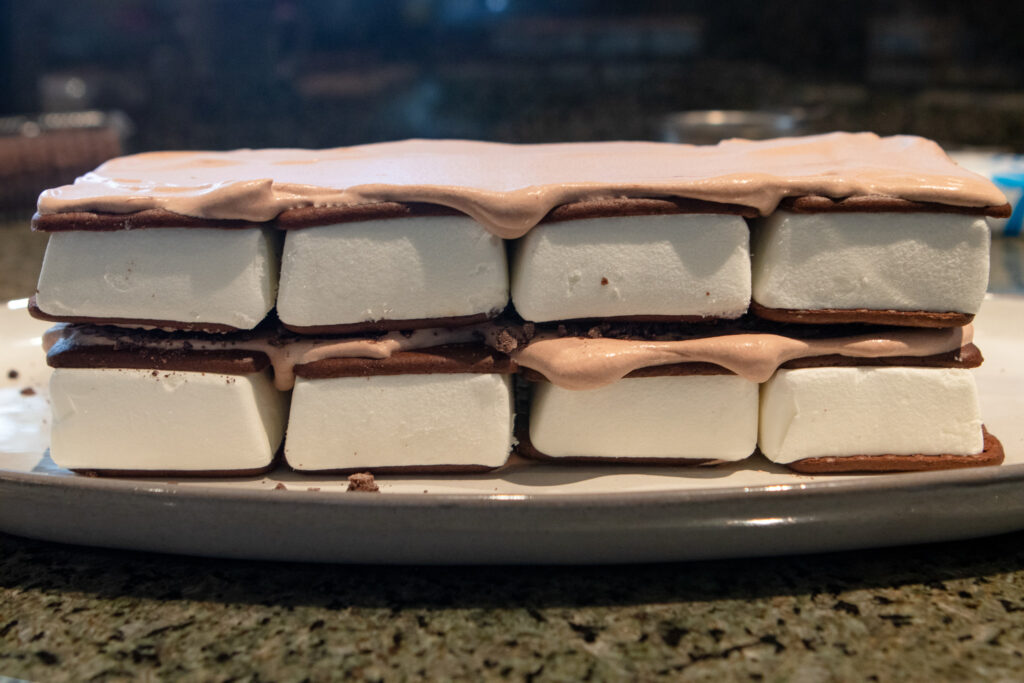 Finally, coat the entire dessert in another layer of whipping cream.  Sprinkle some chopped up cookies on top and ta-da!!!  A dessert worthy of any occasion!
Lastly, if you make Mint-Chocolate Ice Cream Cake, be sure to leave a comment and/or give this recipe a rating! Above all, I love to hear from you and always do my best to respond to each and every comment. And of course, if you do make this recipe, don't forget to tag me on 
Instagram
! Looking through the photos of recipes you all have made is one of my favorite things to do!
Mint-Chocolate Ice Cream Cake
Makes: 8-12 servings
Prep Time: 30 minutes
Total Time: 1 hour & 50 minutes
Ingredients
2 cups heavy cream

2/3 cup prepared chocolate syrup

1 tsp peppermint extract

16 (4-ounce) ice cream sandwiches, divided

1 cup finely chopped mint-and-fudge cookies, such as Keebler Grasshopper cookies (about 10 cookies), divided
Instructions
Using an electric mixer on medium-low speed, beat cream in a large bowl until medium-stiff peaks form. Gently fold in chocolate syrup and peppermint extract. Transfer half of the cream mixture to a medium bowl; cover and chill until ready to use.
Spread a thin layer of remaining cream mixture on bottom of a platter. Top with 4 ice cream sandwiches, placing 3 side by side and 1 along bottom of row for a square-shaped base, or 4 side by side for a rectangular-shaped base. Top with a thin layer of cream mixture and sprinkle with 1/4 cup cookies. Continue layering sandwiches, cream, and cookies, ending with a layer of cream, until all sandwiches are used (you should have 4 layers; reserve remaining 1/4 cup cookies). Wipe any excess cream off platter, then freeze until set, at least 1 hour or up to overnight.
Using a spatula, frost top and sides of cake with reserved cream mixture. Sprinkle reserved 1/4 cup cookies over cake. Freeze again 30 minutes, then slice and serve.
Fully assembled cake can be made 1 day ahead; keep frozen.
Recipe from Epicurious.com
Mint-Chocolate Ice Cream Cake