Buffalo Caramel Popcorn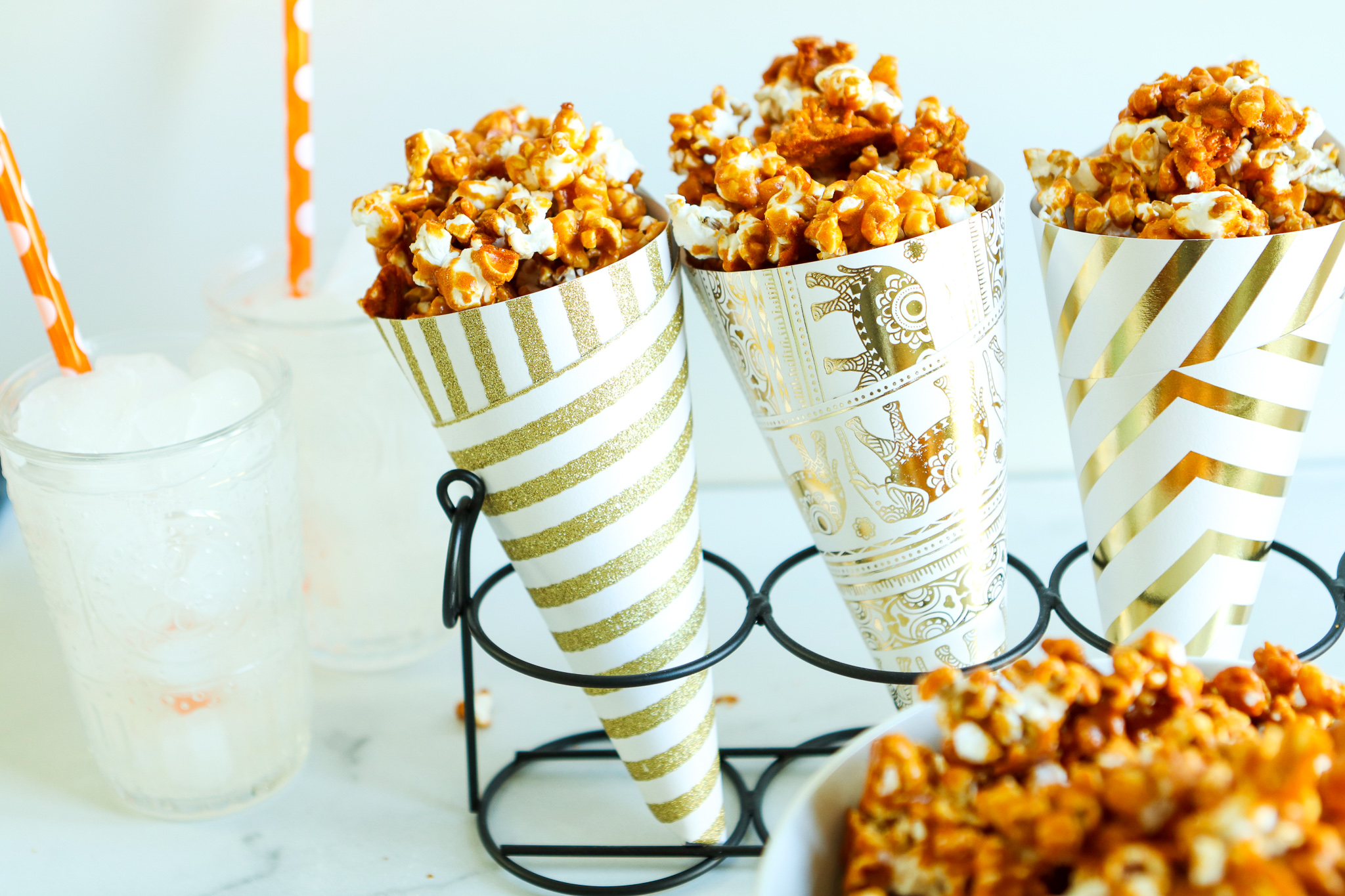 One of my favorite little "surprise" snacks is this Buffalo Caramel Popcorn.  I say "surprise" because it's got that bite of buffalo wing sauce and the sweet of caramel corn.  Surprise!!!!!
It's highly addicting and delicious to nibble on with cocktails, watching a sporting event or movie, or just any time you need something that's surprisingly yummy!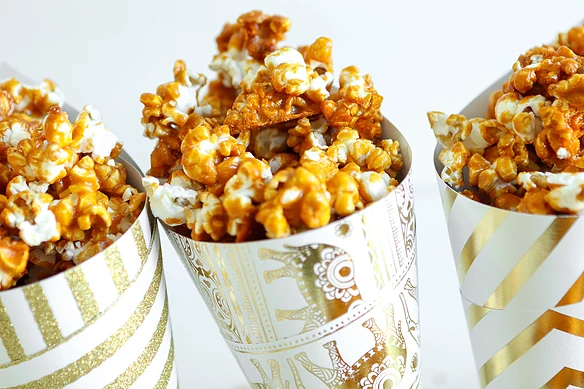 A few keys to this recipe: Make your own fresh popcorn.  It may be tempting to buy pre-made popcorn but it literally takes minutes to make, especially with an old-fashioned stove-top cooker (see below in the "Featured Products" section) and you know that you're getting pure, unadulterated popcorn!
Watch the caramel as you're making it.  It will go from light golden to dark in a matter of a minute or two and will burn in seconds.  If your caramel smells burnt, it is.  Don't use it…start over.  All you will have wasted is a little sugar, vs having a burned-out flavor to your popcorn.  ​
Work quickly once you add the baking soda…you need to toss the popcorn quickly so that the caramel doesn't harden up before the popcorn gets coated with it. ​ Don't let these tips worry you…I have made this recipe a bunch of times (sometimes remaking the caramel because I got distracted and it burned) and it's so worth taking the hints and making it right!  You are gonna love this!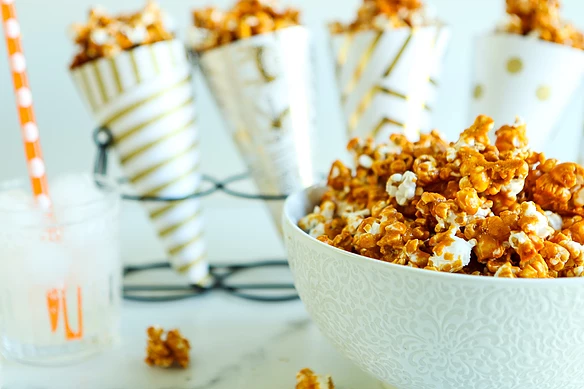 Lastly, if you make Buffalo Caramel Popcorn, be sure to leave a comment and/or give this recipe a rating! Above all, I love to hear from you and always do my best to respond to each and every comment. And of course, if you do make this recipe, don't forget to tag me on 
Instagram
! Looking through the photos of recipes you all have made is one of my favorite things to do!
Makes: 12 servings
Prep Time: 10 minutes
Cook Time: 30 minutes
Total Time: 40 minutes
Ingredients
Nonstick vegetable oil spray

8 cups popped plain popcorn (from 1/2 cup kernels)

3/4 cup sugar

1/4 cup Frank's Red Hot Original sauce

3 tbsp unsalted butter, cut into pieces

1 tsp kosher salt

1/2 tsp baking soda
Instructions
Preheat oven to 300°F. Line a rimmed baking sheet with parchment paper. Lightly coat parchment and a large bowl with nonstick spray; add popcorn to bowl. Set baking sheet aside.
Bring sugar and 1/4 cup water to a boil in a medium saucepan over medium heat, stirring to dissolve sugar. Boil, swirling pan occasionally, until caramel is a deep amber color, 10–12 minutes.
Remove from heat; stir in hot sauce and butter (mixture will bubble vigorously). Return to a boil and cook another 3 minutes. Remove from heat; stir in salt and baking soda.Working quickly (and carefully—caramel will be very hot), pour caramel mixture over popcorn and toss to coat. I like to spray two long-handled wooden spoons with cooking spray so that the caramel popcorn doesn't stick to the spoons.
Spread out popcorn on prepared baking sheet and bake, tossing once, until dry, 15–20 minutes. Let cool.
Chef's Note:
Popcorn can be made up to two days ahead. Store airtight at room temperature to keep out moisture.