Mummy Rice Krispie Treats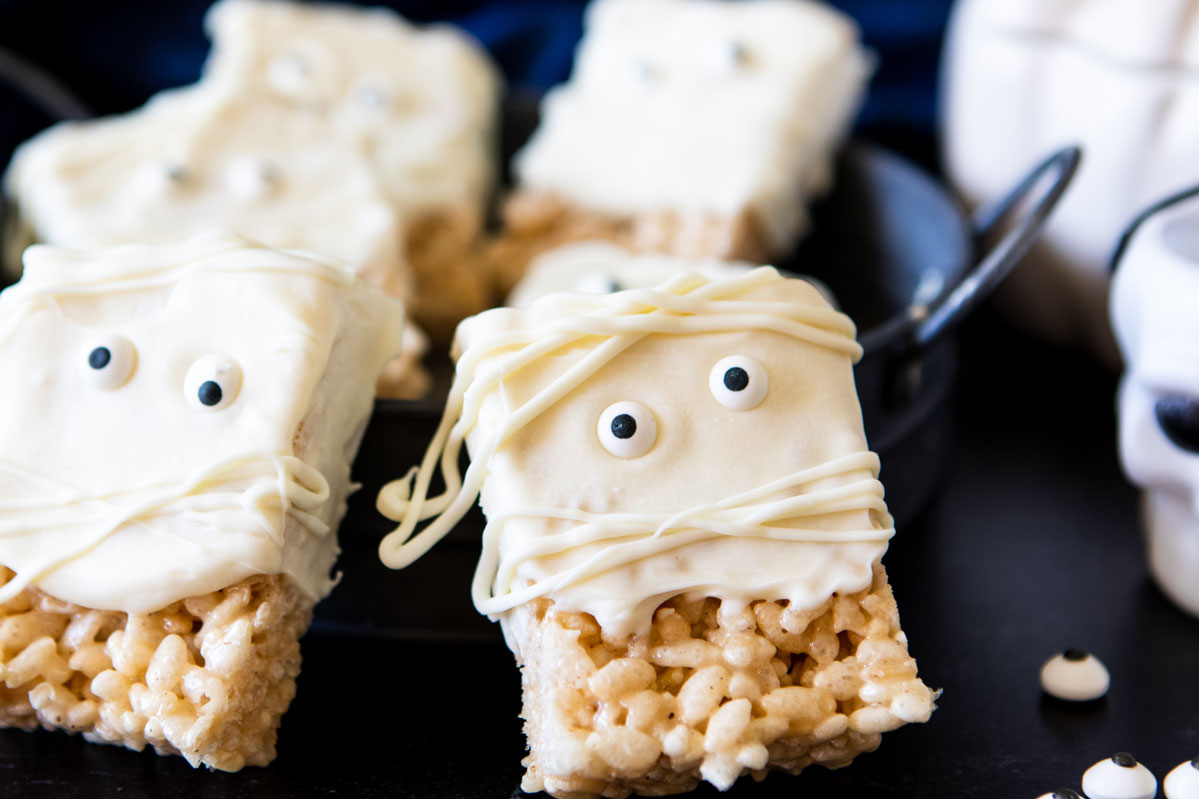 Just in case you didn't have enough Halloween treats, be the hero of the 'hood with these Mummy Rice Krispie Treats!  These are the perfect goodies to give to the little monsters that will be stopping by!
Made with browned butter, they are an easy no-bake treat that everyone will adore.
Begin by making a typical rice krispie treat, except let's brown the butter first, to give it a deeper, nuttier flavor.  We all know how sweet rice krispie treats can be, so melting the marshmallows in the brown butter takes a tiny bit of that sweet edge off.  Once the marshmallopws are melted, add the vanilla extract followed by the rice krispies.  Combine until the cereal is completely coated with the melted marshmallows.
Then press the mix into a square pan.  To do this more easily, I like to spray a baggie with cooking spray, stick my hand inside and push down until a tight, flat surface is made.  It's important that these bars are dense in order to dip them once cooled.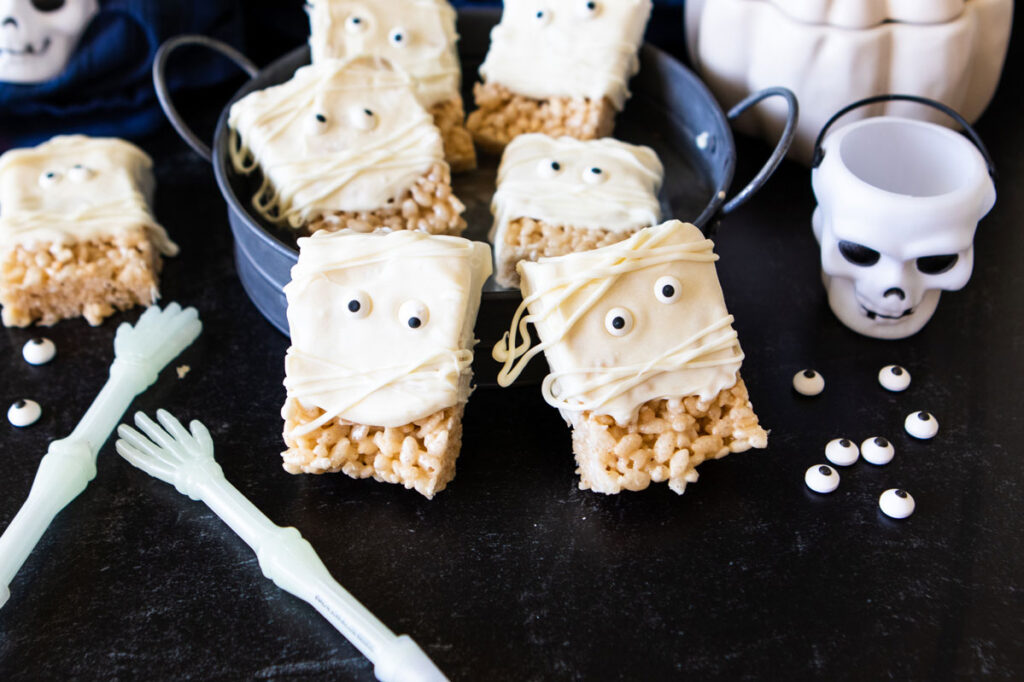 Microwave the white chocolate chips with a little bit of coconut oil until the chips are melted and smooth.  
Cut the bars into 12 rectangles and start dipping!  I used a small offset spatula to help coat the treats.  Just dip them about 2/3 of the way and set them on a parchment-lined tray to firm up.  While the white chocolate is still soft, add googly eyes.
Pour any exess white chocolate into a ziplock bag or pastry bag fitted with a small round tip.  Snip off one corner (very small, don't overdo it) and drizzle more white chocolate to look like mummies.  Place them in the fridge to firm up.
Enjoy!!
Lastly, if you make Mummy Rice Krispie Treats, be sure to leave a comment and/or give this recipe a rating! Above all, I love to hear from you and always do my best to respond to each and every comment. And of course, if you do make this recipe, don't forget to tag me on 
Instagram
! Looking through the photos of recipes you all have made is one of my favorite things to do!
Mummy Rice Krispie Treats
Makes: 12 treats
Prep Time: 15 minutes
Bake Time: 40 minutes
Total Time: 55 minutes
Ingredients
1/3 cup unsalted butter

Pinch of salt

1 tsp vanilla extract

16-ounce bag of marshmallows

5 cups Rice Krispies cereal

2 cups white chocolate chips

1 tsp coconut oil

Sprinkle googly eyes
Instructions
Grease a 9 x 9-inch pan with cooking spray and set aside.
In a large pot, brown the butter over medium heat, stirring constantly until the butter begins to foam and turns a golden brown, emitting a nutty aroma. Add the marshmallows and salt and stir with a rubber spatula, scraping down the sides to make sure the marshmallows do not burn. Remove from the heat immediately and stir in the vanilla extract.
Add the Rice Krispies, folding to coat the cereal completely.
Spoon the mixture into the prepared pan, pressing down into an even layer (see Chef's Note).
Place in the fridge to set for at least 20 minutes. Once set, use a sharp knife to cut the Rice Krispie treats into 12 rectangles.
In a microwave safe bowl melt the white chocolate and coconut oil in 15 second increments, stirring in between each. Repeat until completely melted and smooth.
Prepare a sheet pan by covering it with a sheet of parchment. Dip your Rice Krispie treats about 2/3 of the way in the white chocolate to coat evenly. If necessary, use a small offset spatula to help spread the white chocolate. Set on the parchment. Place your googly eye sprinkles.
Spoon the leftover white chocolate into a piping bag or a ziploc bag and snip off a small part to
make a small hole. Drizzle the mummies with more white chocolate over the top and bottom to make them look like mummies. Place in the fridge to set for 20 minutes.
Chef's Note:
I recommend using a rubber spatula sprayed with cooking spray or use a baggie coated in cooking spray to spread the rice krispie mixture in the pan.
Recipe from Broma Bakery
Mummy Rice Krispie Treats