Easy Banana Cake
If you're wondering what to do with dark, mushy bananas, our initial thought is typically throw them out and when you realize that's wasteful, you think of banana bread. I love a dense loaf of banana bread with a crunchy top that I can drizzle salted caramel sauce over. But, it's always fun to switch it up! How about banana cake?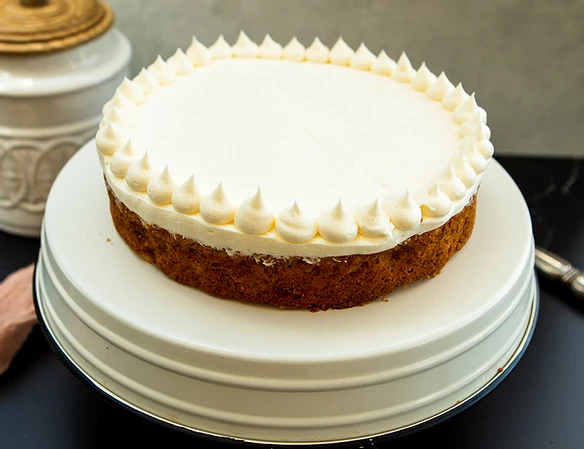 This recipe produces the lightest, most flavorful cake I've ever had! Truly! When you taste it, you will be surprised at how much flavor each mouthful packs…delicious banana flavor!
The buttercream is also light and fluffy and elevates the cake to an even higher level.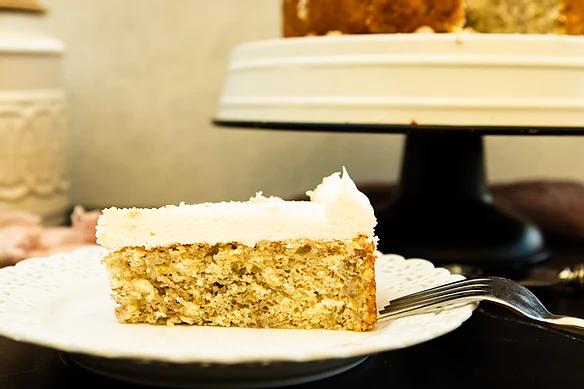 This banana cake is completed in 30 minutes, using only one bowl (no mixer!) for minimal cleanup. And, it will be good for at least a week, but I doubt it will last that long.
When you're looking for an alternative to banana bread, consider this recipe. I love to serve it at brunch or for dessert, which isn't something I would think of with banana bread.
Enjoy!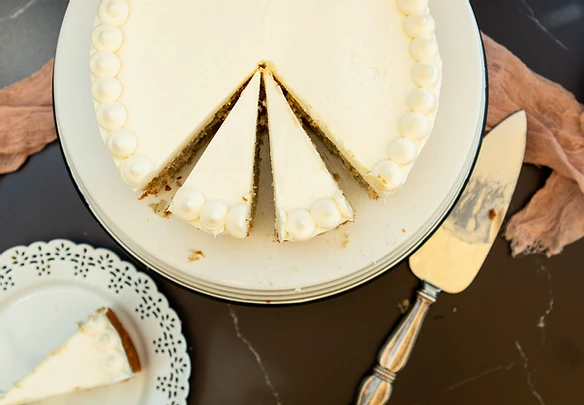 Lastly, if you make Easy Banana Cake, be sure to leave a review down below at the bottom of this page (stars are also appreciated)! Above all, I love to hear from you and always do my best to respond to each and every review. And of course, if you do make this recipe, don't forget to tag me on 
Instagram
! Looking through the photos of recipes you all have made is one of my favorite things to do!
Makes: 8 servings
Prep Time: 10 minutes
Bake Time: 40 minutes
Total Time: 50 minutes
Ingredients
Banana Cake:
1 & 1/2 cups unbleached all-purpose flour

1/2 cup sugar 

1 tsp baking powder

1/2 tsp baking soda

1/4 tsp salt

3 ripe bananas, mashed

2/3 cup milk of choice or water

3 tbsps oil

2 tsp vanilla

1 tsp apple cider vinegar or distilled white vinegar
Vanilla Buttercream:
1/2 cup softened unsalted butter, dairy-free butter, or vegetable shortening

1 & 1/2 cups powdered sugar 

1 tsp vanilla extract

1-3 tsp milk of choice or water, if needed
Instructions
Banana Cake:
Preheat oven to 350°F. Generously grease an 8″ or 9" baking pan. I like to line the bottom with a sheet of parchment so the cake doesn't stick, but that is optional. Set pan aside.
In a large mixing bowl, blend together flour, sugar, baking soda, baking powder and salt. Add mashed banana, milk, oil, vanilla, and vinegar. Stir just until well combined.
Pour batter into prepared pan and bake 30–40 minutes, or just until center of cake is set. Bake time will vary depending on pan you use. Begin checking on cake after 25 minutes. When done, cool to room temperature prior to frosting. Spread buttercream over top and decorate as desired.
Vanilla Buttercream:
In a medium bowl, beat softened butter until creamy. Add powdered sugar 1/2 cup at a time, blending until well combined. Beat in vanilla extract, and 1-3 teaspoons milk/water, if buttercream is too stiff.
Chef's Notes:
Cover cake well and store at a cool room temperature for 2–3 days or in the fridge for up to 1 week.
If kitchen is warm, cake will be best refrigerated. It can spoil easily if left out in a warm kitchen for more than a day or so.
Recipe by Wife Mama Foodie