Rotisserie Chicken Salad Sandwiches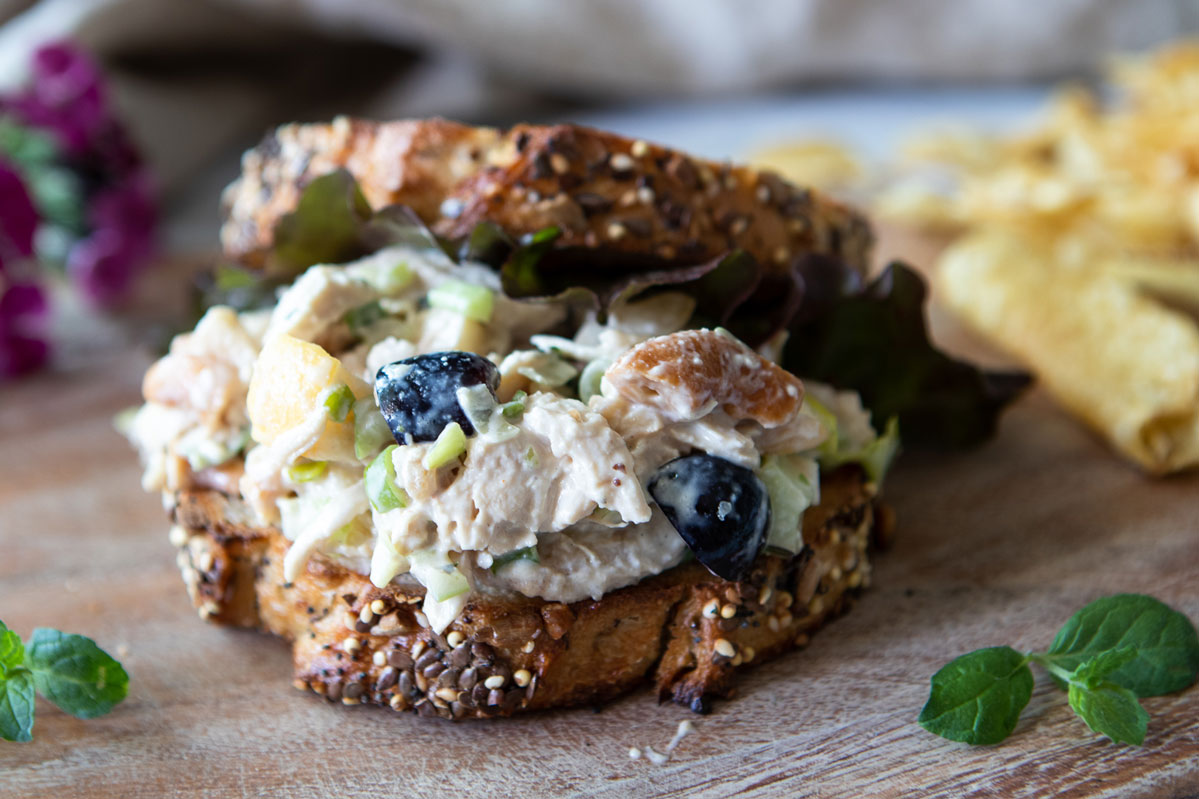 If you're craving a sandwich, try Rotisserie Chicken Salad Sandwich.  This is one of these delicious dishes that uses up everything in your fridge:  leftover chicken, celery, grapes, apples, nuts and herbs.  Feel free to riff on it as you like, adding or removing based on what's in your fridge, but be sure you've got some crunch and some color.
It's also very quick.  Using rotisserie chicken means that in 20 minutes, you've got a delicious sandwich ready to chow on.
I always have leftover chicken, especially when I buy a rotisserie chicken.  Before tossing it, consider mixing it up with a wonderful creamy dressing of mayo, Dijon, and apple cider vinegar.  Splash that dressing with hot sauce, soy sauce and maple syrup to take it up a notch.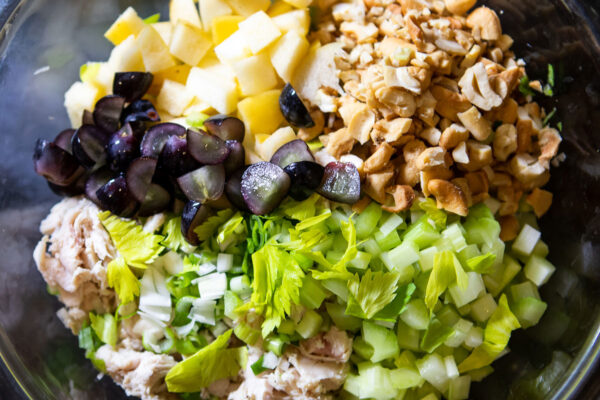 Begin by whisking up the dressing.  Set it aside while you chop up the celery, scallions, apples, nuts and grapes.
Mix the chopped ingredients with the shredded rotisserie chicken and add the dressing.  Toss it all together and adjust the salt and pepper as you desire.
You can leave it as is and serve it as a chicken salad over a bed of lettuce.  Very healthy and simple.
Or, you can toast up some multi-grain bread, add some Bibb lettuce to each piece of bread and top it with the rotisserie chicken salad.
Either way, this will be a hit!
Lastly, if you make Rotisserie Chicken Salad Sandwiches, be sure to leave a comment and/or give this recipe a rating! Above all, I love to hear from you and always do my best to respond to each and every comment. And of course, if you do make this recipe, don't forget to tag me on 
Instagram
! Looking through the photos of recipes you all have made is one of my favorite things to do!
Rotisserie Chicken Salad Sandwiches
Makes: 4 sandwiches
Total Time: 20 minutes
Ingredients
Dressing:
1/3 cup mayonnaise

1 tbsp Dijon mustard

1 tsp apple cider vinegar

1/4 tsp hot sauce

2 tsp soy sauce

1 tsp maple syrup
Salad:
2 cups rotisserie or left-over chicken, shredded

2 scallions, finely chopped

2 celery stalks, diced, plus ¼ cup roughly chopped celery leaves

1/2 apple (Granny Smith, Gala or Pink Lady), halved, cored and diced

1/2 cup cashews or peanuts, salted and roasted chopped, optional

1/3 cup red or black seedless grapes, quartered

1 tablespoon fresh herbs, such as basil, parsley, chives, or mint

8 Bibb lettuce leaves

8 slices multigrain bread or crusty sourdough, toasted

Kosher salt

Black pepper, freshly cracked
Instructions
In a large bowl, whisk together the mayonnaise, mustard, vinegar, hot sauce, soy sauce, maple syrup, and salt and pepper to taste.
Add the chicken, scallions, celery, celery leaves, apple, roasted nuts if using, grapes and herbs to the dressing and stir to combine. Taste and season with additional salt and pepper as desired.
Make sandwiches with the toasted bread and Bibb lettuce.
Rotisserie Chicken Salad Sandwiches