Cedar Plank Sesame Salmon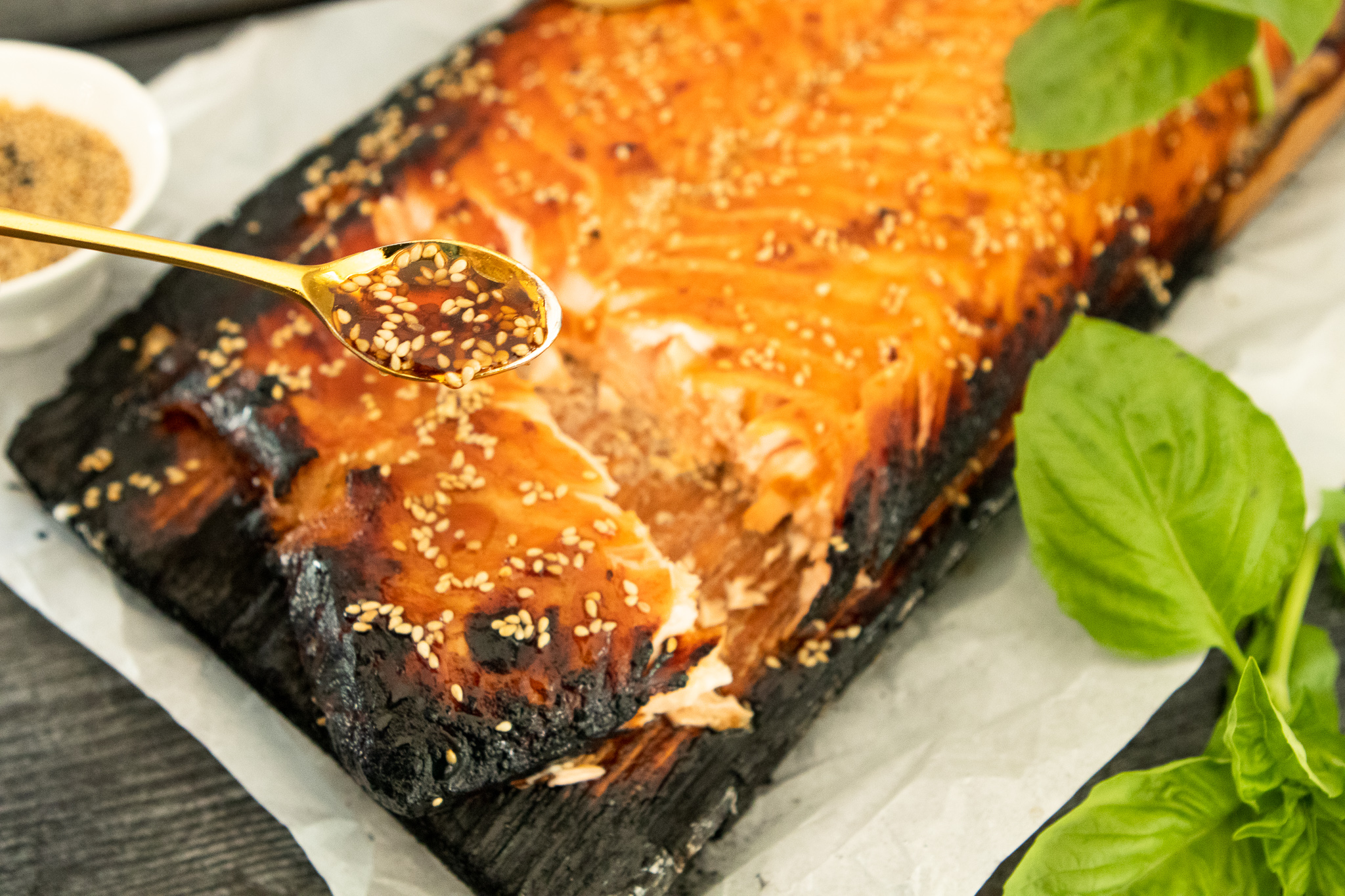 What are you serving to a crowd of people for Labor Day? Get a jump on the planning by choosing this easy and delicious recipe.
Simply soak a cedar plank for a few hours, marinate the salmon for a few minutes and grill/smoke the salmon for about 15 minutes. Dinner is ready that quickly!
Don't be afraid of a little char on the edges of the salmon…it adds a smoky deliciousness that is fantastic!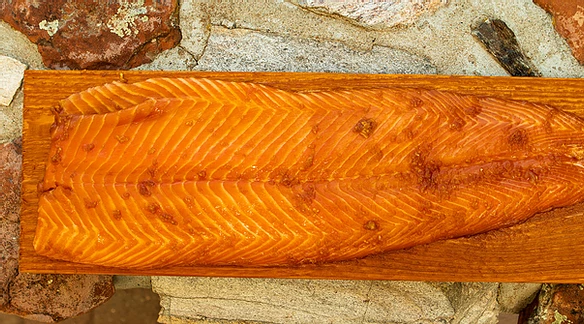 Here are some tips about the cedar planks:
I have found that if I want to grill a side of salmon (like in my photos), the small planks that you can buy in the grocery store are just too small. Go to a hardware store and buy a board of UNTREATED cedar planking and ask them to cut it into smaller lengths (18″-long is pretty good…it just has to fit in your sink). I have also found that Home Depot or Lowe's have a "defects" section where you might be able to pick up a warped piece at no cost! Either way, getting a plank and cutting it is mush less expensive than buying all of those small boards!
Be sure to soak it for a while or it will burn up on the grill. I put heavy cans on my board to hold it under the water. The longer you can soak it, the better!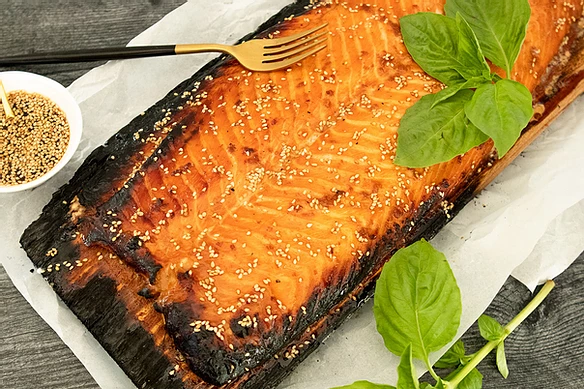 Lastly, if you make Cedar Plank Sesame Salmon, be sure to leave a review down below at the bottom of this page (stars are also appreciated)! Above all, I love to hear from you and always do my best to respond to each and every review. And of course, if you do make this recipe, don't forget to tag me on 
Instagram
! Looking through the photos of recipes you all have made is one of my favorite things to do!
Cedar Plank Sesame Salmon
Makes: 4 servings
Prep Time: 15 minutes
Bake Time: 20 minutes
Total Time: 35 minutes plus 1 hour soak & marinade time
Ingredients
1 large cedar plank

2 pounds whole salmon fillet about 2 , skin removed

1/4 cup + 2 tablespoons honey

1/4 cup + 1 tablespoon soy sauce

1 tbsp fresh ginger grated

2 cloves garlic minced or grated

1 tsp sesame oil

1 tbsp toasted sesame seeds
Instructions
Soak the cedar plank in water for at least 30 minutes before grilling, but 2-4 hours is ideal.
Meanwhile, whisk together 2 tablespoons honey, 1/4 cup soy sauce, the ginger and garlic. Add the salmon to a ziplock bag or Pyrex pan and pour the marinade over the salmon. Place in the fridge for 30 minutes.
Heat your gas or charcoal grill to medium heat, about 350°F. Remove the salmon from the marinade and lay the whole salmon filet on top of the cedar plank, making sure none of the salmon is hanging off. Sprinkle with salt and pepper. Place the cedar plank on the grill and cover the grill. Grill for about 12-15 minutes and check for doneness. The salmon is done when it's uniformly pink in the center.
Using a large spatula, remove the cedar plank salmon and transfer to a flat surface to rest.
In a small bowl, combine the remaining 1/4 cup honey, 1 tablespoon soy sauce, sesame oil and the sesame seeds. Brush the salmon with the honey glaze, reserve any extra for serving.
Cedar Plank Sesame Salmon