Chicken Harvest Salad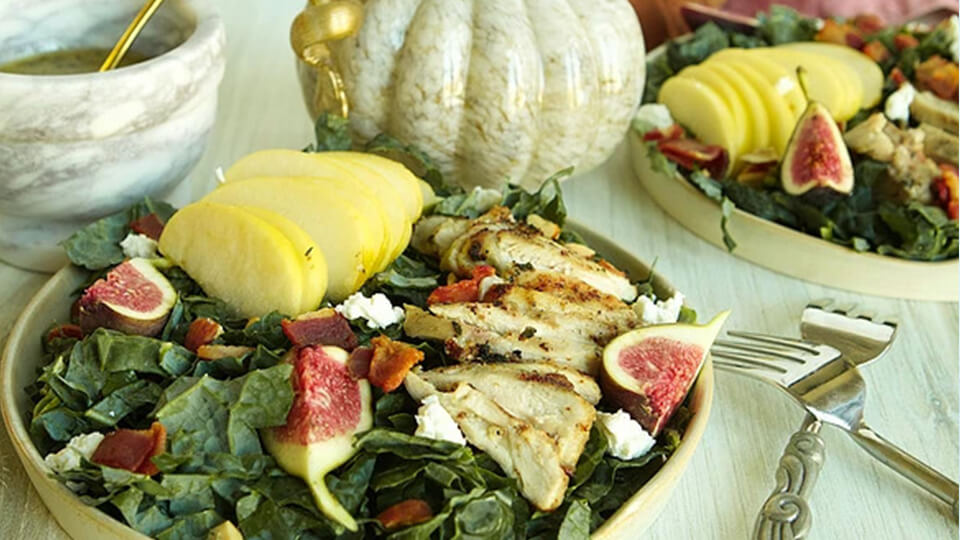 There are certain salads that just say "Hello, Autumn" and Chicken Harvest Salad is one of them.  This lovely salad has so many Fall/Winter ingredients, including fresh figs and Opal apples.  The kale almost seems like a support system for all of these amazing flavors:  bacon, grilled chicken, goat cheese, celery, roasted almonds, figs and the apples.
You're gonna love this one!!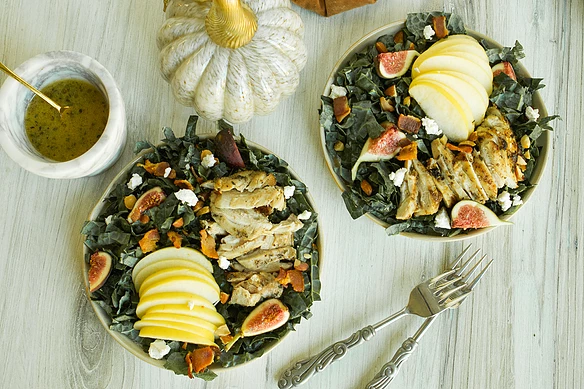 This recipe doesn't specify a particular type of apple, but I am wild for Opal apples!  Have you tried them yet?  It's a cross between a golden delicious and Topaz apple.  It's yellow, crispy and has a sweet and tangy flavor.  The thing that I really love about it is that it doesn't turn brown once it's cut.  You don't have to cover it with lemon to prevent the oxidization…it naturally stays white.  Take a look at my photos…those apples had been cut for at least an hour.  Woohoo!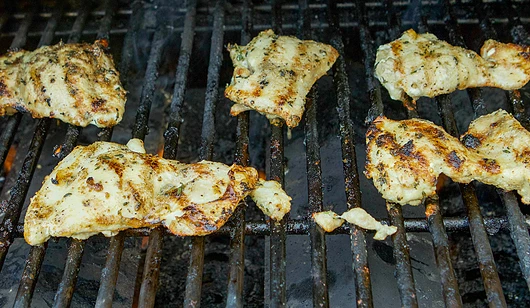 In Arizona, we can pretty much barbecue year round, but if you aren't as fortunate, or don't feel like wearing a parka and snow boots to grill your chicken, feel free to use a grill pan on the cooktop. ​ The dressing is light and tangy…it's a honey-Dijon vinaigrette spiked with thyme! Each forkful of this wonderful salad will get you all the different flavors, so be sure to dig deep and enjoy each bite!!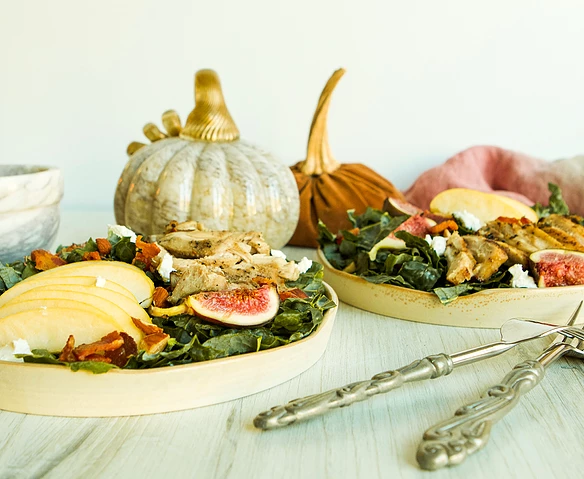 Lastly, if you make Chicken Harvest Salad, be sure to leave a comment and/or give this recipe a rating! Above all, I love to hear from you and always do my best to respond to each and every comment. And of course, if you do make this recipe, don't forget to tag me on 
Instagram
! Looking through the photos of recipes you all have made is one of my favorite things to do!
Makes: 4-6 servings
Prep Time: 7 minutes
Cook Time: 18 minutes
Total Time: 25 minutes
Ingredients
4 slices bacon, cut into thirds

1 & 1/2 pounds boneless, skinless chicken thighs

2 tsp chopped fresh thyme leaves

1 tsp onion powder

1/2 tsp garlic powder

1 tbsp avocado or canola oil

Kosher salt freshly ground black pepper, to taste

1 large bunch kale, stems removed and leaves shredded

1 medium apple, thinly sliced

1 cup quartered fresh figs

1/2 cup sliced celery

1/2 cup roasted salted almonds, coarsely chopped

3 ounces goat cheese, crumbled
Honey Dijon Vinaigrette:
1/3 cup extra virgin olive oil

2 tbsp white wine vinegar

1 tbsp Dijon mustard

2 tsp honey

1 tsp chopped fresh thyme leaves

Kosher salt freshly ground black pepper, to taste
Instructions
In a medium bowl, whisk together olive oil, vinegar, Dijon, honey and thyme; season with salt and pepper, to taste. Set aside.
Heat a large skillet over medium high heat. Add bacon and cook until brown and crispy, about 6-8 minutes. Drain excess fat; transfer bacon to a paper towel-lined plate.
Preheat grill to medium heat.  Season chicken with thyme, onion powder and garlic powder.  Brush chicken with avocado oil; season with salt and pepper, to taste.  Add chicken to grill, and cook, turning occasionally, until chicken is completely cooked through, reaching an internal temperature of 165°F, about 10 minutes.
To assemble the salad, place kale in a large bowl; top with bacon, chicken, apple, figs, celery, almonds and goat cheese. Pour the honey Dijon vinaigrette on top of the salad and gently toss to combine.  Serve immediately.
Recipe from Damn Delicious