Summer Strawberry Feta Salad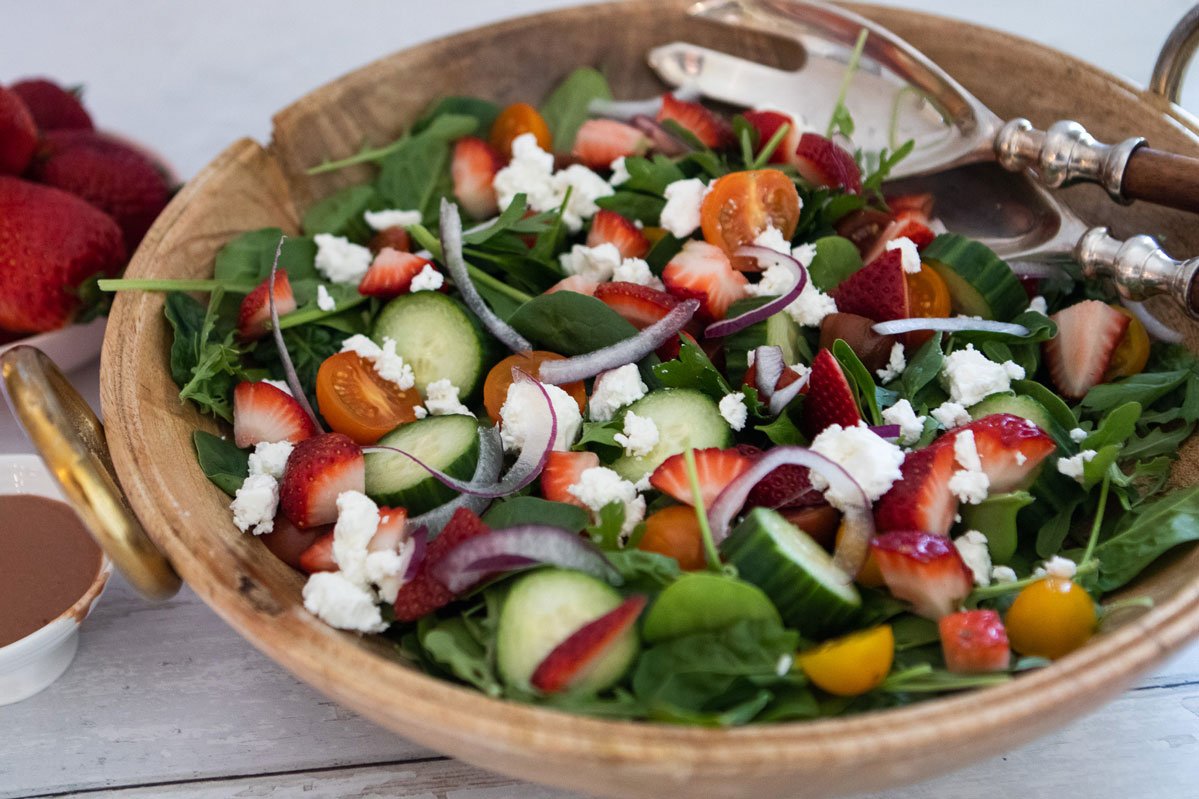 With summer coming, try making this Summer Strawberry Feta Salad. This salad is light and delicious, perfect for hot weather. It has juicy strawberries, crumbled feta cheese, crunchy cucumbers and crisp arugula.  Can't beat this combination!
All of the salad ingredients are tossed together with a simple dressing made from olive oil and balsamic vinegar and then jazzed up with fresh diced strawberries.
The sweetness of the strawberries pairs well with the salty feta. The arugula adds a spicy flavor, making it tasty and balanced.

The Summer Strawberry Feta Salad is easy to make and is great for a light dinner or quick lunch. You can also take it to summer picnics or barbecues. It is a healthy way to enjoy fresh produce during the season.
The dressing ingredients are blended together in a blender until you have a smooth and creamy dressing.  The strawberries add a sweetness as well as a fresh summer flavor that compliments the balsamic vinegar, lemon juice, honey, shallots and garlic perfectly.
The salad has wonderful ingredients that are all tossed together…arugula (peppery), parsley or basil leaves (herby), strawberries (sweet & tart), English cucumbers (crunchy), cherry tomatoes (sweet), red onions (spicy) and feta cheese (salty).
When you toss all of those ingredients with the flavorful dressing, it's hard to find a more delightful salad!
Healthy, easy, quick and flavorful…this should be on your summer rotation of salad recipes!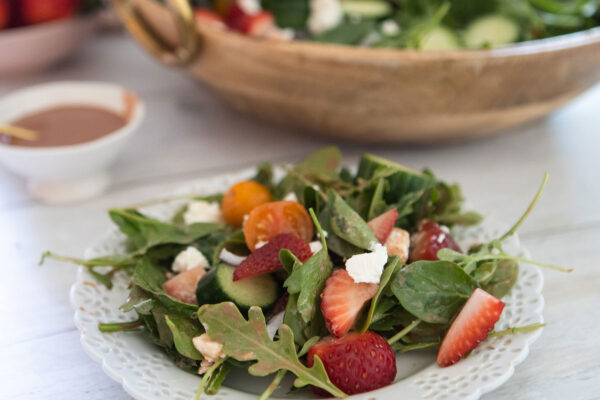 Lastly, if you make Summer Strawberry Feta Salad, be sure to leave a review down below at the bottom of this page (stars are also appreciated)! Above all, I love to hear from you and always do my best to respond to each and every review. And of course, if you do make this recipe, don't forget to tag me on 
Instagram
! Looking through the photos of recipes you all have made is one of my favorite things to do!
Summer Strawberry Feta Salad
Makes: 4 servings
Prep Time: 20 minutes
Total Time: 20 minutes
Ingredients
For the Dressing:
1/4 cup sliced strawberries

3 tbsp extra-virgin olive oil

2 tbsp balsamic vinegar

1 tbsp chopped shallot

1 tbsp fresh lemon juice

2 tsp honey or maple syrup

1/2 tsp salt
For the Salad:
8-10 ounces arugula or spinach greens, or a 50/50 mixture

1/2 cup Italian parsley leaves (tender stems are okay) or basil leaves

1 pound strawberries, hulled and quartered

1 English (seedless) cucumber, sliced into 1/2-inch chunks, or 3 baby Persian cucumbers, sliced

1 pint cherry tomatoes (any color), sliced in half

1/4 cup cup sliced red onion (See Chef's Note)

1/2 cup crumbled feta cheese
Instructions
Combine all ingredients in a blender or small food processor until smooth and creamy. Dressing will keep refrigerated up to 5 days.
Put the arugula in a large salad bowl or a large serving platter. Top with the remaining ingredients and drizzle with 3 tablespoons of the dressing. Toss together gently. Serve with additional dressing on the side.
Chef's Note:
If you are not a fan of raw onions, use this trick to take the bite away and just leave the flavor:  soak the sliced onions in a bowl of ice water for 5 minutes and then drain.  Pat dry and use in the salad!
Recipe from Family Style Food
Summer Strawberry Feta Salad