Chicken with Roasted Lemons, Green Olives & Capers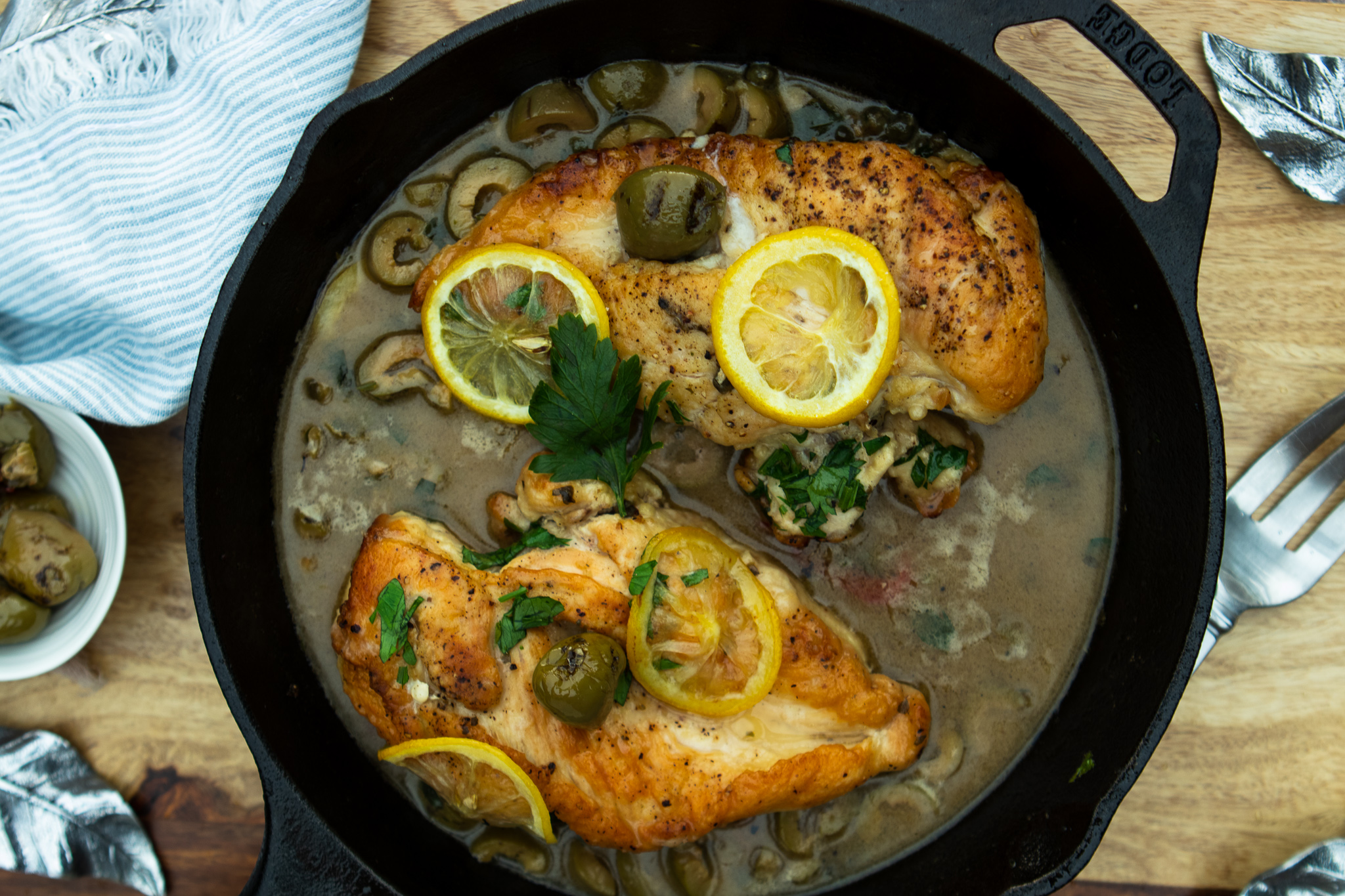 I am always on the hunt for a great way to prepare chicken, that could be served for just me and my honey or could be dressed up for an evening with friends. This recipe for Chicken with Roasted Lemons is one of those. It's tangy, it's classy, and yes, it's just plain delish!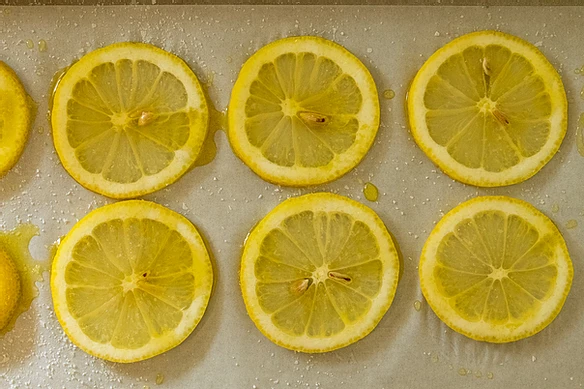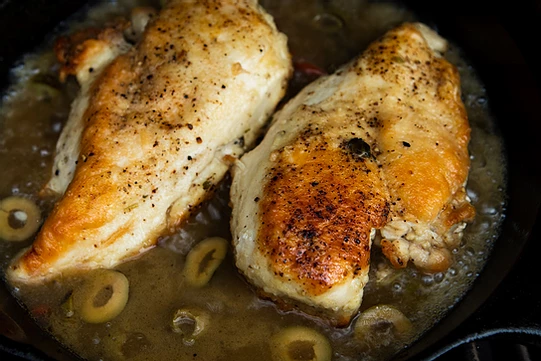 You start this one off with a crisp sear on the chicken. You then baste it in a stock with green olives and capers. It is topped off with butter and roasted lemons. Oh, how about those roasted lemons? They truly make this dish…they are roasted up to a day ahead, these thin little discs that are slightly caramelized. Every mouthful of chicken with these tangy lemons will make you say "YES!".
So good!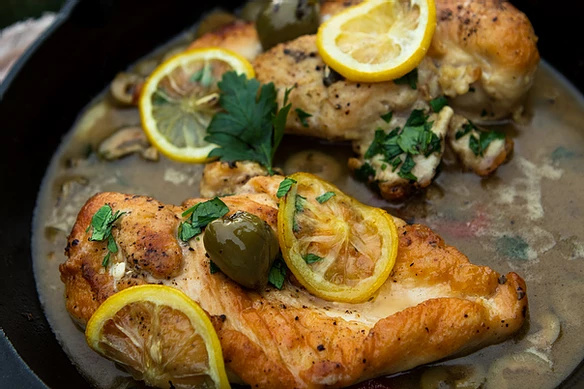 Chef's Note: When searing the chicken, it can make a bit of a mess on your cooktop. I have made this dish completely on the grill, believe it or not! Just heat your grill to medium high, then heat your pan to high on the cooktop. Take the pan carefully out to the grill, and begin the recipe. It works beautifully! And, no mess!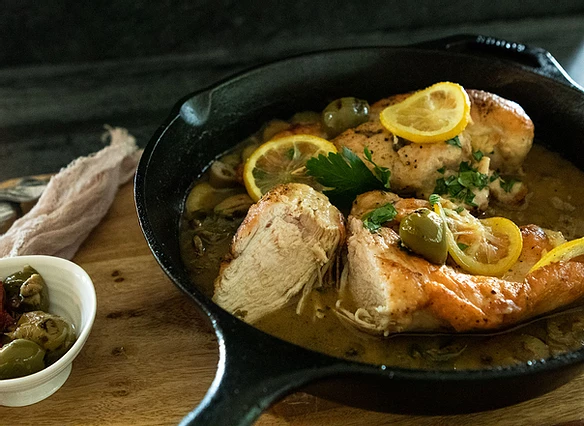 Lastly, if you make Chicken with Roasted Lemons, Green Olives & Capers, be sure to leave a review down below at the bottom of this page (stars are also appreciated)! Above all, I love to hear from you and always do my best to respond to each and every review. And of course, if you do make this recipe, don't forget to tag me on 
Instagram
! Looking through the photos of recipes you all have made is one of my favorite things to do!
Chicken with Roasted Lemons, Green Olives & Capers
Makes: 4 servings
Prep Time: 10 minutes
Cook Time: 40 minutes
Total Time: 50 minutes
Ingredients
Roasted Lemons:
12 thin lemon slices (from 2 lemons)

Olive oil
Chicken:
4 large skinless boneless chicken breast halves

All purpose flour

5 tbsp olive oil

1/2 cup sliced pitted green Sicilian olives or other brine-cured green olives

2 tbsp drained capers

1 & 1/2 cups chicken stock or canned low-salt chicken broth

1/4 cup (1/2 stick) butter, cut into 4 pieces

3 tbsp chopped fresh parsley
Instructions
For Roasted Lemons:
Preheat oven to 325°F. Line baking sheet with parchment paper. Arrange lemon slices in single layer on prepared sheet. Brush lemon slices with olive oil; sprinkle lightly with salt. Roast until slightly dry and beginning to brown around edges, about 25 minutes. (Lemons can be made 1 day ahead. Transfer to container. Cover; chill.)
For Chicken:
Sprinkle chicken with salt and pepper. Dredge chicken in flour to coat both sides; shake off excess. Heat 5 tablespoons oil in heavy large skillet over high heat. Add chicken and cook until golden brown, about 3 minutes per side. Stir in olives and capers. Add stock and bring to boil, scraping up browned bits from bottom of skillet. Boil until liquid is reduced to syrup consistency, turning chicken over after 3 minutes, about 5 minutes.
Add butter, roasted lemon slices, and 2 tablespoons parsley; simmer until butter melts and chicken is cooked through, about 2 minutes. Season with salt and pepper. Transfer to platter. Sprinkle with remaining 1 tablespoon parsley.
Recipe from Bon Appetit
Chicken with Roasted Lemons, Green Olives & Capers