Chocolate Chip Cookie Cake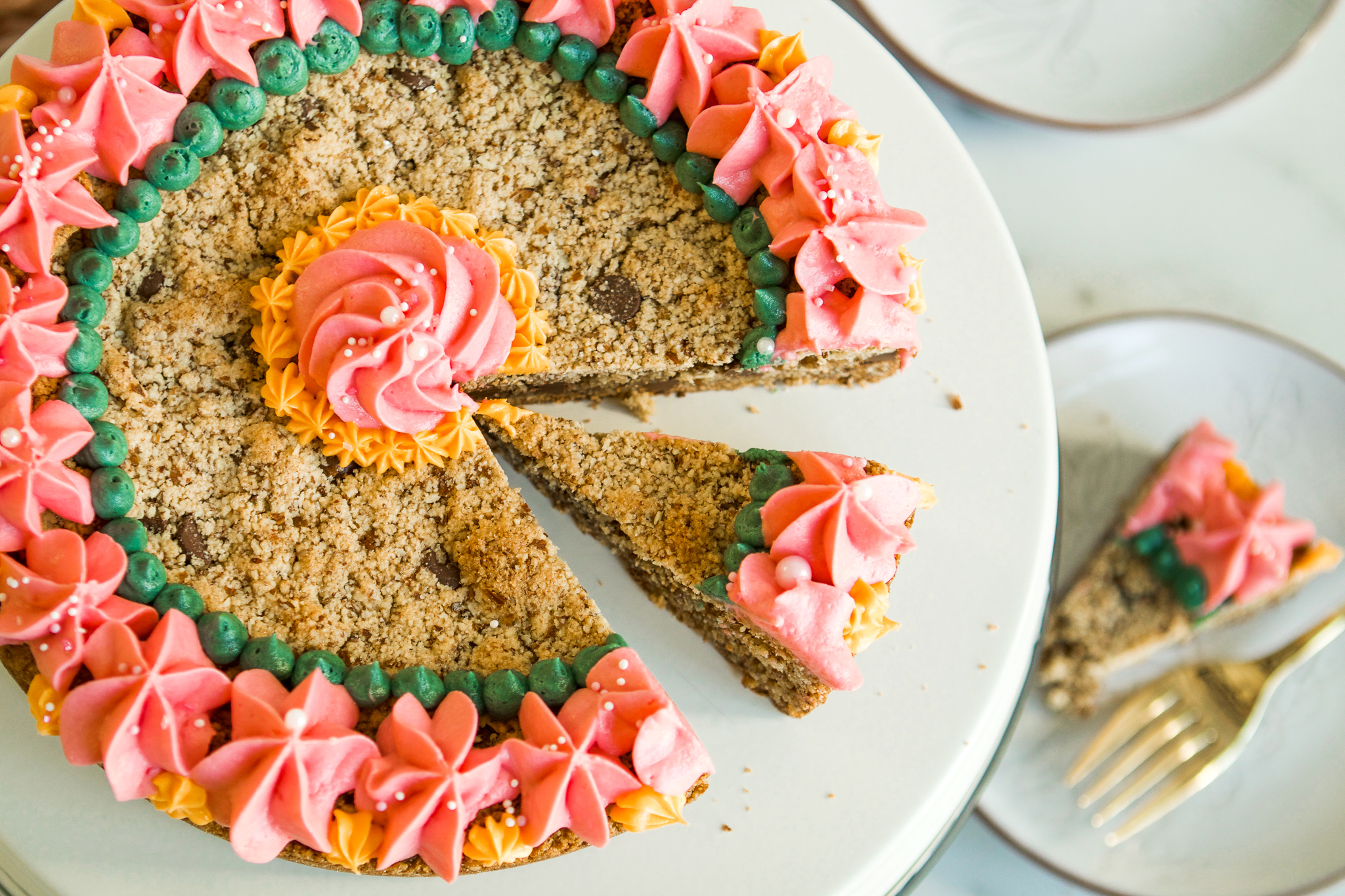 At this time of year, I am always interested in recipes for Passover;  recipes with no flour or leavening.  That's especially challenging for Passover desserts.  And, even though we are doing a virtual Seder this year as we're practicing social distancing, we still observe the traditions of the holiday.
This recipe is a new favorite.  It combines almond and hazelnut flours to create a wonderful cookie cake.  Feel free to substitute other kinds of nut flours if you desire…all will be tasty!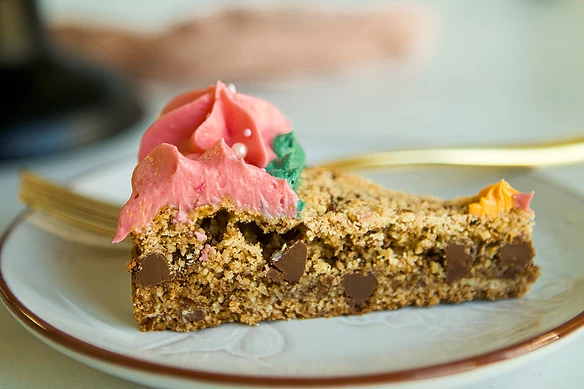 If you are gluten-free and/or vegetarian, then you will seriously want this recipe!  It's full of chocolate chips and is delicious warm or room temperature.   ​ Depending on what you are serving this with, you can add a dairy-free topping or find a Kosher-for-Passover buttercream recipe, as I did, to add a little decoration to the top of this yummy dessert!  You can also drizzle with melted chocolate.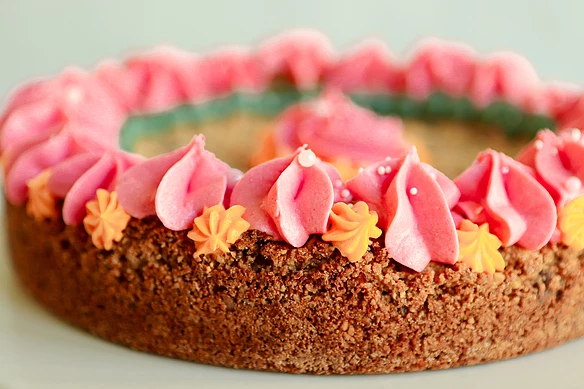 Lastly, if you make Chocolate Chip Cookie Cake, be sure to leave a comment and/or give this recipe a rating! Above all, I love to hear from you and always do my best to respond to each and every comment. And of course, if you do make this recipe, don't forget to tag me on 
Instagram
! Looking through the photos of recipes you all have made is one of my favorite things to do!
Chocolate Chip Cookie Cake
Makes: 8-10 servings
Prep Time: 10 minutes
Bake Time: 25 minutes
Total Time: 35 minutes
Ingredients
1 cup almond flour

1 cup hazelnut flour (or 1 cup more almond flour)

1/2 cup lightly packed light brown sugar

1/2 cup sugar

3/4 tsp kosher salt

1 large egg

1 tbsp vanilla extract

1/2 tsp almond extract

1/2 cup chocolate chips
To decorate:
Buttercream or for a dairy-free alternative: dairy free ice cream or glaze made with powdered sugar and dairy-free milk.
Instructions
Preheat the oven to 350°F. Grease an 8″ cake pan and line it with parchment. Set aside.
In a large bowl, combine the flours, sugars, and salt. In a small separate bowl, combine the egg, vanilla, and almond extracts.
Add the wet ingredients to the dry ingredients; add the chocolate chips, and stir to combine. It may seem dry at first but keep on stirring. Pat the dough out evenly in your prepared cake pan.
Bake until golden brown on top. Begin checking for doneness at 22 minutes (mine took about 26 minutes).
Remove the cake from the oven and let it cool fully in the pan- or serve it warm! Wait for it to cool fully if you're decorating it with frosting.
Chef's Note:
The cookie cake can be baked a day in advance. Once cooled, wrap tightly in plastic wrap and store at room temperature. You can also freeze it once it's cool for 30 days. Be sure to wrap well in plastic wrap.
Recipe by Molly Yeh
Chocolate Chip Cookie Cake