Chocolate Cream Tart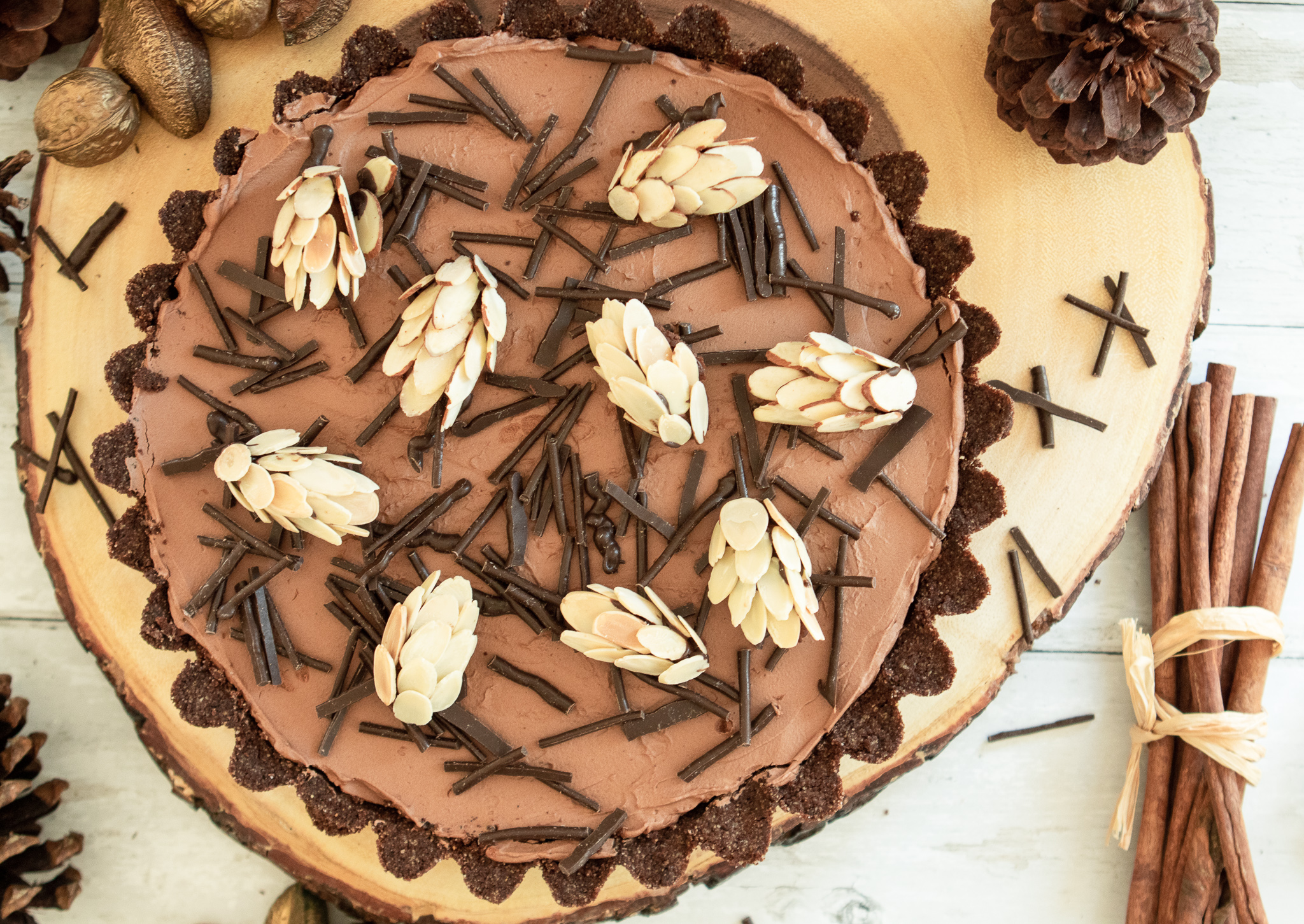 I have been looking for a chocolate cream pie or tart (preferably a tart because the crust is so much simpler than a pie) and I came across this recipe that is luscious and creamy. It's simple (don't let the decorations fool you!) and I promise you can't stop with just one bite!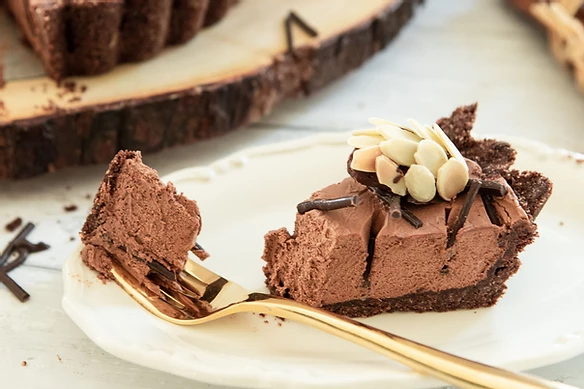 The crust begins with chocolate cookie crumbs and is combined with ground almonds, sugar and butter to create the perfect base for the cream filling. The chocolate cream filling is enhanced with a touch of espresso powder…just enough to give a depth of flavor to the filling.
Let's discuss the Almond Pinecones & Chocolate Needles: even though I adore them, this becomes a very easy, make-ahead dessert if you just shave some chocolate over the top or decorate with berries. There is no need to go crazy. But, if you want to replicate this tart, follow the directions in the attached recipe!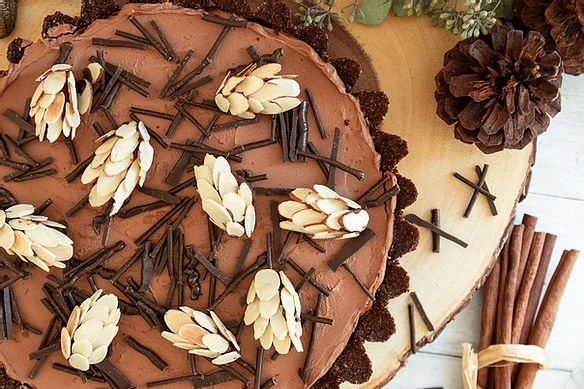 Lastly, if you make Chocolate Cream Tart, be sure to leave a review down below at the bottom of this page (stars are also appreciated)! Above all, I love to hear from you and always do my best to respond to each and every review. And of course, if you do make this recipe, don't forget to tag me on 
Instagram
! Looking through the photos of recipes you all have made is one of my favorite things to do!
Makes: 8-10 servings
Prep Time: 15 minutes
Bake Time: 20 minutes
Total Time: 35 minutes plus chill time 4 hours
Ingredients
Chocolate-Almond Crust:
1 & 1/2 cups chocolate cookie crumbs or chocolate graham crackers, finely ground

1/4 cup granulated sugar

1/2 cup finely ground almonds

1/2 cup unsalted butter, melted
Chocolate Cream Filling:
10 ounces good-quality semisweet chocolate, finely chopped

1 tsp espresso powder

1 tsp pure vanilla extract

Pinch of kosher salt

3 cups heavy cream, chilled, divided

1/4 cup granulated sugar

Chocolate shavings, for garnish or Almond Pinecones & Chocolate Needles

Special equipment:

9-inch round, deep-dish tart pan with removable bottom, 1 1/2 inches deep
Instructions
Make the Crust:
Adjust the oven rack to the lower-middle position and preheat to 375°F.
In a medium bowl, combine the chocolate cookie crumbs, sugar and ground almonds. Add the melted butter and mix with a fork until thoroughly combined. Press the mixture evenly across the bottom and up the sides of the tart pan. Transfer to oven and bake for 20 minutes, or until the crumb mixture is set. Cool to room temperature.
Make Chocolate Cream Filling:
In a medium bowl, combine the chopped chocolate, espresso powder, vanilla and salt. In a medium saucepan over medium heat, bring 1 cup of the heavy cream to a bare simmer. Pour the hot cream over the chocolate mixture and let it cool to room temperature on the counter, stirring occasionally.
Using an electric mixer or hand beaters, whip the remaining 2 cups of cream with the sugar until stiff peaks form. Gently fold the whipped cream into the cooled chocolate mixture until no streaks remain. Pour the chocolate cream into the prepared cooled tart shell and gently smooth with an offset spatula. Refrigerate for 2 hours or until firm.
Decorate the Tart:
Unmold the tart and place it on a plate. Sprinkle the top with chocolate shavings or chocolate needles. Place the pinecones decoratively on top, if using. Return the tart to the refrigerator and let it set for 2 hours before serving.
Recipe from Pie Style