Roasted Peach and Raspberry Tart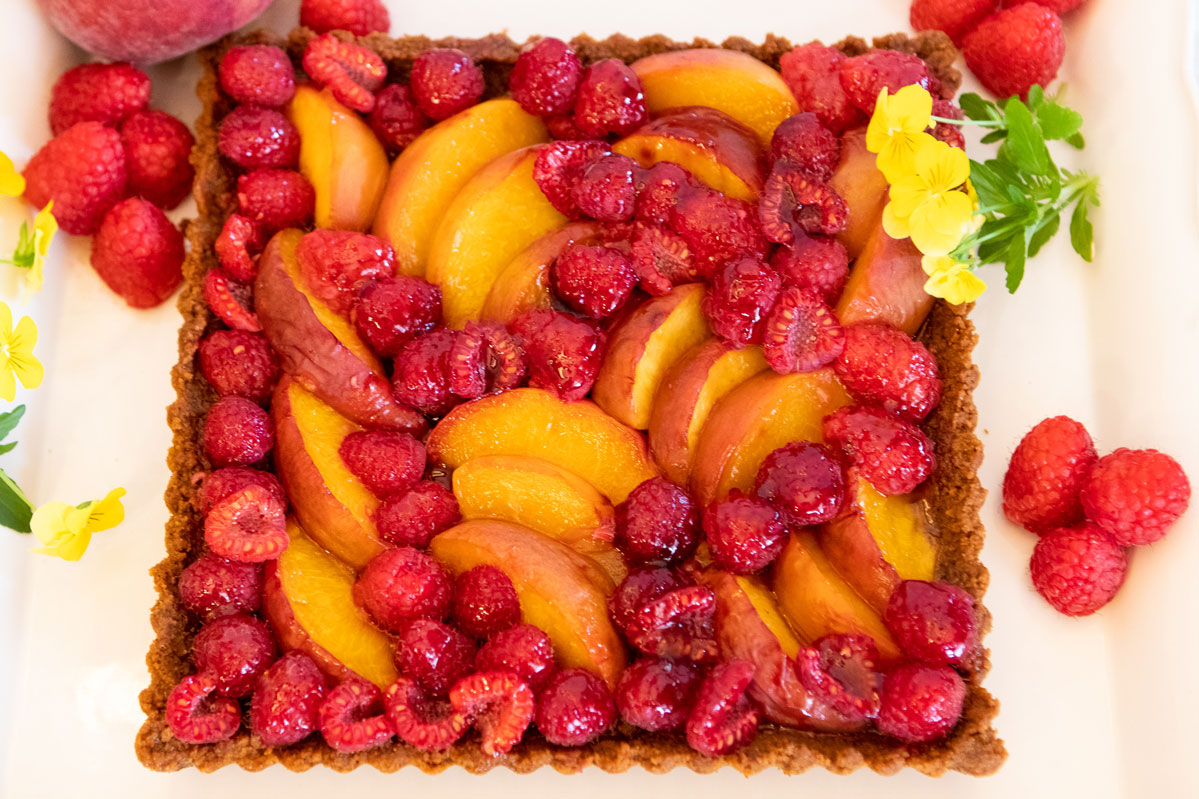 It doesn't take much to make a stunning summer fruit tart like this Roasted Peach and Raspberry Tart.  The gingery cookie crust highlights roasted peaches that have been drizzled with honey and fresh raspberries brushed with a honey wash.  So simple, yet so elegant!
There are so many types of tart crusts you can make but the simplest are typically made with cookies such as graham crackers.  For a bit of a switch, I have used ginger cookies and crumbled them up.  Mixed with some melted butter and pressed into the tart pan, the ginger crust gives the rest of the tart a delicious exotic flavor.
And, then there are the peaches.  Roasting them gives them such a lovely flavor.  Toss them with sugar and a pinch of salt and let them roast for 15-20 minutes or until they are tender and slightly caramelized.  Drizzle some honey over them, toss gently and let them cool completely.
To arrange the tart, place the peaches in a pattern you like first.  Fill in the gaps with the raspberries.
Mix one tablespoon of honey with one tablespoon water to make a honey wash.  Brush the wash over the raspberries.
Serve the tart with whipped cream on the side, if you like.  Try to serve it pretty quickly after assembling it as the fruit may cause the crust to get soggy if it sits for too long.
Enjoy this beautiful summer fruit tart!
Lastly, if you make Roasted Peach and Raspberry Tart, be sure to leave a comment and/or give this recipe a rating! Above all, I love to hear from you and always do my best to respond to each and every comment. And of course, if you do make this recipe, don't forget to tag me on 
Instagram
! Looking through the photos of recipes you all have made is one of my favorite things to do!
Roasted Peach and Raspberry Tart
Makes: 8 servings
Prep Time: 15 minutes
Bake Time: 30 minutes
Total Time: 45 minutes
Ingredients
Text
1 & 3/4 cups (10.5 ounces) ginger cookie crumbs (I like Anna's Ginger Thins)

6 tbsp unsalted butter, melted

1 & 1/2 pounds peaches, cut into fat slices

2 tbsp granulated sugar

pinch sea salt

3 tablespoons honey, divided

12 ounces raspberries

Whipped cream, for serving
Instructions
Preheat the oven to 350°F. In a medium bowl, mix the cookie crumbs and melted butter to combine. The crumb mixture should hold together well when squeezed between your fingers.
Press the crust evenly into a 9 inch tart pan (it works with either a circle or a square pan). Bake the crust for 10-12 minutes, or until it's slightly golden brown and appears set. Cool completely.
Raise the oven temperature to 400°F. Place the peaches in a medium bowl. Sprinkle the sugar and a little bit of salt over, and toss gently to combine. Let macerate until the fruit appears juicy, 10-15 minutes.
Roast the peaches on a baking sheet until tender, 15-20 minutes. Drizzle 2 tablespoons honey over the roasted peaches, and give one or two gentle tosses to combine. Let cool completely on the baking sheet.
Arrange the fruit inside the cooled crust. If the fruit is super juicy, you can drain it from the excess juice with a slotted spoon before putting into the crust. If the juice on the baking sheet is more jammy in texture, you can scoop it right into the crust with the fruit. Place the peaches first and then arrange the raspberries to fill in the gaps.
Make a glaze of 1 tablespoon honey and 1 tablespoon hot water. Stir to dissolve honey and, using a brush, glaze the raspberries.
Serve with whipped cream. (The tart should be served relatively soon after assembly. Depending on the combination of fruits and cookie type used, the crust can start to absorb moisture from the fruit after 2-3 hours, and may eventually become soggy.)
Roasted Peach and Raspberry Tart