Fresh Strawberry Galette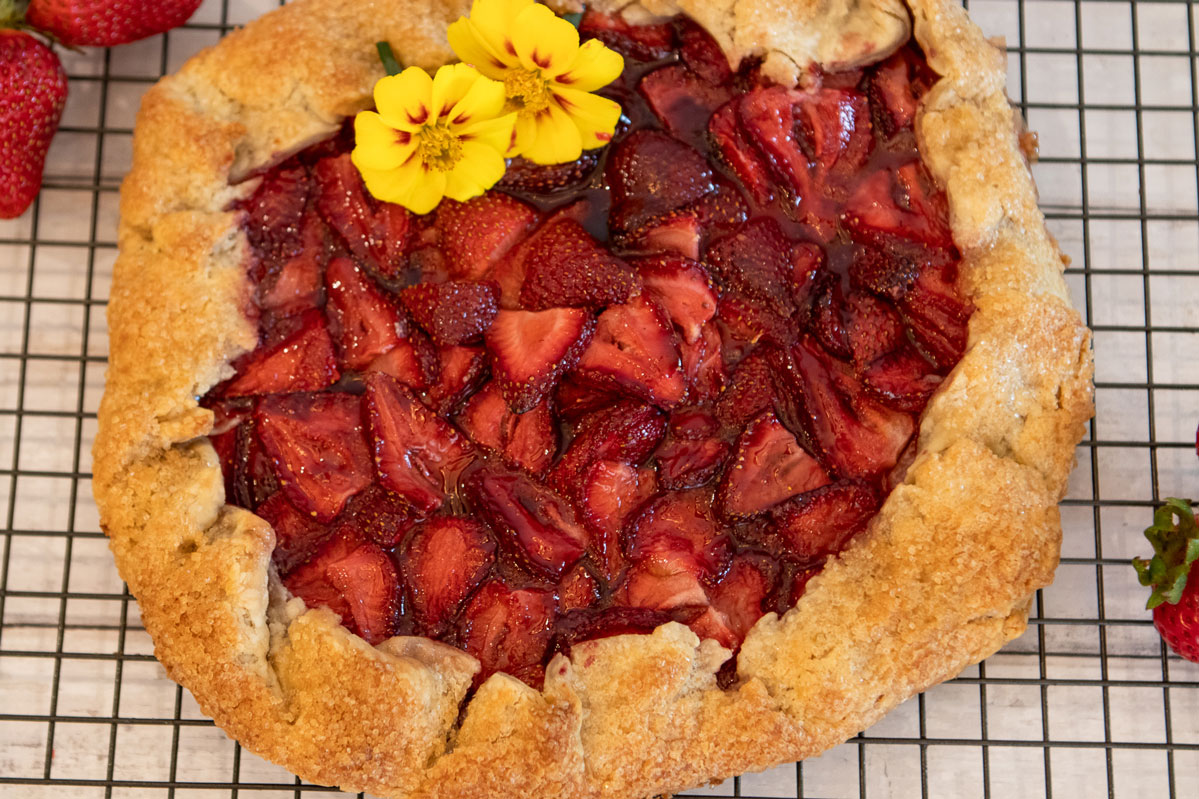 If you're looking for an easy (and I mean easy) summer fruit dessert, look no further than this Fresh Strawberry Galette.
I have taken the challenge of homemade pie dough out of this recipe and substituted store-bought pie dough.  There is little difference in the taste (sorry, pie dough aficionados) and the time savings are dramatic!
The filling is simply sliced strawberries (but feel free to use blueberries, raspberries or a combination), sugar, corn starch to hold it together, and lemon zest.  What could be simpler?
The crust gets its crispiness by sprinkling Turbinado or coarse sugar on it and the strawberries get their shine by lightly brushing with strawberry jam.  Again, what could be simpler?
I love to serve this with a dollop of ice cream or whipped cream.  Eating it without is an amazing experience as you taste the zippy lemon and sweet strawberries even more.  But, as always, you do you!
For additional galette recipes, check out Late Summer Plum Galette and Apple Crostadas.
Lastly, if you make Fresh Strawberry Galette, be sure to leave a comment and/or give this recipe a rating! Above all, I love to hear from you and always do my best to respond to each and every comment. And of course, if you do make this recipe, don't forget to tag me on 
Instagram
! Looking through the photos of recipes you all have made is one of my favorite things to do!
Makes: 4 servings
Prep Time: 20 minutes
Bake Time: 45 minutes
Total Time: 1 hour & 5 minutes
Ingredients
1/2 14-ounce package refrigerated pie dough (1 crust) or favorite pie dough recipe

3 cups (about 1 pound) sliced strawberries

1/2 cup sugar

2 tablespoons cornstarch

Zest of 1 lemon

Milk or cream for brushing the crust

Raw Demerara or Turbinado sugar, for sprinkling

Strawberry jam
Instructions
Preheat the oven to 400˚F. Line a sheet pan with parchment paper.
Place sliced strawberries in a medium-size bowl. Do not add the sugar or cornstarch yet. Set aside.
Lightly flour a work surface and rolling pin. Unroll the pie crust. Sprinkle the top surface lightly with flour and roll the crust out to a larger circle, 12-13 inches in diameter. Transfer the dough round to the prepared baking sheet.
Add the sugar, cornstarch and lemon zest to the sliced strawberries. Stir well to combine.
Place the strawberries on the dough round, leaving a 1-inch inch border around the edges. Fold the edges of the dough up over the strawberries, pleating and gently crimping as you go. The center will be exposed. Brush the exposed crust along the edges with milk and sprinkle with raw Demerara or Turbinado sugar.
Bake for 40-45 minutes or until the crust is golden brown and the strawberry juices are bubbling.
Transfer the galette to a wire rack and brush the exposed fruit with the strawberry jam. Serve warm or at room temperature. Add a scoop of ice cream or a dollop of whipped cream if desired.