Chocolate Sheet Cake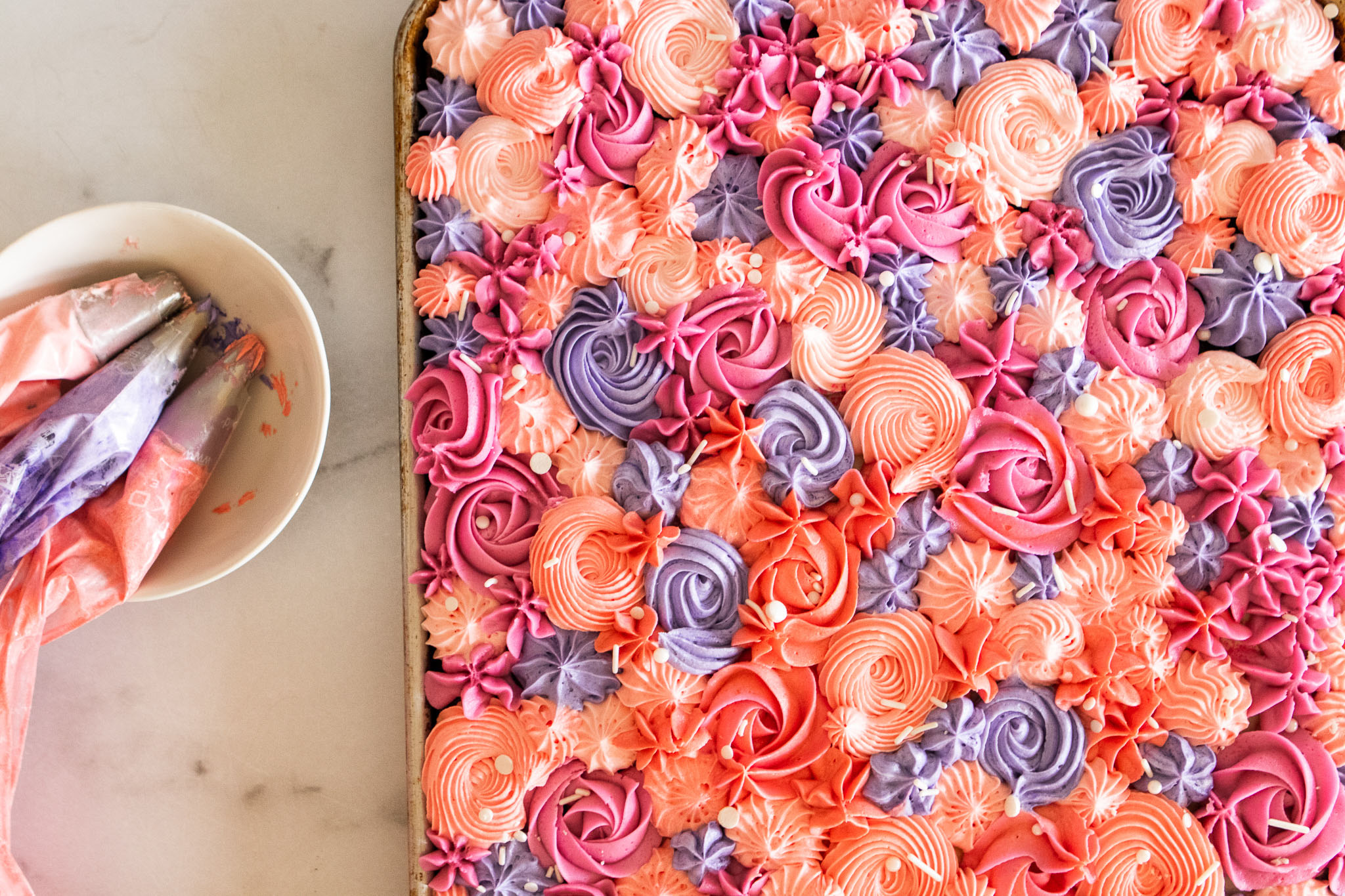 I love Chocolate Sheet Cake, don't you?  I love that you eat it right out of the sheet pan.  Seems so bohemian!  I guess you could put it on a plate, but if you're anything like me, you will cut just a tiny little sliver and walk away, only to return a couple minutes later for another tiny sliver.  Before you know it, you've eaten half the cake.  Such is life when you have a delish recipe like this!
My friend, Polly Levine, has a gorgeous blog (www.pollyruth.co) and was actually the inspiration behind me starting the Fancy Pants Kitchen (thank you, Polly!).  This is her cake recipe.  I added a different buttercream recipe as I was going for a more colorful look, and her recipe had a chocolate buttercream with it.  But if you want it all chocolate, check out her recipe.  It's divine!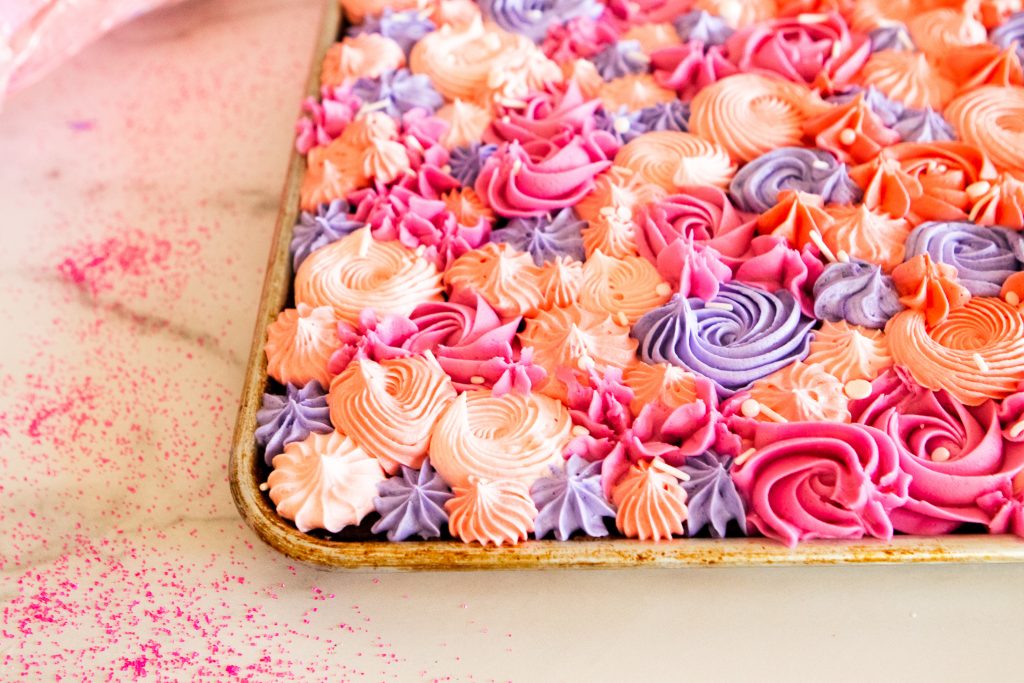 Anyhow, her recipe is chocolate-y and moist (love using buttermilk in cake recipes) and is very easy to make.  Make sure to have the buttermilk, butter and eggs at room temperature…it really helps to create a lighter cake.
The buttercream is a traditional frosting and also super easy.  You don't have to get fancy with the decorations.  My mom used to make a similar cake and just spread some yummy chocolate frosting over the whole cake.  I'm sure she said to eat it for breakfast.
But, you could get a touch fancier, like I did, and use gel colors and piping bags & tips to create the look that I did.  I used a 1M tip and a 2D tip to make different size stars and rosettes, but you do you.  If you've never piped before, give it a try.  You will be surprised at how easy it is!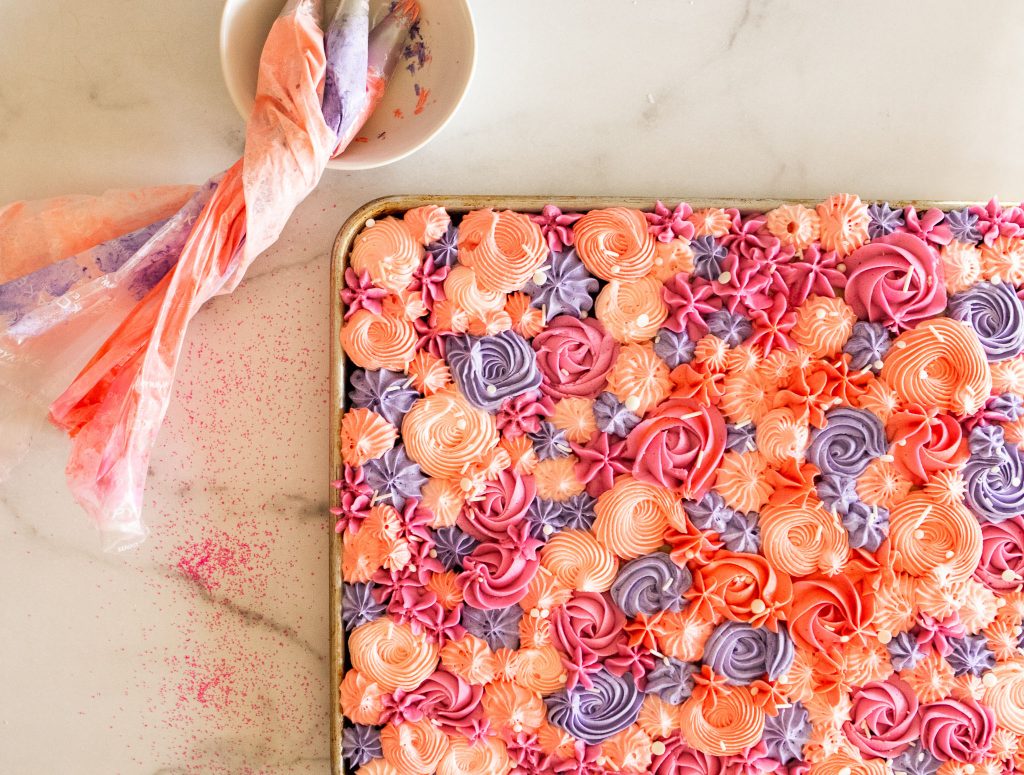 Lastly, if you make Chocolate Sheet Cake, be sure to leave a comment and/or give this recipe a rating! Above all, I love to hear from you and always do my best to respond to each and every comment. And of course, if you do make this recipe, don't forget to tag me on 
Instagram
! Looking through the photos of recipes you all have made is one of my favorite things to do!
Makes: 36 servings
Prep Time: 20 minutes
Bake Time: 25 minutes
Total Time: 45 minutes plus cooling time 1 hour
Ingredients
3/4 cup plus 2 tbsp cocoa powder, (not dutch processed)

1/2 cup boiling water

1 cup buttermilk, room temperature

1 & 3/4 cup all-purpose flour

1 & 1/4 tsp baking soda

1/4 tsp baking powder

1/4 tsp salt

1 & 1/2 sticks (12 tbsp) unsalted butter, room temperature

1 &1/2 cups granulated sugar

2 large eggs, room temperature

1 tsp vanilla extract
For the Vanilla Buttercream:
2 cups unsalted butter slightly chilled

6 cups powdered sugar measured and then sifted

3-4 tbsp heavy whipping cream

2 tsp clear vanilla extract

Pinch of salt

Food gel colors, as desired and optional

Decorating tips and piping bags, if desired
Instructions
Preheat the oven to 350°F. Butter a half sheet pan (measuring 11″ x 15″). Set aside.
Put the cocoa powder in a medium heatproof bowl. Add boiling water and whisk until a smooth paste forms. Whisk in buttermilk until combined.
In a medium bowl, sift the flour with the baking powder, baking soda and salt.
In a large bowl, using an electric mixer, beat the butter with the granulated sugar until light and fluffy, about 3 minutes. Beat in the eggs and vanilla. Then beat in the dry ingredients in two batches alternating with the cocoa mixture. Pour into the pan. Bake approximately 20-25 minutes until done. Cool completely.
For the Vanilla Buttercream:
In the bowl of a stand mixer fitted with a paddle attachment, cream the butter for about 2 minutes. This will soften the butter without it having to be warm.With the mixer on low speed, gradually add the sifted powdered sugar, one cup at a time, mixing a little in between each addition.
With mixer on medium speed, add whipping cream, vanilla and salt.
Turn the mixer to medium-high speed and beat for an additional 5 to 7 minutes. The frosting will become lighter in color and texture.
If you choose to color the buttercream, divide the buttercream into the number of colors that you want and then use drops of food coloring to get your desired colors. Use various tips to create different patterns. You can also smooth one color of buttercream over the entire cake.
Cake recipe by PollyRuth, Buttercream frosting recipe by Cake by Courtney