Chocolate Chip Loaf Cake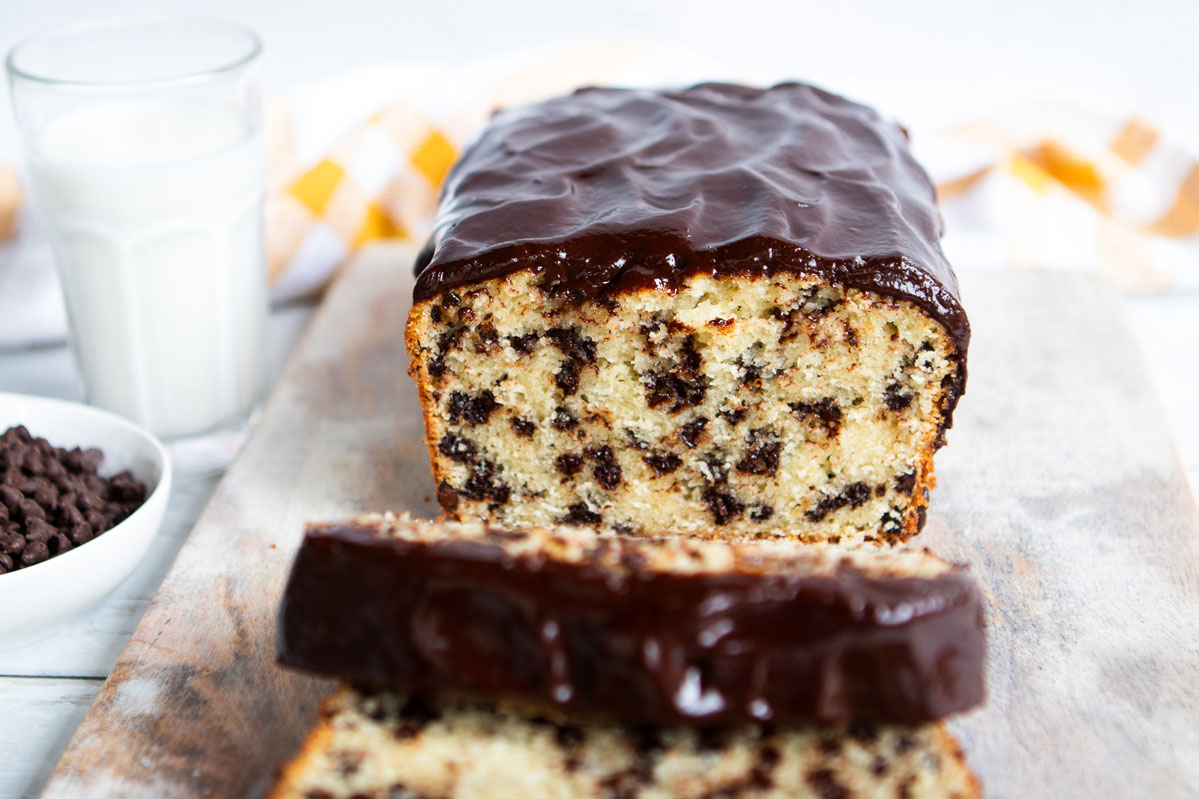 This Chocolate Chip Loaf Cake is an easy way to answer that chocolate craving!  A moist, tender cake filled with bursts of chocolate and topped with a luscious chocolate ganache.  What could be better?  A tall glass of milk to go with?
This cake is made with whole milk and sour cream to give it a soft, tender crumb. 
It takes about 10 minutes to come together so it's the perfect dessert to make when you don't have a lot of time to prep.
All in all, it's tasty, easy, and looks pretty darn good!
To begin, combine the flour, baking powder and soda, and salt together in a bowl.  Set aside 1 tablespoon to toss with the chocolate chips (this helps the chips to "float" in the batter vs dropping to the bottom of the cake).
Beat together the sugar and butter in the bowl of a stand mixer.  Add the vanilla and almond extracts and then add the eggs.
In a small bowl, combine the milk and sour cream (be sure to use full-fat milk and sour cream to give you the richest flavor).  Beat the flour mixture and sour cream mixture alternatively into the batter.
Toss the mini chocolate chips in the reserved flour and then gently fold into the batter.  Pour the batter into a prepared baking pan and bake for about an hour.  Cool it in the pan for 10 minutes and then carefully remove it from the pan and cool completely.
To make the ganache, place chopped chocolate and salt in a heat-proof bowl and bring the heavy cream to a simmer in a small saucepan.  Pour the cream over the chocolate and let it sit for a minute before stirring until it is completely melted and smooth.
Spoon the ganache over the cooled cake and let it set prior to serving.  Grab that tall glass of milk and enjoy!
Lastly, if you make Chocolate Chip Loaf Cake, be sure to leave a review down below at the bottom of this page (stars are also appreciated)! Above all, I love to hear from you and always do my best to respond to each and every review. And of course, if you do make this recipe, don't forget to tag me on 
Instagram
! Looking through the photos of recipes you all have made is one of my favorite things to do!
Makes: 12 slices
Prep Time: 15 minutes
Bake Time: 1 hour
Total Time: 1 hour & 15 minutes
Ingredients
Cake:
2 cups all-purpose flour

1 tsp baking powder

1/4 tsp baking soda

1/2 tsp salt

1/2 cup unsalted butter, at room temperature

1 cup granulated sugar

2 tsp vanilla extract

1/2 tsp pure almond extract

2 large eggs , at room temperature

1 cup whole milk, at room temperature

1/4 cup sour cream, at room temperature

1 & 1/4 cups mini semisweet chocolate chips
Ganache:
4 oz semisweet chocolate, finely chopped

pinch of salt

6 tbsp heavy cream
Instructions
Preheat oven to 350°F and spray a 9 x 5-inch loaf pan with nonstick spray. Line the loaf pan with parchment paper.
Whisk together flour, baking powder, baking soda, and salt in a medium bowl. Reserve 1 tablespoon flour mixture to toss with chocolate chips.
Beat butter and sugar in a large mixer bowl at medium speed until light and fluffy. Beat in vanilla and almond extract. Reduce speed to low and add eggs one at a time. Combine milk and sour cream in a small bowl. Beat in flour mixture in three additions, alternating with milk mixture (begin and end with flour mixture), just until incorporated.
Toss mini chocolate chips with reserved flour mixture before gently folding into batter. Pour batter into prepared pan; smooth top with an offset spatula and tap sharply to reduce air bubbles.
Bake loaf cake for 60 to 65 minutes, until cake springs back to the touch and a toothpick inserted in the center comes out with a few dry crumbs attached (some melted chocolate is ok!). Start testing for doneness after 55 minutes. Cool in pan on a wire rack for 10 minutes; carefully remove cake from pan and cool completely.
Place chopped chocolate and salt in a medium heat-proof bowl. Bring heavy cream to a simmer in a small saucepan, heating until bubbles form at the edge of the pan. Pour warm heavy cream over chocolate. Cover the bowl and let stand for 1 minute, then stir with a spatula until chocolate is completely melted and mixture is smooth.
Spoon warm ganache over cake and let set before serving.
Store leftover cake at room temperature overnight (tightly covered) or in the refrigerator up to 3 days. Bring to room temperature before serving.
Recipe by Tutti Dolci