Coffee Blondies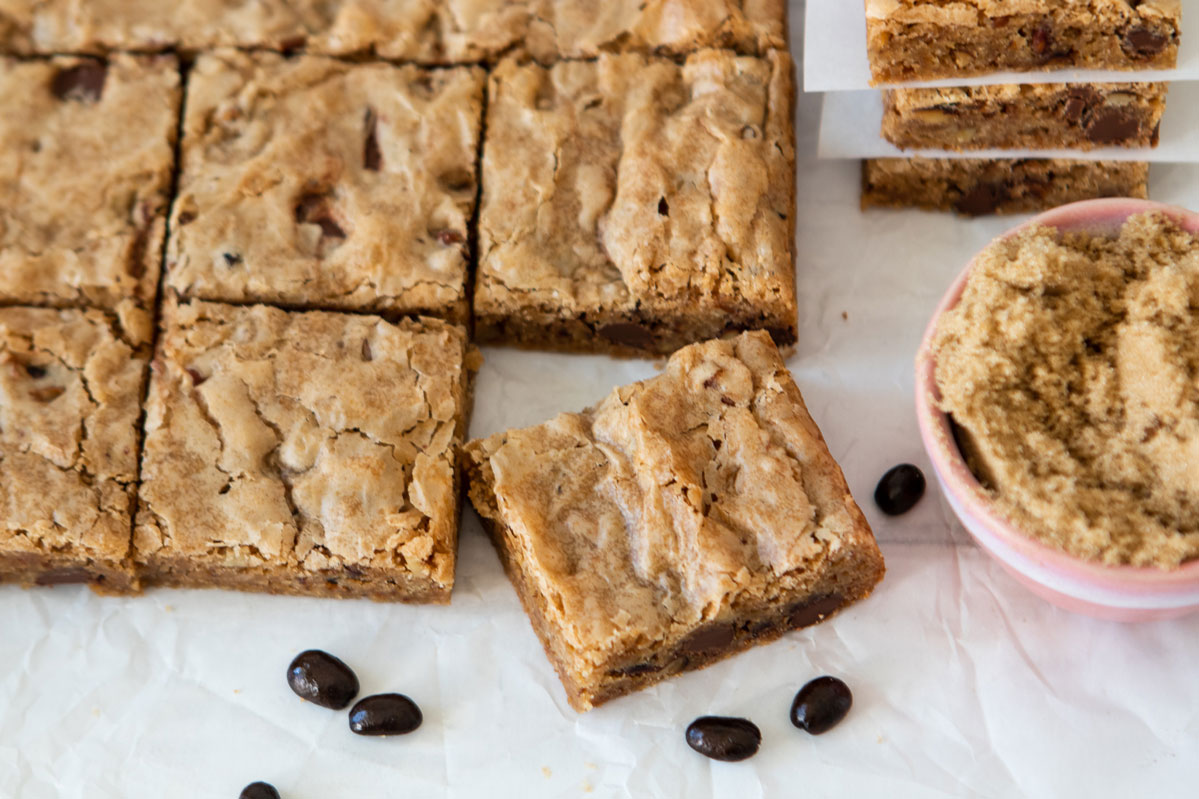 Coffee Blondies are amazingly chewy bars that will remind you of a brownie, except they are blond (what a funny description for a food color).  
These delicious blondies are filled with toasted nuts and chocolate chips and have a lovely coffee flavor that just takes them over the top!
Begin to make the blondies by melting together butter, brown sugar and salt.  Off the heat, stir in the strong coffee (just how I like it!) and let the mixture cool to room temperature.  Then, add in the egg and vanilla and transfer the mixture to a large bowl.
Add the flour and baking powder to the cooled mixture and stir until just combined.  Add the toasted pecans and chocolate chips.
Bake the blondies for 18-24 minutes until they start to crack and are set around the edges (see photo below).  Cool them completely, cut into squares and devour!
Lastly, if you make Coffee Blondies, be sure to leave a comment and/or give this recipe a rating! Above all, I love to hear from you and always do my best to respond to each and every comment. And of course, if you do make this recipe, don't forget to tag me on 
Instagram
! Looking through the photos of recipes you all have made is one of my favorite things to do!
Makes: 24 bars
Prep Time: 15 minutes
Bake Time: 20 minutes
Total Time: 35 minutes
Ingredients
1 & 1/2 cups all-purpose flour

1 & 1/2 tsp baking powder

12 tbsp unsalted butter, cold

1 & 1/2 cups packed brown sugar

3/4 tsp Kosher salt

2 tbsp strong coffee, room temperature (or 2 shots of espresso)

1 large egg

1 & 1/2 tbsp pure vanilla extract

3/4 cup pecan halves, toasted and chopped

3/4 cup bittersweet or semisweet chocolate chips
Instructions
Adjust the oven rack to the middle position. Preheat oven 350°F. Grease 9×13 inch pan and line with a parchment sling.
In a medium bowl, whisk together flour and baking powder.
In a medium saucepan over medium heat, melt the butter, brown sugar, and salt. Remove from the heat and stir in the coffee until well combined. Let the mixture cool to room temperature. Add the egg and vanilla and whisk until combined. Transfer the mixture to a large bowl. Add the flour mixture and stir until just combined. Add the pecans and chocolate chips and stir gently.
Spread the batter evenly into the prepared pan and bake 18 to 24 minutes, until the blondies are set on the edge and top is golden and brown and just beginning to form cracks. A wooden skewer or toothpick inserted into the blondies should come out with a just a couple crumbs.
Transfer the pan to a wire rack and let cool completely. Use the parchment sling to gently lift the blondies from the pan. Cut them into squares.
Recipe from The Vanilla Bean Blog