Crispy Roasted Sweet Potatoes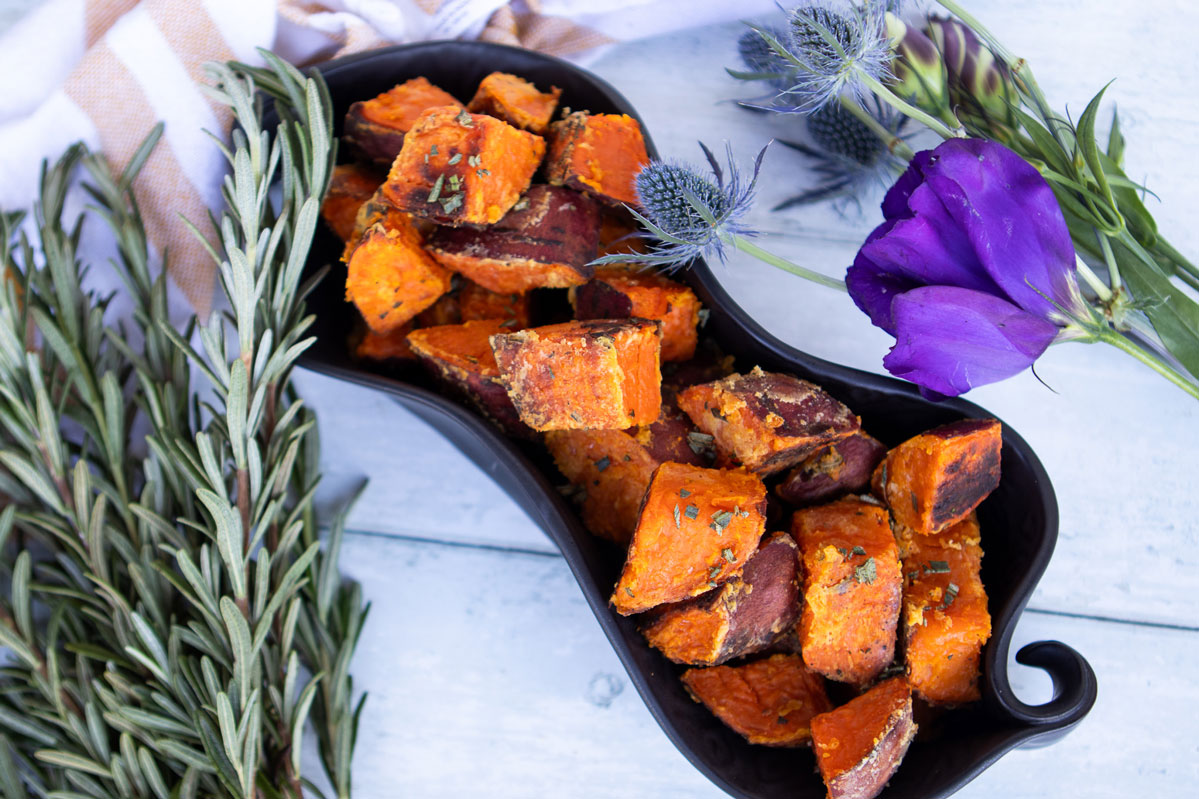 Crispy Roasted Sweet Potatoes are the ideal side dish for this season or anytime!  While they are a traditional choice for Thanksgiving, they are healthy and delicious and should be eaten all year long.
Typically when you roast sweet potatoes, they end up mushy, not crispy.  That's because the high sugar content and moisture in the potato creates a softer result.  In this case, they get their crispiness not by deep frying, but by sprinkling a secret ingredient over and baking them!  Read on…
We begin by boiling chunks of sweet potato in salted water that has the addition of baking soda.  The baking soda breaks down the potato's surface, creating a rough texture that enhances crispiness upon roasting.
Then, before roasting, the par-boiled potatoes are tossed with olive oil, seasoning, and potato starch. The potato starch serves as a coating that crisps up beautifully as the potatoes roast.
Sounds about perfect, right?  Once they come out of the oven, sprinkle an extra bit of chopped rosemary over, add a little more salt if desired and serve these right away.
They are soooo good!
Lastly, if you make Crispy Roasted Sweet Potatoes, be sure to leave a review down below at the bottom of this page (stars are also appreciated)! Above all, I love to hear from you and always do my best to respond to each and every review. And of course, if you do make this recipe, don't forget to tag me on 
Instagram
! Looking through the photos of recipes you all have made is one of my favorite things to do!
Crispy Roasted Sweet Potatoes
Makes: 4-6 servings
Prep Time: 15 minutes
Cook Time: 55 minutes
Total Time: 1 hour & 10 minutes
Ingredients
salt

½ tsp baking soda

3 large sweet potatoes (about 2 & 1/2 pounds), cut into 1 & 1/2-inch chunks

2 tbsp potato starch (see note)

3 tbsp olive oil

1 tbsp chopped fresh rosemary, divided

1/4 tsp freshly ground black pepper
Instructions
Preheat the oven to 450°F and set an oven rack in the middle position.
In a large pot, bring 3 quarts of water to a boil. Stir in 1 tablespoon of salt and the baking soda. Add the potatoes and boil for 10 minutes. Drain the potatoes thoroughly.Directly on a rimmed baking sheet (avoid using foil as the potatoes may stick), toss the par-boiled potatoes with the potato starch, oil, 1/2 teaspoon of salt, half of the rosemary, and the pepper. Roast in the preheated oven for 35 minutes, stirring once midway through roasting. After roasting, turn off the oven but leave the potatoes inside for an additional 10 to 15 minutes.
Remove from the oven and sprinkle with the remaining rosemary. Taste and adjust the seasoning with salt, if necessary. Transfer the sweet potatoes to a platter and serve.
Chef's Note:
In most supermarkets, you can find potato starch in the baking aisle alongside other starches and thickeners like cornstarch. It may also be in the gluten-free or international foods aisle, especially within the Kosher or Asian sections.
Recipe from Once Upon a Chef
Crispy Roasted Sweet Potatoes