Spicy Pomegranate Ginger Paloma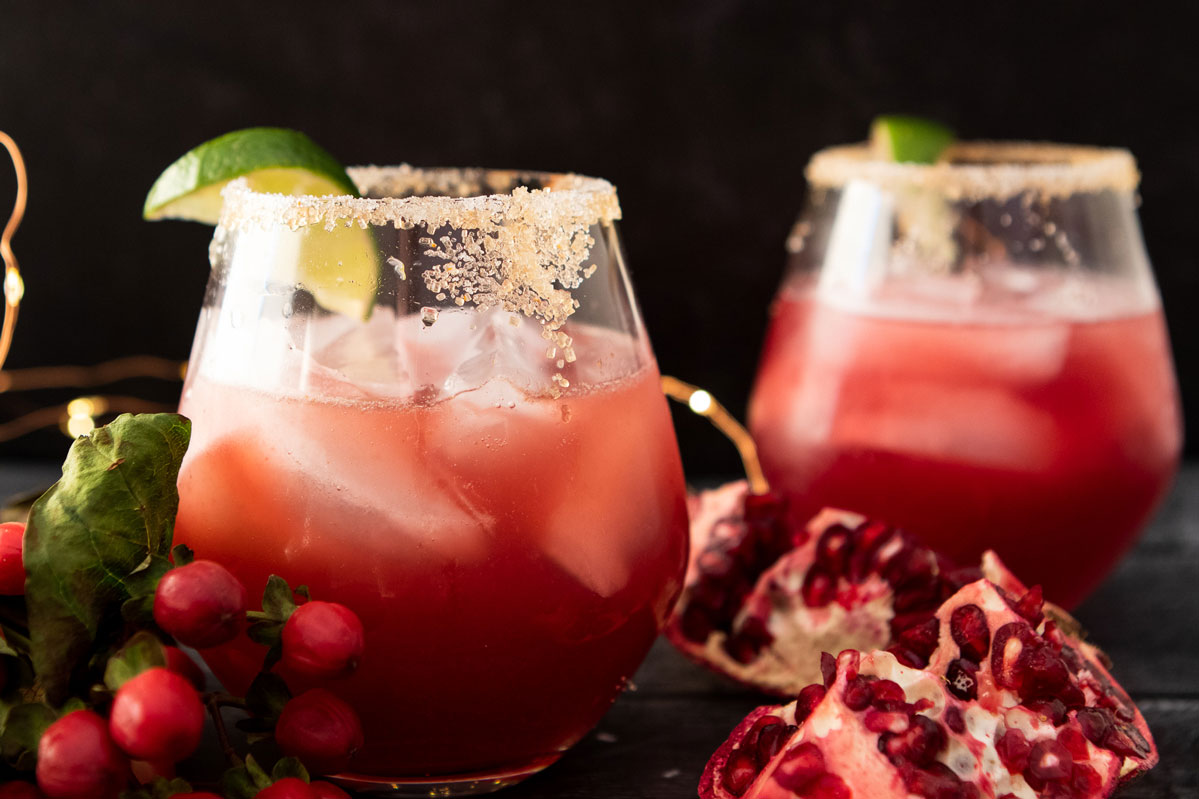 If you are looking for THE BEST holiday cocktail, the Spicy Pomegranate Ginger Paloma is it! I made a pitcher of these for our Chanukah party, and look out!  Not a glass of wine was consumed as everyone continued to refill this special holiday drink!
And, the very good news is that it's not just for the holidays…pomegranate, grapefruit and lime juice is available year 'round, so a spicy Paloma for Cinco de Mayo sounds about right as well!  I know my Pine Canyon tequila-drinking girlfriends are going to love this!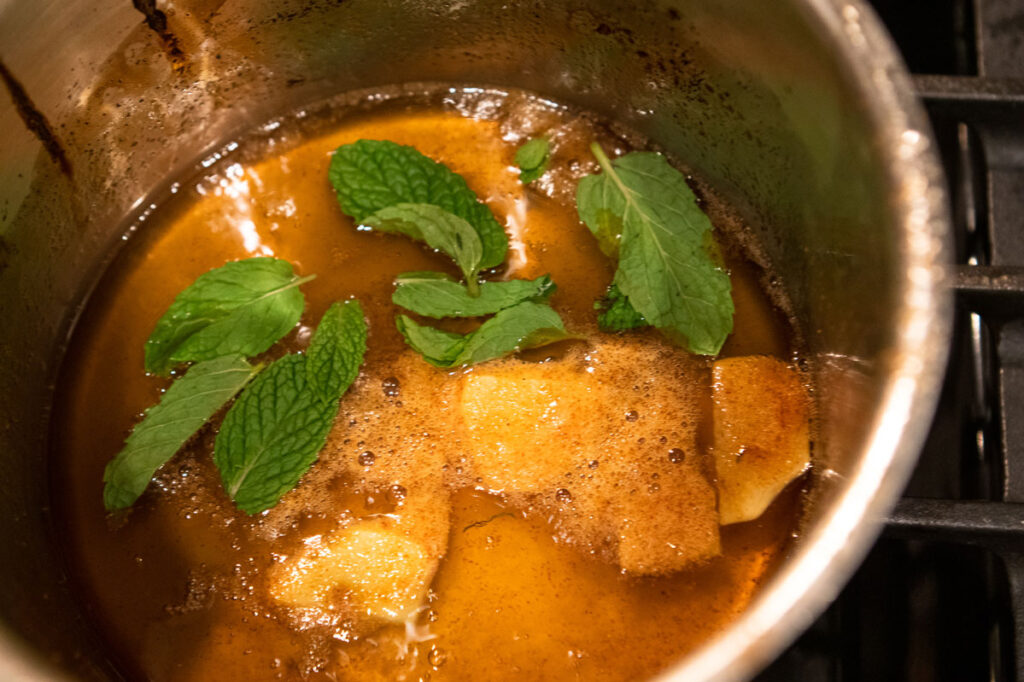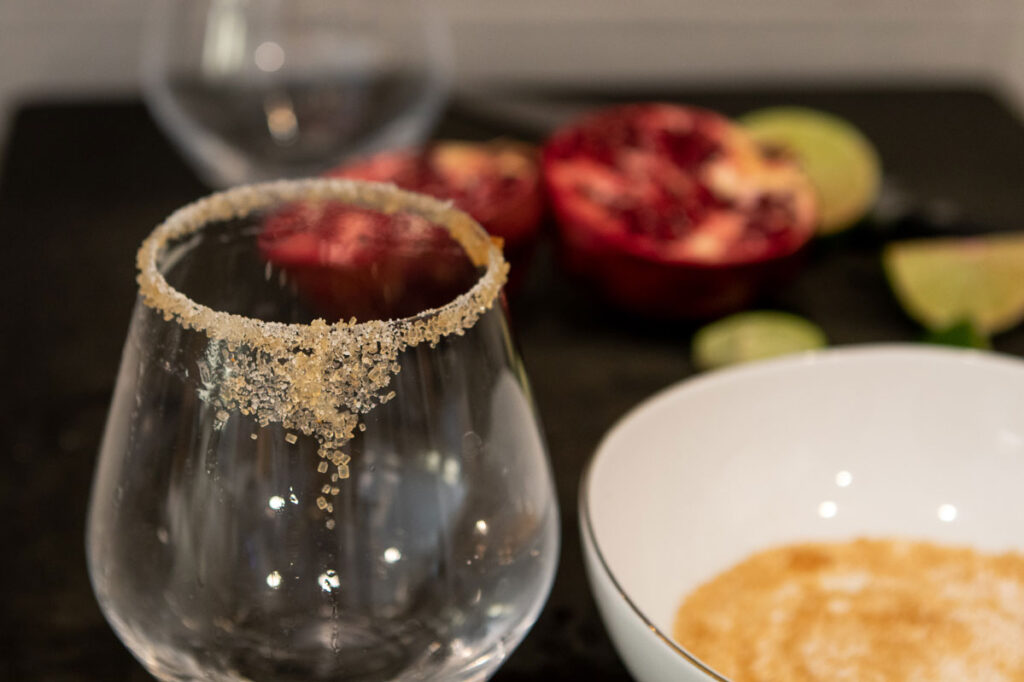 In my opinion, there are two things that make this drink so interesting and delicious.  The first is the simple syrup.  It's a combination of honey, water, ginger slices and cayenne.  You'll boil them together for a few minutes and then add some fresh mint and let it steep for about 10 minutes.  Strain this and you've got a complex, slightly spicy gingery syrup.  Hello!
The other key is the sugared rim.  Do NOT forego this!  It a combination of granulated sugar, coarse sugar and cayenne.  Take a lime wedge and run it around the rim of the cup.  Dip the rim of the cup into the sugar mixture.  There is something so delicious about the sweet/spicy combo.  And, it's probably because of the coarse sugar, but the sugar stays on the rim when you drink it so that every sip has a little of the sugary coating in it.  Can we say hooray now??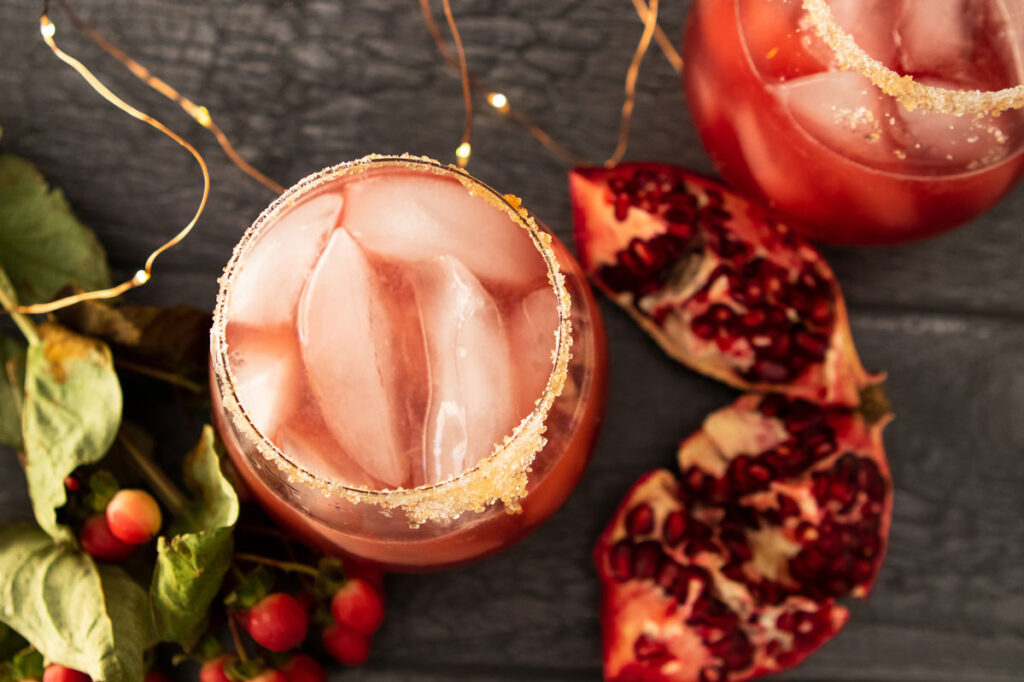 To make the Paloma, simply combine pomegranate juice, freshly squeezed grapefruit juice (I love pink grapefruits for this), freshly squeezed lime juice, Spicy Ginger Syrup, and tequila.  
When serving it, coat the rim of two glasses with Spicy Sweet Sugar, add ice, then pour the Paloma over the ice.  Add a splash of ginger beer and enjoy the heck out of this crazy drink!  I think this will be a year-'round option!
I have included instruction for making a pitcher of Palomas…I have a feeling you'll be using this recipe a lot!
Lastly, if you make Spicy Pomegranate Ginger Paloma, be sure to leave a comment and/or give this recipe a rating! Above all, I love to hear from you and always do my best to respond to each and every comment. And of course, if you do make this recipe, don't forget to tag me on 
Instagram
! Looking through the photos of recipes you all have made is one of my favorite things to do!
Spicy Pomegranate Ginger Paloma
Makes: 2 servings
Prep Time: 5 minutes
Cook Time: 5 minutes
Total Time: 10 minutes
Ingredients
Spicy Ginger Syrup:
1/2 cup

honey

1 inch fresh ginger, sliced

1/2 tsp

cayenne pepper

8 leaves mint
Paloma:
1/2 cup

pomegranate juice

1/2 cup grapefruit juice, freshly squeezed if possible (see Chef's Notes below)

Juice from a lime

4 tbsp Spicy Ginger Syrup

4 ounces tequila

G

inger beer, for topping
Spicy Sweet Sugar:
1 tbsp

coarse sugar

1 tbsp

granulated sugar

C

ayenne

to taste

Lime wedge to run around rim of cup
Instructions
To make the spicy ginger syrup, bring 1/2 cup water, the honey, ginger, and cayenne to a boil over high heat. Once boiling simmer, 1-2 minutes and then remove from the heat. Add the mint, cover, and let sit 10 minutes. Strain out the ginger and mint. Store in a glass jar in the fridge for up to 2 weeks.
On a small plate, mix the coarse sugar, sugar, and a pinch of cayenne. Run a lime wedge around the rim of two glasses and dip into the sugar mix.
Combine the pomegranate juice, grapefruit juice, lime juice, spicy ginger syrup, and tequila in a small pitcher. Fill the two sugar-rim prepped glasses with ice. Pour Paloma over ice and top with ginger beer. Enjoy!
Chef's Notes:
I like using pink grapefruits and prefer freshly squeezed to bottled, but I realize that's not always possible. Use whatever is available to you.
To make a pitcher to serve 8 people, make the Spicy Ginger Syrup and the Spicy Sweet Rim as described above.
In a pitcher, combine 2 cups pomegranate juice, 2 cups grapefruit juice, 1/2 cup lime, 1/2 cup Spicy Ginger syrup, and 1 1/2-2 cups tequila. Chill until ready to serve. Prior to serving, coat 8 glasses with Spicy Sweet sugar, fill 8 glasses with ice and pour Paloma over. Top with ginger beer.
Recipe inspired by Half Baked Harvest
Spicy Pomegranate Ginger Paloma