Strawberry Basil Margarita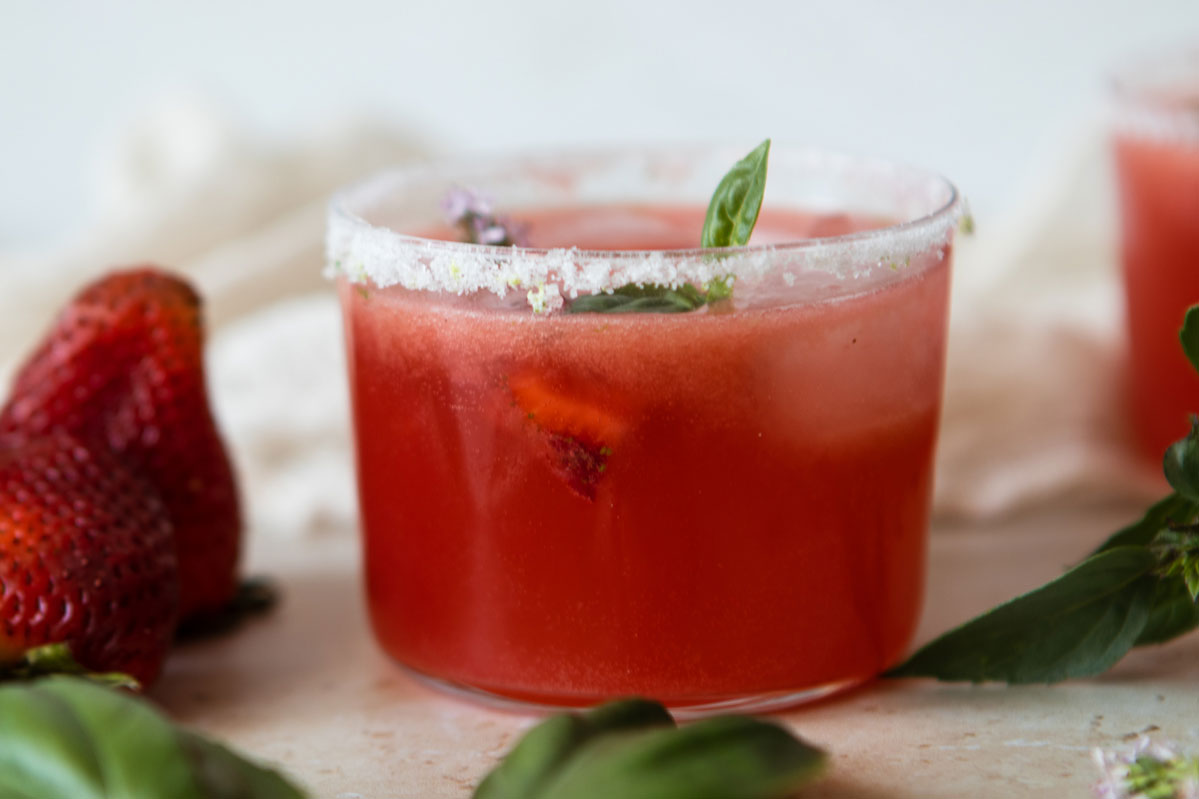 I'm obsessed with the fact that Cinco de Mayo is only a few days away and all I want is a Strawberry Basil Margarita!  These babies have been on my mind since the first time I tried them and, not that I have a problem (at least one I know about), but I want another!  Right now!  Okay it's 8:54 a.m. so maybe I do have a problem.  I'll wait until at least 10:00 a.m. since it will be happy hour in Ireland or somewhere like that! 
Anyhoo, the perfect drink to celebrate any holiday or just because it's the weekend is this pretty Strawberry Basil Margarita.  The combination of the fruit with the basil is delicious.  There is also an unexpected boost of cucumber in this that doesn't really adjust the flavor profile;  it just adds a freshness that takes it up a notch.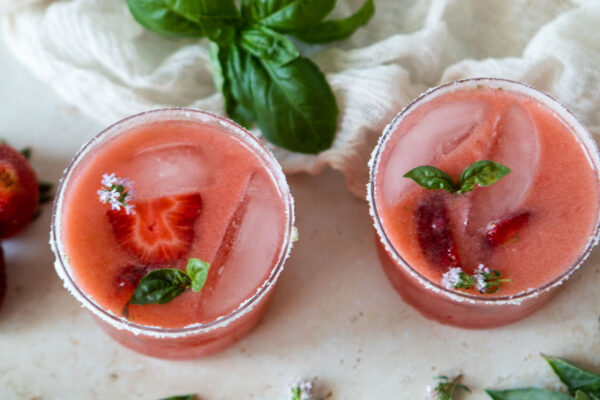 This cocktail also has some ginger and honey in it, along with silver tequila and orange liqueur.  I like to step up the salt that's rimming the glass with some lime zest and a pinch of sugar.
I have made this cocktail with raspberries, blackberries and a combination of berries (I told you I'm obsessed with this marg-y) and they've been equally as tasty.
I have topped the margarita with ginger beer, as recommended, sparkling water, and with nothing.
Find out what your pleasure is and just enjoy
Lastly, if you make Strawberry Basil Margarita, be sure to leave a comment and/or give this recipe a rating! Above all, I love to hear from you and always do my best to respond to each and every comment. And of course, if you do make this recipe, don't forget to tag me on 
Instagram
! Looking through the photos of recipes you all have made is one of my favorite things to do!
Strawberry Basil Margarita
Makes: 1 cocktail
Prep Time: 5 minutes
Total Time: 5 minutes
Ingredients
Lime Salt:
2 tbsp fine sea salt

1 tsp lime zest, plus 1 lime wedge

Pinch of sugar (optional)
Margarita:
4 slices cucumber

4-6 fresh strawberries, hulled and chopped, plus more for serving

6 fresh basil leaves, plus more for garnish

2 tsp freshly grated ginger

Juice from 1/2 lime

2 ounces (1/4 cup) silver tequila

1/2 ounce (1 tbsp) orange liqueur

2 tsp honey

Ginger beer, for topping (optional)
Instructions
Lime Salt:
On a shallow plate, combine the salt, lime zest, and sugar (if using)
Run the lime wedge around the rim of a rocks glass, then press the rim into the lime salt to adhere. Fill the glass with ice.
Make the Margarita:
In a cocktail shaker or glass jar with lid, muddle together the cucumber, strawberries, basil, ginger, and lime juice. Add the tequila, orange liqueur, and honey and shake until combined. Add ice, then shake for another 30 seconds.
Strain the margarita into the prepared glass. Top with ginger beer, if desired. Float some strawberry pieces over the ginger beer and garnish with basil leaves.
Strawberry Basil Margarita