Roasted Carrots with Pistachio Pesto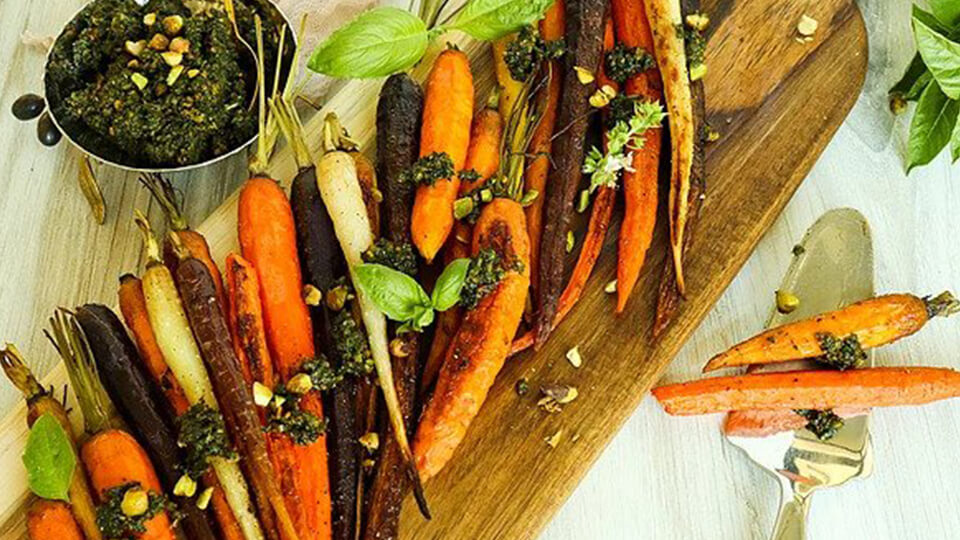 I am a huge fan of any kind of roasted vegetable, so these Roasted Carrots with Pistachio Pesto are often served at my house.  There's something so delicious when you take a vegetable, add a bit of olive oil, salt and pepper and roast it for a while.  The vegetables become beautifully caramelized and get a nutty kind of flavor, especially when we're talking carrots!
We are so lucky to have choices of carrots these days.  I love it when I can find carrots in assorted colors with the leafy ends still attached.  Typically, our farmers markets will have them, but when you can't get to the farmers market, a number of our local grocery stores will also carry them.  If you can get them with the ends still attached, be sure to save the ends for the pesto.  If not, just use basil leaves in the place of the leafy carrot tops.
This is a great accompaniment to steak or chicken.
Lastly, if you make Roasted Carrots with Pistachio Pesto, be sure to leave a comment and/or give this recipe a rating! Above all, I love to hear from you and always do my best to respond to each and every comment. And of course, if you do make this recipe, don't forget to tag me on 
Instagram
! Looking through the photos of recipes you all have made is one of my favorite things to do!
Roasted Carrots with Pistachio Pesto
Makes: 4 servings
Prep Time: 5 minutes
Cook Time: 25-35 minutes
Total Time: 40 minutes minutes
Ingredients
2 pounds young carrots, trimmed, peeled, plus 1 cup coarsely chopped carrot tops

1/2 cup plus 2 tablespoons extra-virgin olive oil, divided

1 & 1/3 tsp kosher salt, divided

1 tsp freshly ground black pepper, divided

1/2 cup coarsely chopped roasted, salted pistachios, divided

2 cups (loosely packed) basil leaves, plus more for serving
Instructions
Preheat oven to 400°F.  Toss carrots with 2 tbsp oil, 1 tsp salt and 1/2 tsp pepper on a rimmed baking sheet.  Roast, tossing occasionally, until carrots are golden brown and tender, 25-35 minutes.  Let  cool.
Meanwhile, pulse 1/4 cup pistachios in a food processor until a coarse paste forms.  Add carrot tops and 2 cups basil.  Pulse until a coarse purée forms.  Add remaining 1/2 cup oil and pulse until combined;  season with remaining 1/2 tsp each salt and pepper.
Transfer carrots to a platter.  Drizzle with pesto, then top with basil leaves and remaining 1/4 cup pistachios.
Cooks' Note:
If your carrots don't have tops, substitute 1 additional cup basil leaves.
Recipe from Molly Baz
Roasted Carrots with Pistachio Pesto