Easy Chicken Noodle Soup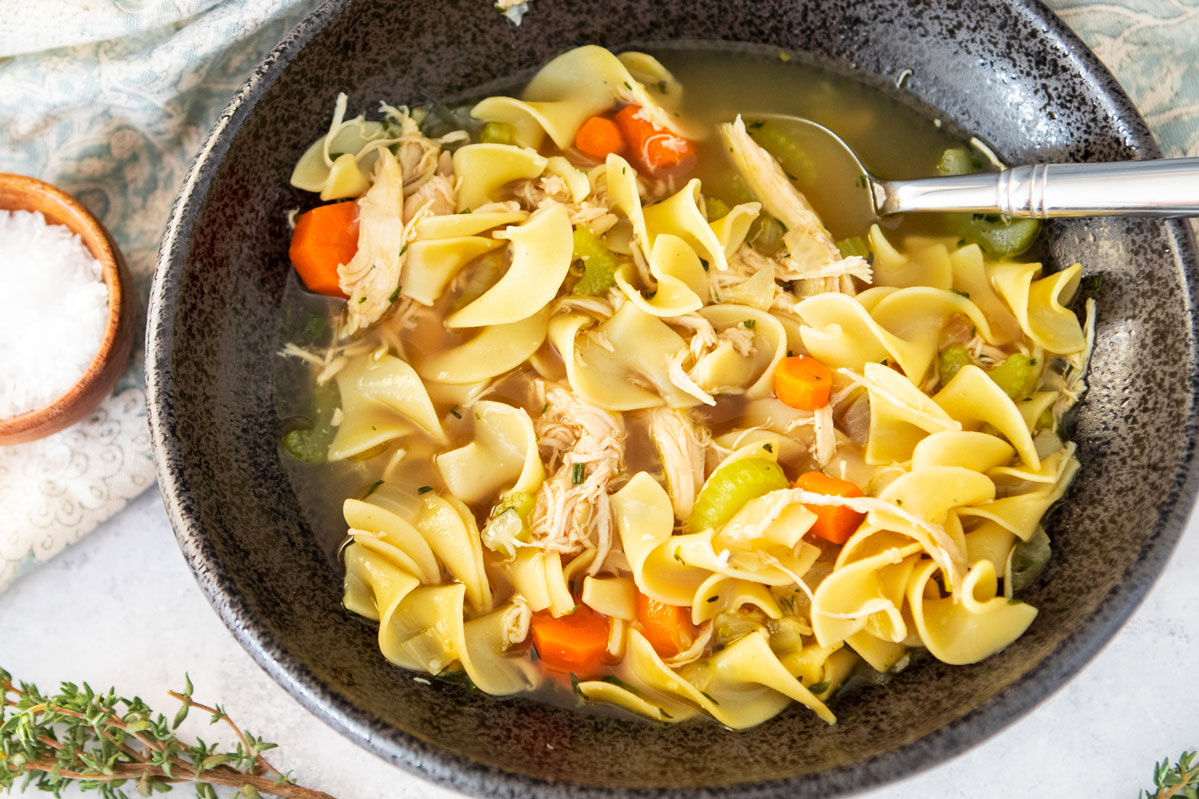 I love it when a dish tastes like you've slaved over it all day but it truly was quick and easy like this Easy Chicken Noodle Soup!
There's a lot to be said about having a stock cook for hours to get the most intense flavor.  Everyone should have a favorite stock recipe…mine is from Ina Garten and I make a triple batch each time and freeze it so that when I want a simple, easy soup, like this one, the stock is ready and waiting.
Then, it's just a matter of sautéing some veggies and herbs, and adding the stock and noodles.
Seriously, can it be that simple??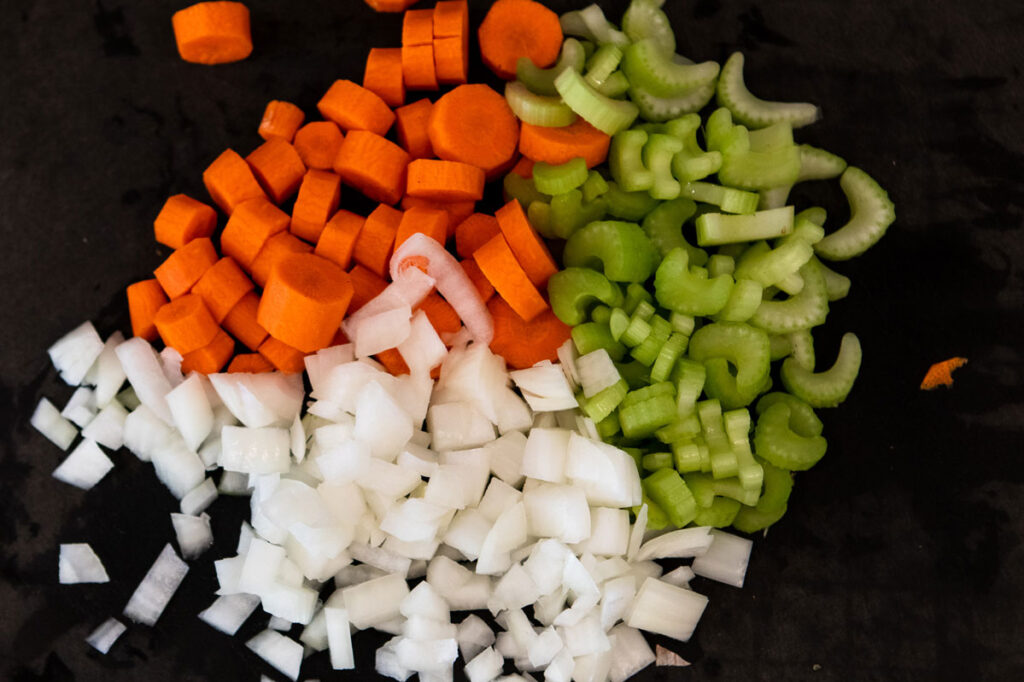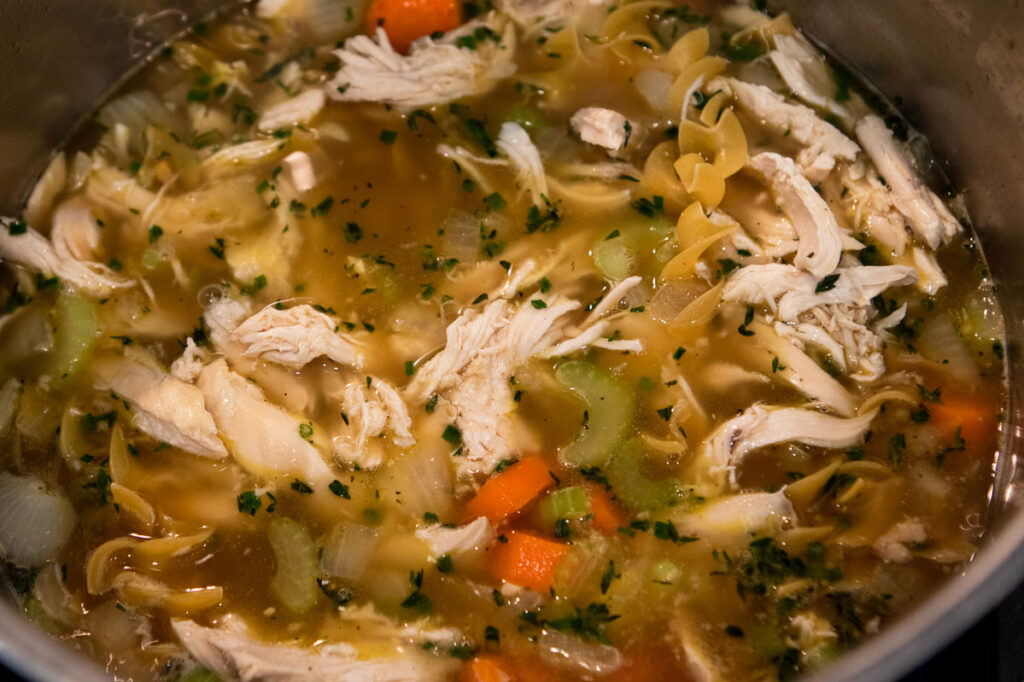 Yes, it's that simple!  Sauté carrots, celery and onions until they begin to soften.  Add garlic, thyme and chives and sauté a few minutes more until the onion becomes translucent.
At this point, pour the stock into the pot and bring it to a boil.  Once boiling, add the stock and the shredded chicken.  Simmer for about 10 minutes or until the noodles are soft and cooked through.
By using store-bought shredded chicken, you cut way down on the prep time.  At my local grocer, I can buy rotisserie chicken that's already off the bone and shredded.  That works perfectly in this recipe.
I'm here to tell you that it doesn't have to be complicated or time-consuming.  If you don't have homemade stock, there are many very good brands on the grocery store shelves that you can buy that will make a delicious soup, so don't feel obligated to slave over a homemade stock.  In my opinion, homemade with love is always going to be better, but you will still have a wonderful soup with store-bought stock.
Enjoy!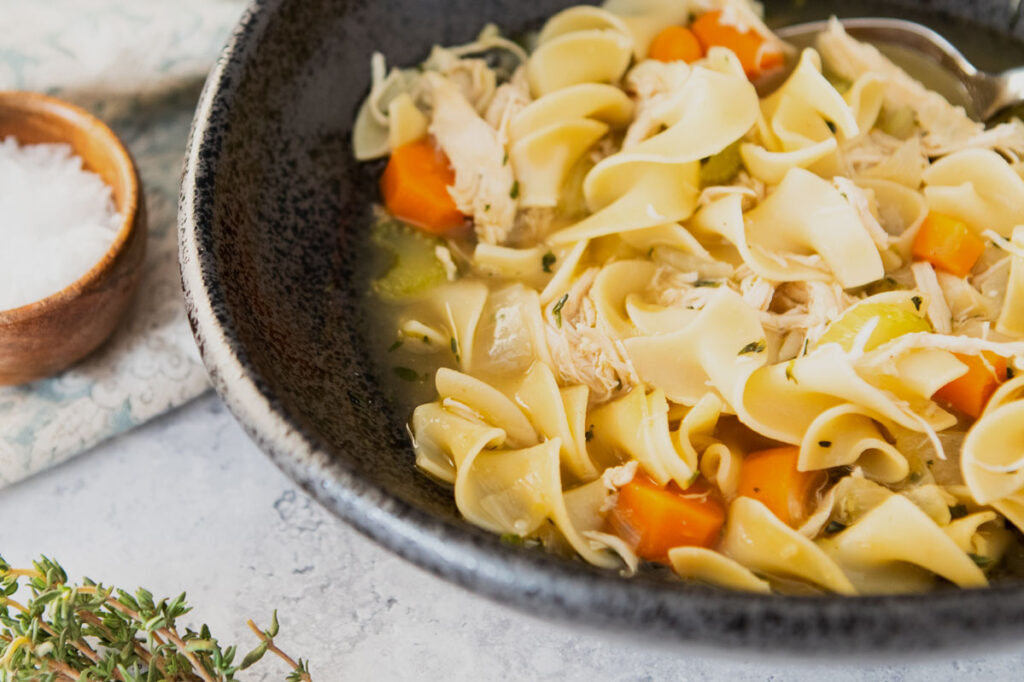 Lastly, if you make Easy Chicken Noodle Soup, be sure to leave a comment and/or give this recipe a rating! Above all, I love to hear from you and always do my best to respond to each and every comment. And of course, if you do make this recipe, don't forget to tag me on 
Instagram
! Looking through the photos of recipes you all have made is one of my favorite things to do!
Makes: 4 servings
Prep Time: 10 minutes
Cook Time: 20 minutes
Total Time: 30 minutes
Ingredients
2 tbsp unsalted butter

1/2 yellow onion, diced

2 carrots, peeled and diced

2 celery stalks, diced or thinly sliced

2 garlic cloves, minced

1 tbsp minced thyme

1 tbsp thinly sliced chives

6 cups unsalted chicken stock

8 ounces wide egg noodles

3 cups cooked and shredded chicken

Kosher salt and pepper to taste
Instructions
Place a large pot over medium heat and melt butter.
Add onion, carrot and celery and sauté for 4 to 5 minutes. Season with salt and pepper. Add garlic, thyme and chives and continue to sauté for 2 to 3 minutes or until onion and celery begin to get translucent.
Pour stock into the pot and bring to a boil. Season with salt and pepper. Once soup is boiling, add egg noddles and chicken, stir and simmer for 8 to 10 minutes, until noodles are soft and cooked through.
Adjust seasonings and serve.
Recipe from Spoon Fork Bacon