Asparagus Prosciutto Wraps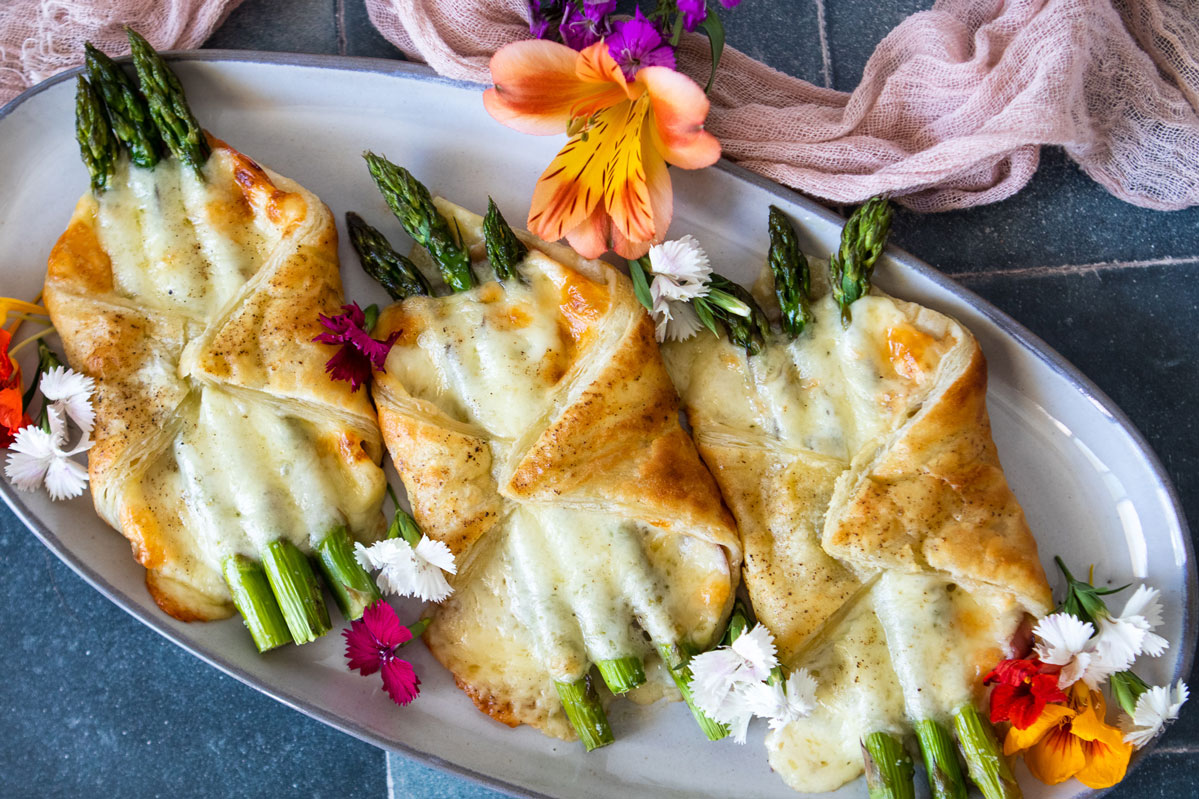 What better way is there to tell Mom you adore her than with these delicious Asparagus Prosciutto Wraps?  Ok, maybe a new iPhone would make her happier, but we're talking food right now!  These wraps are stunning to look at and incorporate the delicious spring vegetable, asparagus.  They are easy to make but look difficult…Mom will think you slaved all day on these!
I love the combination of white cheddar cheese, prosciutto and asparagus being wrapped in puff pastry and then glazed with a honey-tinged egg wash.  Add some edible flowers to your platter to make it pop!
This recipe is very versatile.  It can be a light brunch or lunch main course, it can be a side dish to pair with dinner or it can be a late-night snack (yes, we did that, too).  It can also be made without the prosciutto, if you'd prefer a vegetarian dish.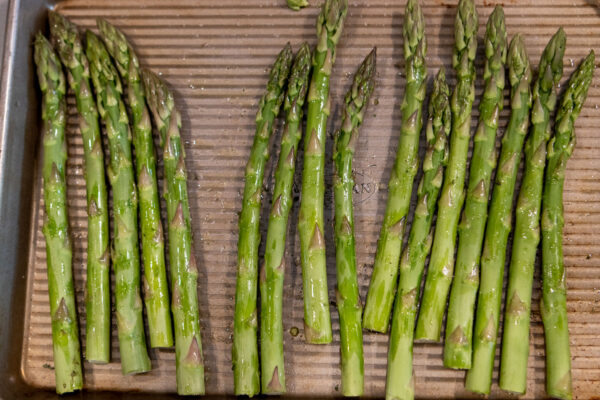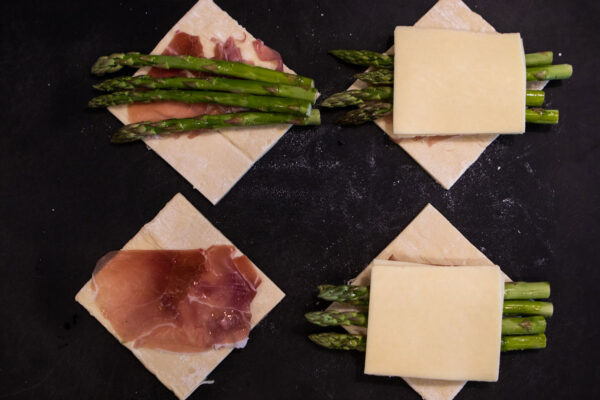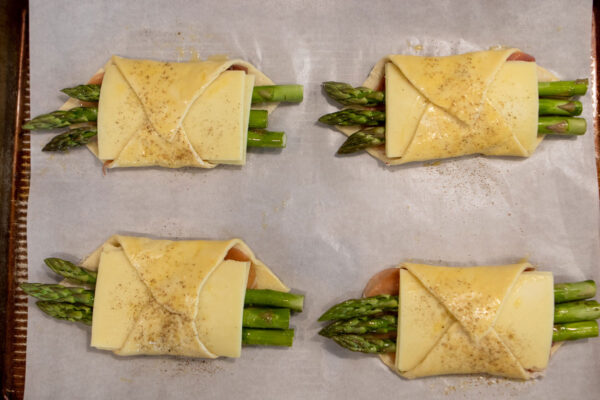 To begin this dish, make sure you thaw the puff pastry.  It doesn't take long.  It can be set out on the counter for about 20 minutes, but ideally, it's best to thaw it in the refrigerator for a few hours.
While it's defrosting, prep the asparagus by trimming them.  Drizzle a bit of olive oil over them and sprinkle some kosher salt.  Try not to get asparagus that is too thin as they won't bake up as nicely as medium-sized asparagus.
You want to melt the butter and let it cool slightly.  Once cool, add honey and egg to the melted butter.  Stir it to combine and set it aside.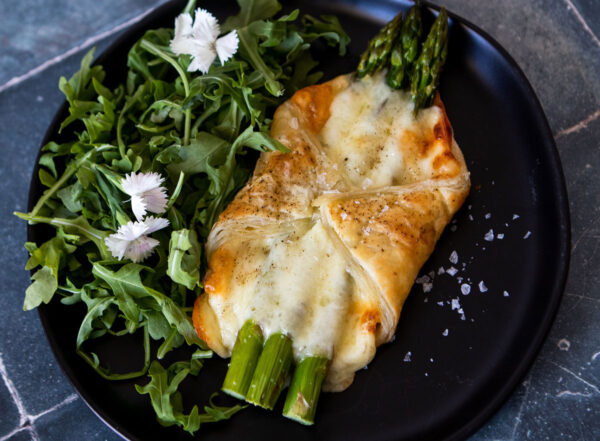 Once the puff pastry is ready, divide it into 4 squares.  Typically a puff pastry sheet is square but if it isn't, roll it slightly to make it into a square.  Turn each square so that it's a diamond.
Now the layering begins.  Top each diamond with a slice of prosciutto, 3-4 asparagus spears and white cheddar cheese.  Fold one side over the other and brush with some of the egg wash so that the opposite side will stick to it.  Then brush the top and sides of the pastry with more egg wash.  Sprinkle a little ground pepper over the entire bundle.
Bake the wraps for about 14-18 minutes, until the puff pastry is golden and the cheese is melted.  Now that's how you say "Happy Mother's Day"!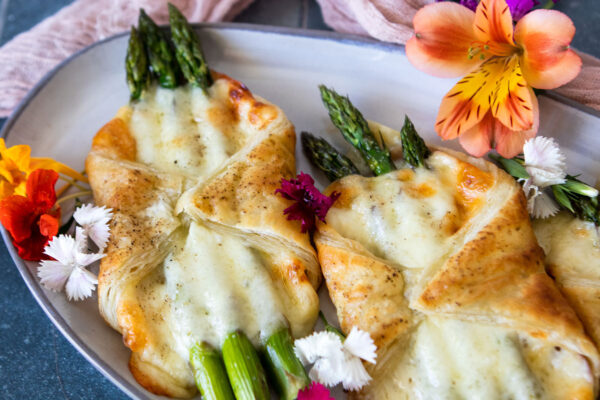 Lastly, if you make Asparagus Prosciutto Wraps, be sure to leave a comment and/or give this recipe a rating! Above all, I love to hear from you and always do my best to respond to each and every comment. And of course, if you do make this recipe, don't forget to tag me on 
Instagram
! Looking through the photos of recipes you all have made is one of my favorite things to do!
Asparagus Prosciutto Wraps
Makes: 4 servings
Prep Time: 20 minutes
Bake Time: 18 minutes
Total Time: 38 minutes
Ingredients
1 tbsp unsalted butter

12-16 medium diameter spears asparagus

1 tbsp extra-virgin olive oil

1/4 tsp Kosher salt or seasoning salt

1 sheet puff pastry (from a 17-ounce package), thawed according to package directions

4 slices prosciutto 4×4 inches or larger, thinly sliced

6 ounces white cheddar cheese, divided into 8 slices (Gouda, Havarti, Dubliner, Baby Swiss, Fontina or Gruyere can also be used)

1 large egg

1 tbsp honey

Freshly ground black pepper
Preheat oven to 400°F and line a 12×18-inch sheet pan with parchment paper. Remove egg from the refrigerator and set out to warm up a bit.
Melt butter in a small microwave safe bowl or measuring cup. Set aside to cool.Lay out the asparagus on plate and drizzle with the olive oil. Sprinkle with the kosher salt and toss with your fingers to coat.
Lightly flour a work surface. If puff pastry is not square, roll it out a bit to form a square. (Each sheet of Pepperidge Farm Puff Pastry is right around 9×9-inches.)
Cut the puff pastry in 4 equal size squares.(If using Pepperidge Farm Puff Pastry, each square will be around 4½ inches on each side.) Rotate the squares with a corner facing up and down (like a diamond).
Prepare the egg wash by adding the honey and egg to the bowl with the melted butter. Stir well to combine. Don't worry if there are some small bits of unmelted butter. Set the egg wash aside.
Top each diamond with a slice of prosciutto, folding as needed to fit over the surface. Top with a 3-4 spears of asparagus and two slices of cheese. (I like to place the cheese so that some of it will peek out once the pastry is folded.)
Fold the left side of the pastry over the asparagus and cheese and brush with the egg wash. Fold the right side over the first side. Brush the top and sides of the pastry with more of the egg wash, being careful not to use too much. You don't want it to drip onto the parchment. Sprinkle with fresh ground pepper.
Bake until pastry is golden and cheese is nicely melted, 14-18 minutes.
Asparagus Prosciutto Wraps