Easy Make-Ahead Breakfast Casserole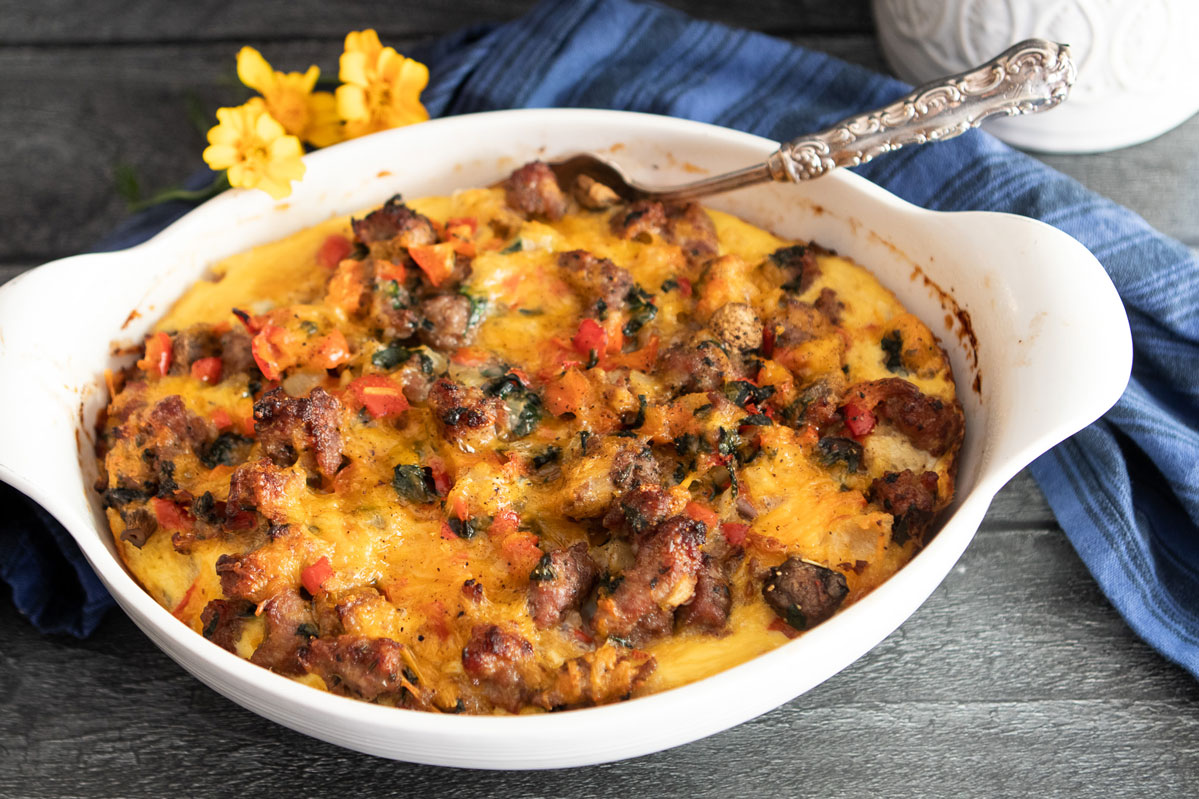 If you're looking for the perfect day-after (Christmas, New Years, cocktail party) breakfast, this Easy Make-Ahead Breakfast Casserole is exactly what you need!
It comes together very quickly, is better when it sits overnight, and bakes up beautiful.  It feeds a crowd (even though my photo is 2/3 of the recipe because someone forgot to pick up more eggs) and is thoroughly mouthwatering and satisfying!
It's adaptable and works with a variety of vegetables, carbs and proteins.  This is a no-stress kind of breakfast to feed a gang of hungry folks!
Begin by browning the sausage.  As the sausage is almost cooked, add veggies and garlic and continue cooking.
In the bottom of a greased baking dish, spread out the crusty bread chunks.  Top the bread with the sausage/vegetable mixture.
Whisk the eggs, milk, cheese and salt & pepper together and pour over the top.  
Cover the dish and sit in the fridge for at least 30 minutes and as long as overnight.  Perfect for make-ahead meals!
When you're ready to serve it, bake it for 45 minutes or so, until the top is nicely browned and crispy.
All that's left now is to bring it to the table and feed that crowd!
PS: if you are odd like me, a little drizzle of maple syrup would add just that extra-special bit of sweet to the dish!
Lastly, if you make Easy Make-Ahead Breakfast Casserole, be sure to leave a review down below at the bottom of this page (stars are also appreciated)! Above all, I love to hear from you and always do my best to respond to each and every review. And of course, if you do make this recipe, don't forget to tag me on 
Instagram
! Looking through the photos of recipes you all have made is one of my favorite things to do!
Easy Make-Ahead Breakfast Casserole
Makes: 12 servings
Prep Time: 15 minutes
Bake Time: 45 minutes
Total Time: 1 hour plus chill time 30 minutes minimum
Ingredients
4 cups (175g or 6 oz) cubes of crusty bread*

1 tsp olive oil

1 pound ground pork sausage, casings removed*

1 tsp dried rosemary or Italian seasoning, optional

1/2 medium onion, diced (115g or 3/4 cup)

2 garlic cloves, minced

2 cups diced bell peppers

1 cup sliced mushrooms

1 cup roughly chopped fresh spinach

12 large eggs

1/4 tsp salt

1/8 tsp freshly ground black pepper

2/3 cup milk or half-and-half*

1 cup shredded cheddar cheese

optional garnish: green onion and/or chopped parsley
Instructions
Grease a 9×13-inch or any 3–4-quart oven-safe dish. Arrange bread cubes in an even layer in bottom of pan.
Heat olive oil in a large skillet over medium heat. Add sausage and rosemary/Italian seasoning, if using, and break up the sausage into bite-size pieces with a wooden spoon or rubber spatula as it begins to cook. Add the onion, garlic, peppers, mushrooms, and spinach and cook until everything has slightly softened and sausage is mostly cooked through, about 5–6 minutes.
Remove sausage and vegetable mixture from heat and spread in an even layer on top of bread.
Whisk the eggs, salt, pepper, milk, and cheese together. Evenly pour over sausage/vegetable mixture. Add another sprinkle of salt and pepper on top.
Cover casserole with plastic wrap or aluminum foil and refrigerate for at least 30 minutes and up to 24 hours. (When ready to bake, allow to sit at room temperature for 10–15 minutes as oven preheats.)
Preheat the oven to 375°F. Bake the casserole, uncovered, until the top is golden, edges are crisp, and a toothpick inserted in the center comes out clean, about 40–45 minutes. Cool for 10 minutes, then slice and serve.
Leftovers keep well in the refrigerator for up to 5 days. Reheat in the microwave to your liking.
Recipe from Sally's Baking Addiction
Easy Make-Ahead Breakfast Casserole