Eggs Benedict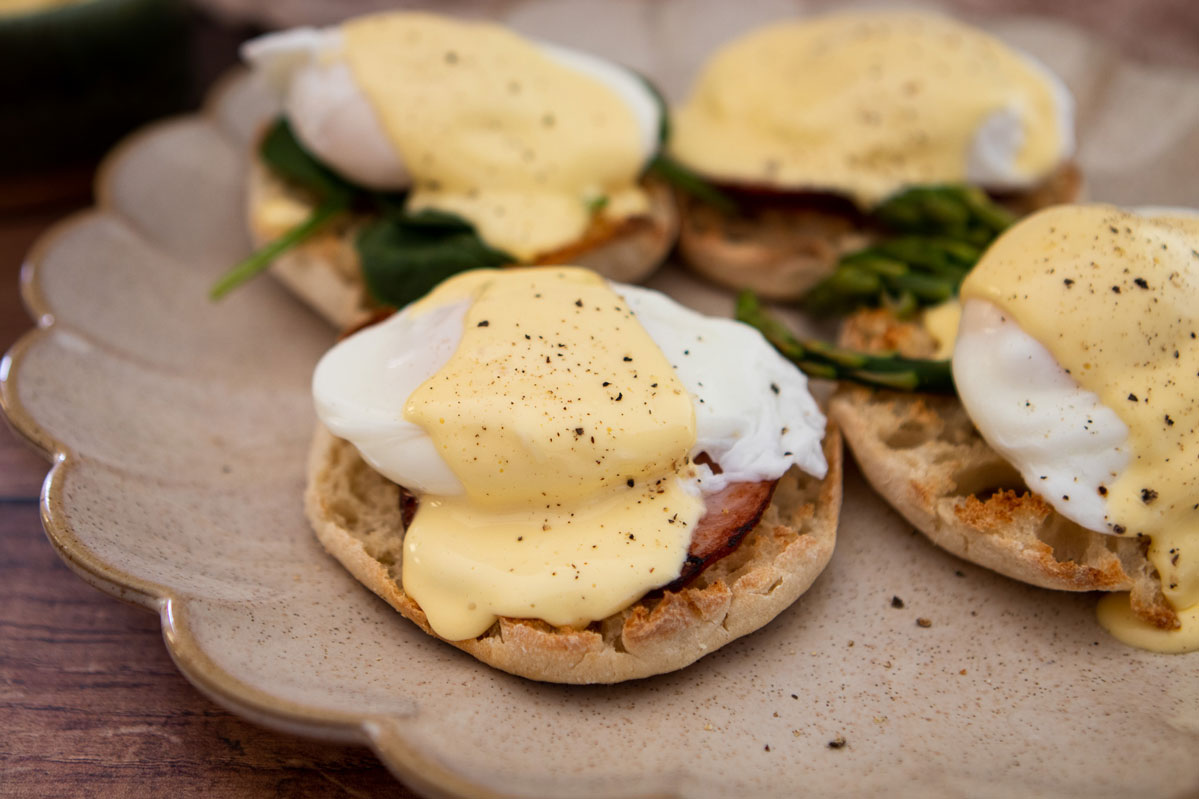 One of the most traditional breakfast items to order in a restaurant is Eggs Benedict.  But, why not make it at home?  Because you think it's difficult?  Because who could poach an egg as well as a restaurant can?  Because a Hollandaise sauce is tricky? 
Let me set the record straight that this is easy, very easy, to make!  I'd include it in my Easy Peasy section, but there is a little coordination that needs to go on and I don't think everyone would agree that it's easy peasy.  You be the judge and let me know!
I like to begin this recipe by making the Hollandaise sauce.  It's not complicated…in a blender, blend the egg yolks and lemon juice until just combined.  Through the feed tube at the top, pour the hot melted butter in and continue blending until the sauce is pale yellow and slightly thickened.  That's it!  Not complicated…not difficult.
Pour the sauce into a bowl and cover it with plastic wrap, pushing it right down on the surface of the sauce to prevent a skin from forming.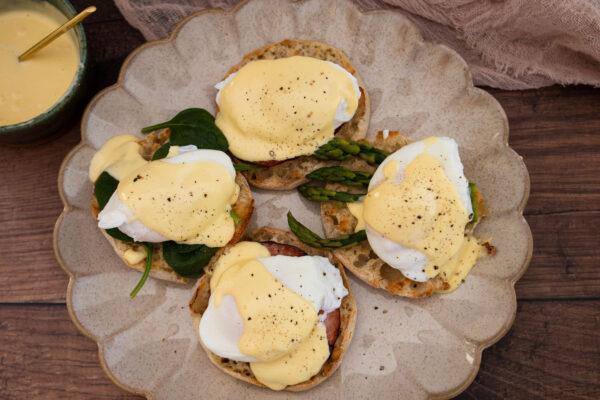 Sauté the Canadian bacon in a skillet until it is slightly crispy on both sides.  This just takes a minute or two. Set aside. 
Bring a pot of water and white vinegar to a gentle boil.  With each egg, crack the egg into a fine mesh strainer over a small bowl.  Gently shake the strainer to get rid of any loose egg whites.  Then, transfer the egg to a small bowl.  Do this with all of the eggs so that they are ready to go at the same time.
Once the water is boiling, carefully tip the egg into the boiling water and cook for about 3 minutes, until the egg whites are set.  I cooked 4 eggs at a time and each one came out perfectly!
Meanwhile, toast the English muffins and set aside.
To assemble the Eggs Benedict, place a piece of Canadian bacon on each half of the English muffin.  Top it with a poached egg, Hollandaise sauce, chives, salt and paprika.
How about that?  Not too difficult, right?  And now you can enjoy this restaurant favorite in the comfort of your own home!
By the way, for a change, try leaving off the Canadian bacon and topping the English muffin with cooked asparagus or fresh spinach.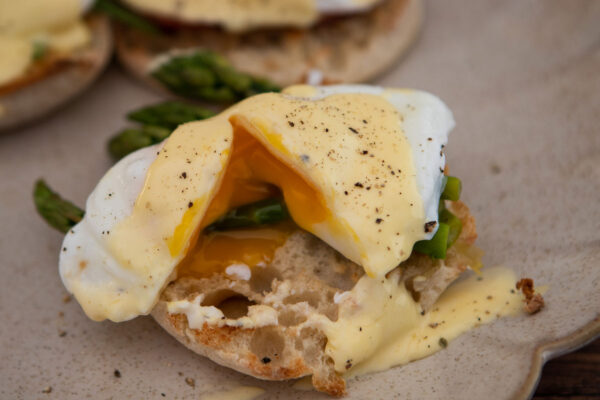 Lastly, if you make Eggs Benedict, be sure to leave a review down below at the bottom of this page (stars are also appreciated)! Above all, I love to hear from you and always do my best to respond to each and every review. And of course, if you do make this recipe, don't forget to tag me on 
Instagram
! Looking through the photos of recipes you all have made is one of my favorite things to do!
Makes: 4 servings
Prep Time: 10 minutes
Cook Time: 15 minutes
Total Time: 25 minutes
Ingredients
4 large cold eggs

2 English muffins, toasted

4 slices Canadian bacon

1 tbsp white vinegar

1 tbsp minced chives, for serving

1 tsp paprika, for serving

Flaky salt, for serving
For the Hollandaise Sauce:
4 large egg yolks, room temp

1 & 1/2 tbsp freshly squeezed lemon juice

1 cup salted butter, hot melted
Instructions
To make the eggs, fill a large pot with 4-5 inches of water and add the vinegar. Bring to a gentle boil over medium-high heat.
Working one egg at a time, crack the egg into a fine mesh strainer over your sink. Gently shake the strainer to get rid of any loose egg whites. Transfer the egg to a small bowl.
Carefully tip the egg into the boiling water and cook until the whites are set, 3 minutes. Using a slotted spoon, transfer the poached egg to a paper-towel-lined plate. Repeat with remaining eggs.
Meanwhile, add the Canadian bacon to a large skillet and cook on medium-high heat until crisp, about 1-2 minutes per side.
Hollandaise Sauce:
In a high speed blender, blend yolks and lemon juice on medium low speed until just combined.
Transfer the hot melted butter to a liquid measuring cup. With the blender running, pour the butter very slowly in a steady stream into the blender through the top. Continue with blender running, until the sauce is pale yellow and slightly thickened.
Remove the sauce from the blender and use immediately or set aside in a bowl, covered with plastic wrap, pressing it down until it touches the sauce (see Chef's Note).
Assemble the Eggs Benedict:
Lay the English muffin halves cut-sides up. Top each half with a slice of Canadian bacon and a poached egg. Pour hollandaise over top and sprinkle with chives, salt, and paprika.
Chef's Notes:
If making the hollandaise sauce ahead and the sauce has thickened too much, stir in 1 or 2 tablespoons of hot water and stir until smooth adding more hot water as needed.
For a non-traditional, vegetarian Eggs Benedict, steam some thin asparagus and lay them over the toasted English muffin. Top with egg, Hollandaise and chives, salt & pepper. Fresh spinach can be used in the place of the asparagus.
Recipe by The Modern Proper