Easy Peach Crumble Muffins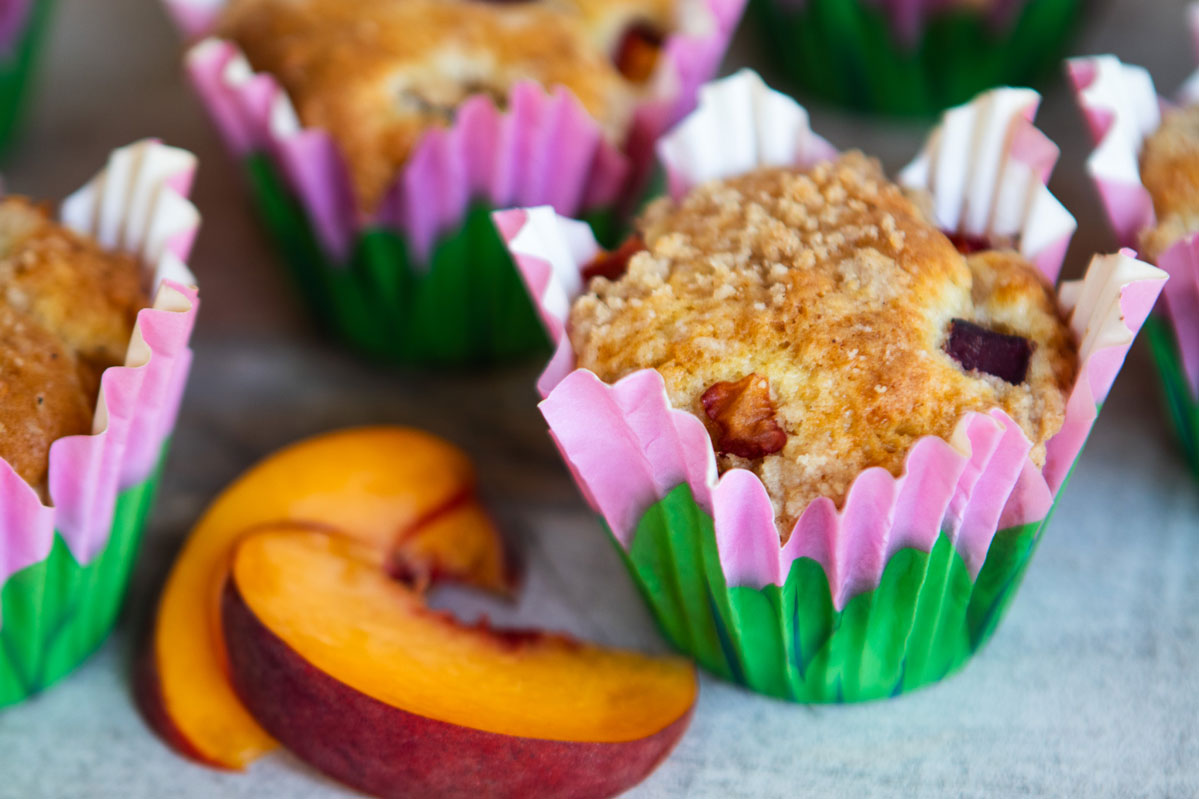 These Easy Peach Crumble Muffins are, well, easy, peachy, crumbly and delicious!!  Encase them in a pretty muffin liner and they are also summery and show-stopping!
While we still have beautiful summer stonefruit, let's make these amazing muffins.  You can use nectarines if you prefer…either will work!
I love that this recipe doesn't require a mixer.  Just combine the melted butter and sugar in a large bowl.  Add the eggs and then the buttermilk and vanilla.  Stir until all of the ingredients are well mixed.
Sprinkle all of the dry ingredients over the top and combine with the sugar mixture.  Fold in the peaches and divide between the muffin cups.
To make the crumble, combine all of the ingredients in a medium bowl and mix with a fork until the crumble forms.
Sprinkle each muffin with some of the crumble.  Add a few extra pieces of diced peach on the top if you feel like it.  Sit tight for about 10 minutes to let the muffins settle into the liners and then pop them into the oven.
Immediately lower the temperature to 375°F and bake the muffins until they are golden brown, about 15-18 minutes.
Let them cool for a bit and either serve them warm or room temperature.
Enjoy beautiful summer peaches while you can!
Lastly, if you make Easy Peach Crumble Muffins, be sure to leave a review down below at the bottom of this page (stars are also appreciated)! Above all, I love to hear from you and always do my best to respond to each and every review. And of course, if you do make this recipe, don't forget to tag me on 
Instagram
! Looking through the photos of recipes you all have made is one of my favorite things to do!
Easy Peach Crumble Muffins
Makes: 15 muffins
Prep Time: 20 minutes
Bake Time: 15 minutes
Total Time: 35 minutes
Ingredients
For the Muffins:
1/2 cup unsalted butter, melted and cooled

1 cup sugar

2 large eggs

3/4 cup buttermilk

2 tsp vanilla extract

2 & 1/2 cups all-purpose flour

1 tbsp baking powder

1 tsp baking soda

1/2 tsp kosher salt

1 cup diced peaches or nectarines, about ¼-inch pieces, plus extra for garnish, if desired
For the Crumble:
1/4 cup light brown sugar, packed

1/2 tsp cinnamon

1/2 cup all-purpose flour

4 tbsp unsalted butter, very soft
Instructions
Preheat oven to 425˚F. Spray 15 muffin cups generously with non-stick spray or line with muffin liners.
In a medium-large bowl, whisk the melted butter with the sugar until well combined. Add the eggs and stir. Add buttermilk and vanilla. Stir until all ingredients are well combined.
Sprinkle the flour, baking powder, baking soda and salt evenly over the top and stir with a folding motion until most of the flour mixture is incorporated. Gently fold in the diced peaches or nectarines using a rubber spatula. Scoop the batter into the prepared muffin cups , filling about 3/4 full.
Combine all crumble ingredients in a medium-size bowl (you can just wipe out the muffin bowl and use the same bowl if you want). Mix with a fork until crumbles form. (If crumble seems too wet and crumbs don't form, add another tablespoon of flour and mix again with a fork.)
Sprinkle each muffin with a rounded teaspoon of the crumble. Wait 10 minutes before baking muffins.
Place muffins in the oven and immediately reduce the heat to 375˚F. Bake 12-18 minutes or until muffins are light golden brown and a toothpick inserted into the center comes out clean. Muffins will also spring back when lightly touched on the top when done.
Allow muffins to cool for 5 minutes then remove from pan to a cooling rack.
Recipe by The Cafe Sucre Farine
Easy Peach Crumble Muffins