Greek Sheet Pan Chicken Souvlaki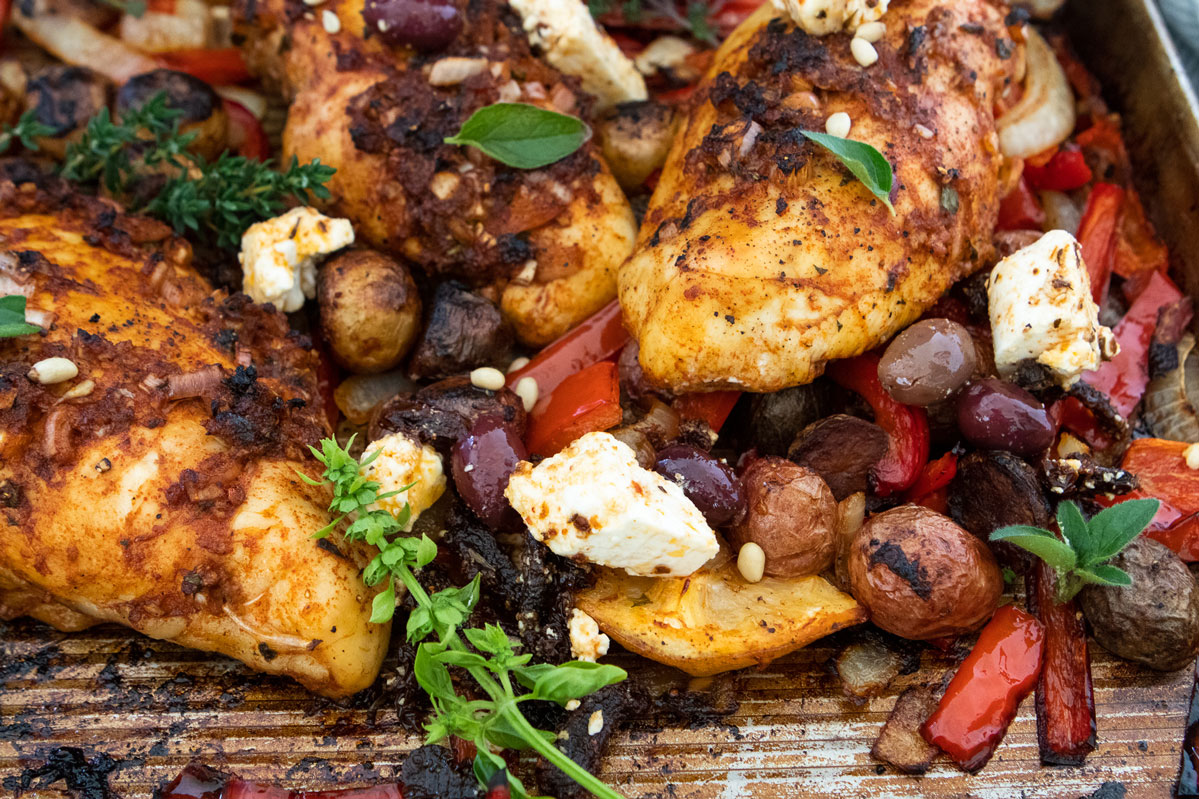 Since I was very young, I loved the flavors of Greek food, especially chicken & lemon potatoes, so imagine my delight when I discovered Greek Sheet Pan Chicken Souvlaki!  I had a sweet Greek boyfriend, Harry, whose mom would make the most amazing lemon potatoes.  Combine that with roasted chicken with wonderful herbs such as oregano and paprika and I would be in heaven!
This recipe brings all of those memories flooding back, but get this, all on one sheet pan!  Roasted chicken, lemon potatoes, roasted red peppers & onions, salty kalamata olives and feta cheese are all combined on one pan to make the most delicious Greek meal!
Come along for the journey…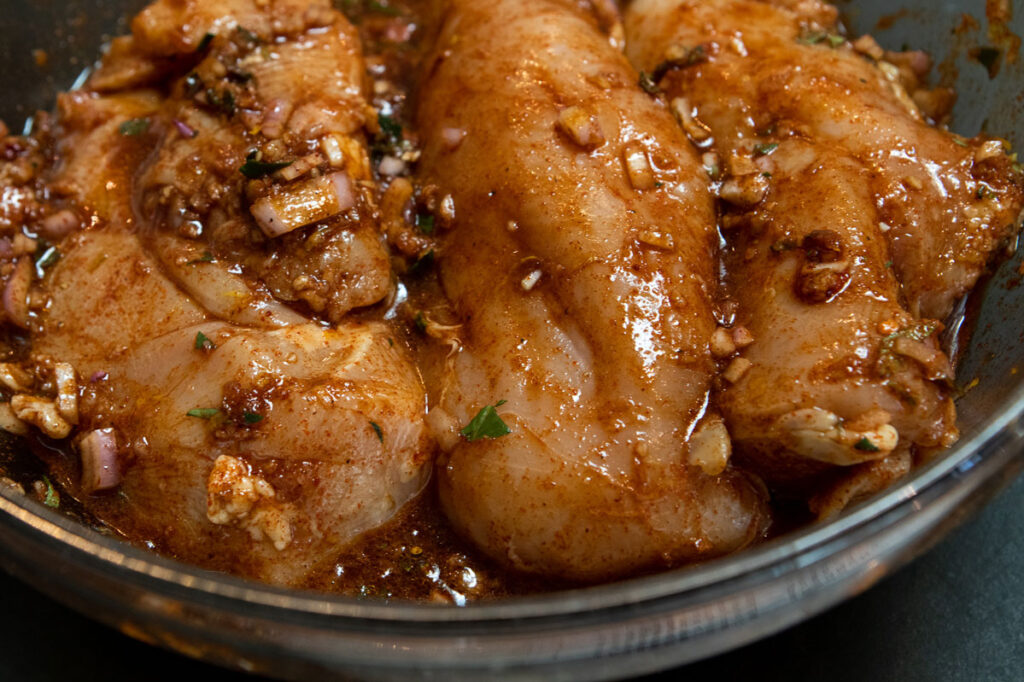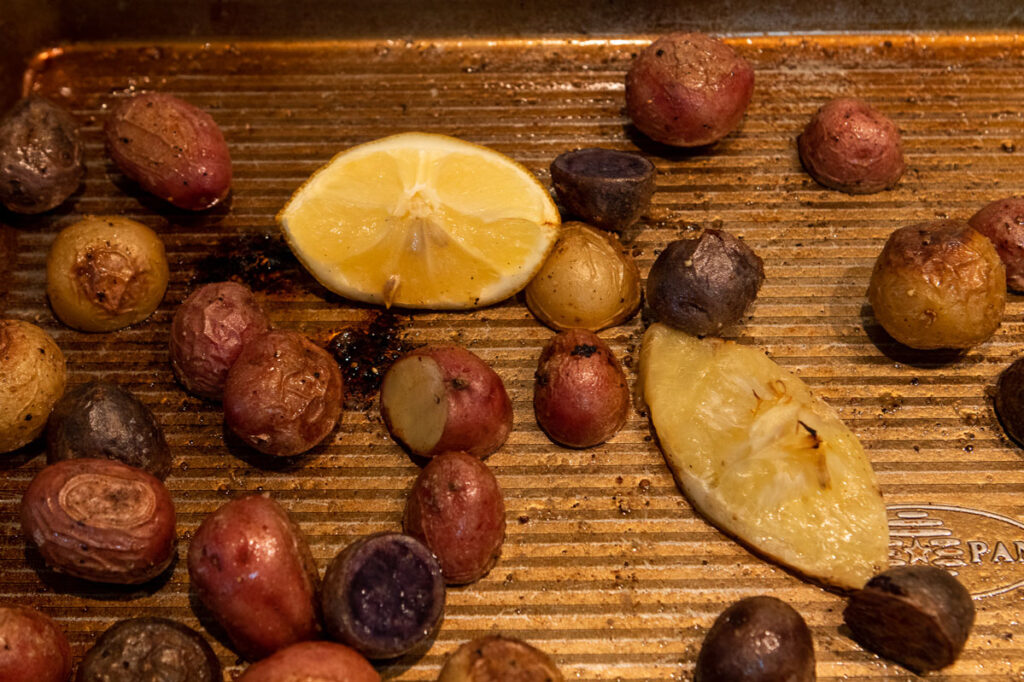 This dish begins with a wonderful marinade for the chicken…lemons, balsamic vinegar, fresh oregano, smoked paprika, shallot, garlic and red pepper flakes are combined to make a flavorful soak for the chicken.  It doesn't take long, maybe 15-20 minutes, but it's all you need to transport the taste buds to Greece.
Meanwhile, roast the potatoes and lemon halves in a hot oven until tender.
Nestle the drained chicken around the potatoes and arrange the red peppers and onions around the chicken.  Add a little olive oil and send the sheet pan back to the oven to roast a while longer.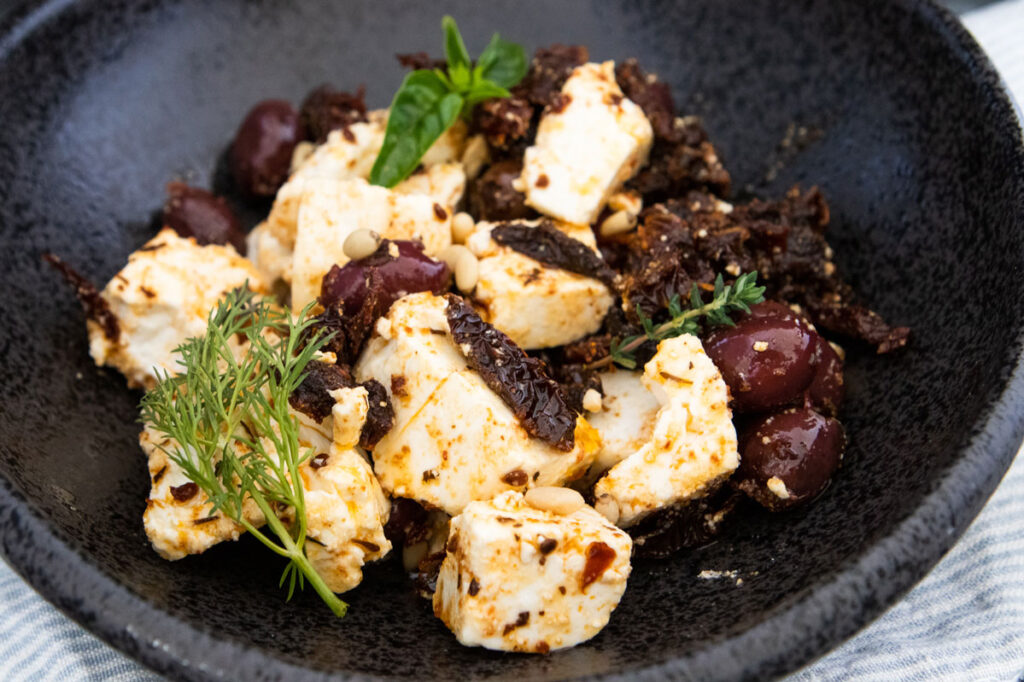 Let's talk about the marinated feta…this adds so much to the dish that you shouldn't omit it.  While everything is cooking, combine the sun-dried tomatoes and their oil, kalamata olives, pine nuts and feta together.  Let that all marinate together. Separately, combine the Greek yogurt with garlic and salt.
Once the chicken is cooked through, divide the chicken, potatoes, peppers and onions between plate.  Spoon the feta mixture over the top, along with dollops of the yogurt mixture.  Sprinkle some fresh herbs and serve this amazing dinner!
Lastly, if you make Greek Sheet Pan Chicken Souvlaki, be sure to leave a comment and/or give this recipe a rating! Above all, I love to hear from you and always do my best to respond to each and every comment. And of course, if you do make this recipe, don't forget to tag me on 
Instagram
! Looking through the photos of recipes you all have made is one of my favorite things to do!
Greek Sheet Pan Chicken Souvlaki
Makes: 6 servings
Prep Time: 20 minutes
Bake Time: 40 minutes
Total Time: 1 hour
Ingredients
4 tbsp extra virgin olive oil

1 & 1/2 pounds boneless chicken breasts or small thighs

2 lemons, 1 zested and juiced, 1 halved

2 tbsp balsamic vinegar

1 tbsp chopped fresh oregano (or 2 teaspoons dried)

1 tbsp smoked paprika

1 shallot, finely chopped

5 cloves garlic, finely chopped or grated

1 large pinch each kosher salt and black pepper

1 large pinch red pepper flakes

1 pound russet or baby potatoes, cut into 1 inch chunks

2 red bell peppers, sliced

1 medium yellow onion, sliced

1/2 cup oil packed sun-dried tomatoes

1/3 cup kalamata olives, pitted

3 tbsp toasted pine nuts (optional)

8 ounces cubed feta cheese

1/2 cup plain Greek yogurt

Mixed fresh herbs, for serving
Preheat oven to 425° F. In a medium bowl, combine 2 tablespoons olive oil, the chicken, lemon zest, lemon juice, balsamic vinegar, oregano, paprika, shallot, 4 cloves garlic, and a large pinch of each salt, pepper, and red pepper flakes. Toss well to combine. Let sit 15-20 minutes.
On a rimmed baking sheet, toss the potatoes with 2 tablespoons olive oil. Season with salt and black pepper. Add the lemon halves. Roast for 20 minutes, or until tender.
Remove the potatoes from the oven and nestle the chicken around the potatoes. Arrange the bell peppers and onions around the chicken, arranging everything in an even layer. Drizzle over 1 tablespoon olive oil, season with salt and pepper. Return the pan to the oven and roast for 20-25 minutes more, until the chicken is cooked through.
Meanwhile, combine the sun-dried tomatoes and their oil, the olives, pine nuts, and feta in a bowl. In a separate bowl, combine the yogurt, 1 clove garlic, and a pinch of salt.
To serve, divide the chicken, potatoes, peppers, and onions between plates. Spoon the feta mix and yogurt over the chicken. Top with a handful of fresh herbs. Eat and enjoy!
Recipe from Half Baked Harvest
Greek Sheet Pan Chicken Souvlaki