Jalapeño-Lime Steak Tacos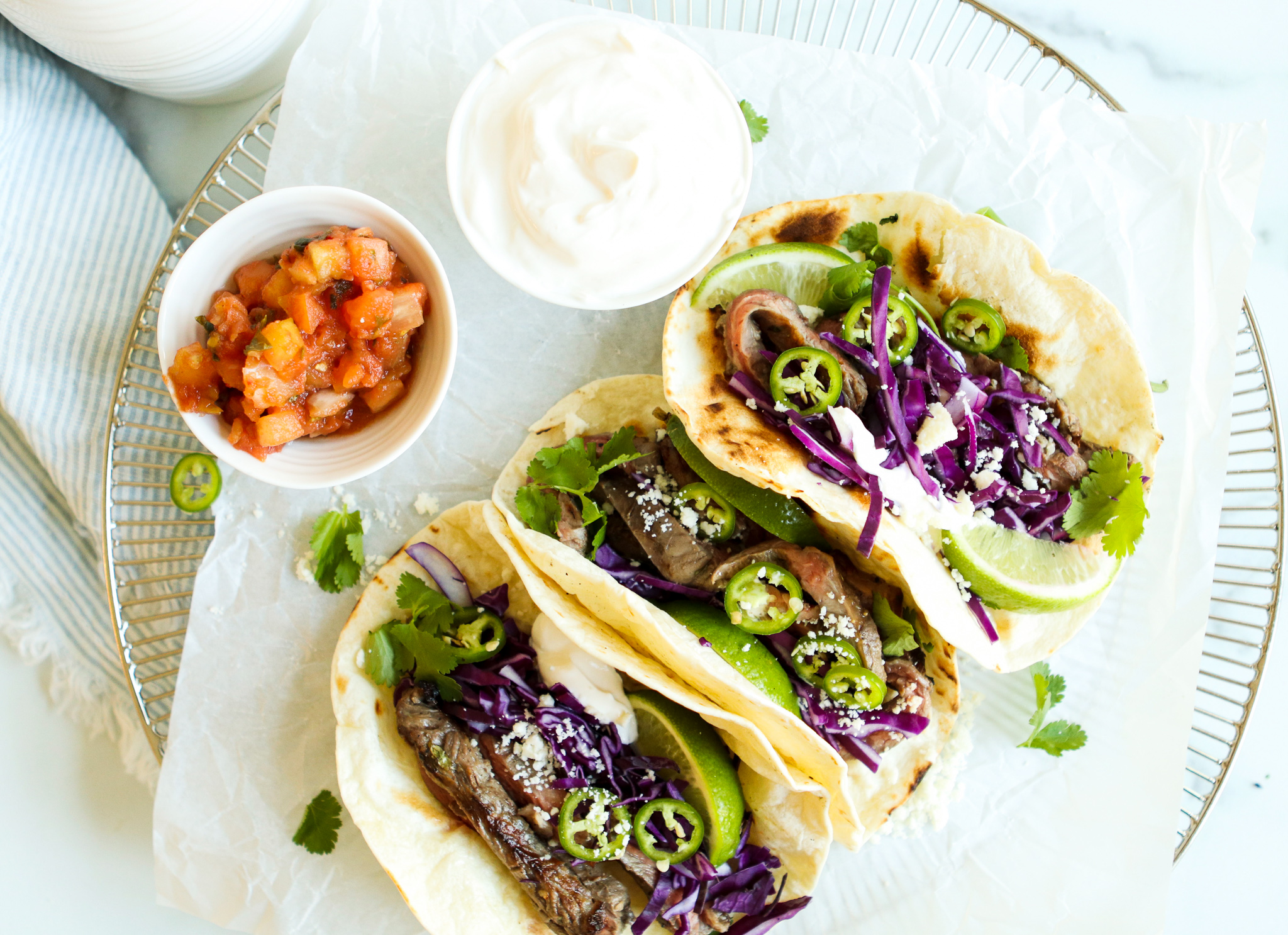 Jalapeño-Lime Steak Tacos are the perfect antidote to stressful times!  During these interesting moments, some traditions shouldn't go by the wayside….such as Taco Tuesday!  Especially when you have such a tasty recipe for the tacos!
This preparation takes very little time…mix up a marinade of jalapeños, lime, garlic, cilantro and extra-virgin olive oil, add the skirt steak and let it sit.  The good news is you can let it sit for 30 minutes or 24 hours, so that with or without planning, you'll have a delectable tasting taco!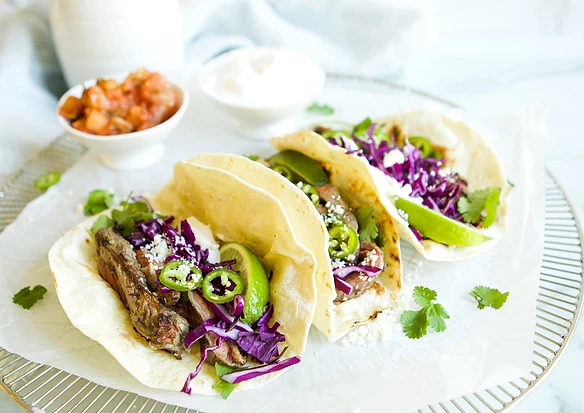 Being in Arizona, I was able to grill the steak and tortillas but these are just as tasty using a grill pan. I like this one a lot! ​ I love biting into a strip of steak, but if you prefer, you can certainly cut the steak into smaller bite-size pieces.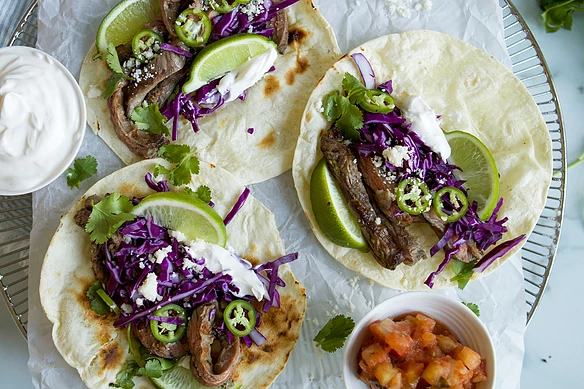 Lastly, if you make Jalapeño-Lime Steak Tacos, be sure to leave a comment and/or give this recipe a rating! Above all, I love to hear from you and always do my best to respond to each and every comment. And of course, if you do make this recipe, don't forget to tag me on 
Instagram
! Looking through the photos of recipes you all have made is one of my favorite things to do!
Jalapeño-Lime Steak Tacos
Makes: 8 tacos
Prep Time: 10 minutes
Cook Time: 10 minutes
Total Time: 20 minutes plus 30 minutes chill time
Ingredients
For the Steak and Marinade:
1 medium jalapeño, thinly sliced

2 garlic cloves, finely chopped

1/4 cup coarsely chopped cilantro

1/4 cup fresh lime juice

1/4 cup olive oil

1 tsp kosher salt

1/2 tsp freshly ground black pepper

3/4 tsp ground cumin

1 pound skirt steak, cut crosswise into 5–6-inch segments
For the Tacos:
8 (8-inch) corn tortillas

The Mission's Salsa (click on this link for recipe)

1/2 medium avocado, sliced

1/3 cup sour cream, thinned with a tablespoon of water or lime juice

Crumbled queso fresco (optional), cilantro leaves, thinly sliced red onion, and lime wedges (for serving)
Instructions
For the Steak:
Combine jalapeño, garlic, cilantro, lime juice, oil, salt, pepper, and cumin in a large resealable bag or bowl. Add steak and toss to coat; if using bowl, wrap with plastic. Marinate at least 30 minutes at room temperature or chill up to overnight in refrigerator, tossing occasionally.
Let steak sit at room temperature 30 minutes before cooking if chilled. Prepare a grill or grill pan for medium-high heat. Remove steak from marinade, scraping off any bits that cling to meat; discard marinade. Grill steak 2–3 minutes per side for medium rare. Let rest 10 minutes before thinly slicing against the grain. You can also cut the meat into smaller pieces if you prefer.
Assemble the Tacos:
Warm tortillas in a microwave, oven, or over a gas flame. Divide steak among tortillas, then top with salsa, avocado, sour cream, queso fresco, if using, cilantro, and onion. Serve with lime wedges alongside.
Chef's Note:
Steak can be marinated 1 day ahead; keep chilled.
Jalapeño-Lime Steak Tacos