Green and Orange Spring Salad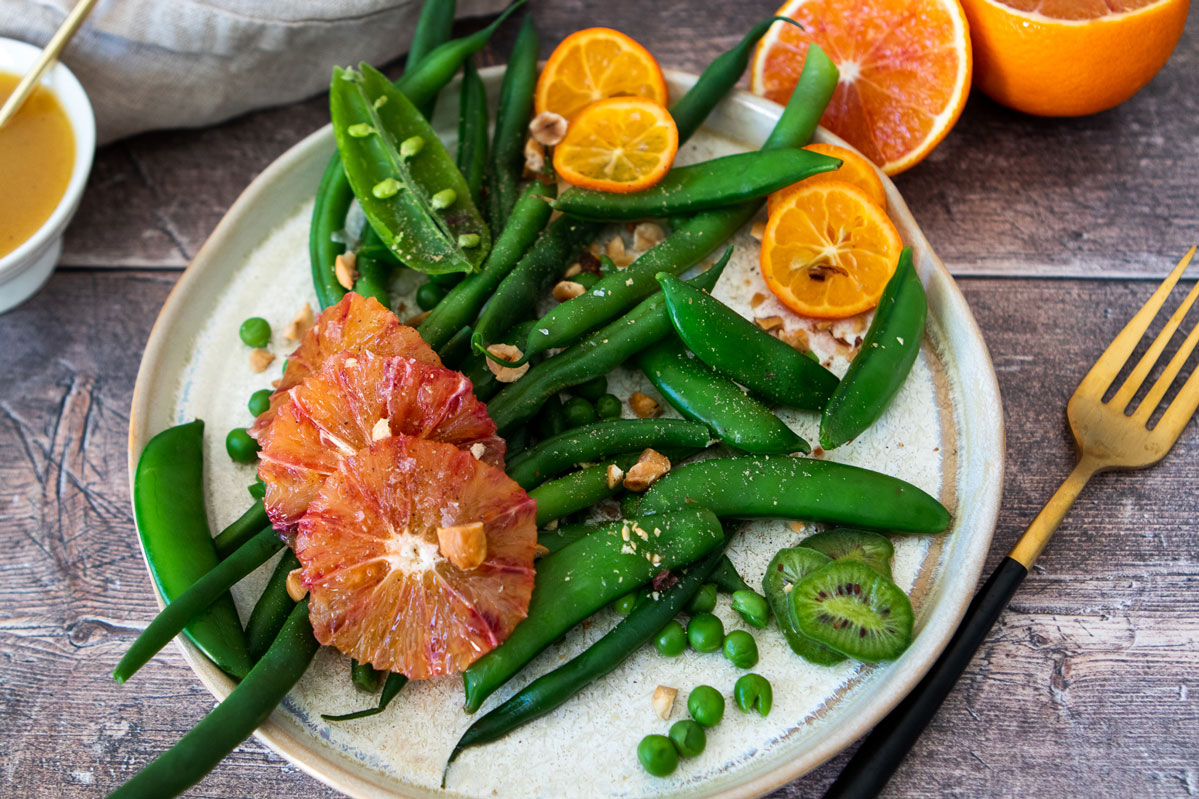 This vivid Green and Orange Spring Salad is the perfect accompaniment to any meal.  It's very light and it's gorgeous to look at!
I loved using the blood oranges from my friend Harriet's tree.  Her blood oranges aren't the deep purple color that you will see at the market, but they are as sweet as they come (just like Harriet).  And, I happen to love the pink striations of color running through the orange.  Makes for a very pretty salad, don't you think?
I also found at my local market some baby kiwis and baby oranges to decorate the plate with.  They also taste good!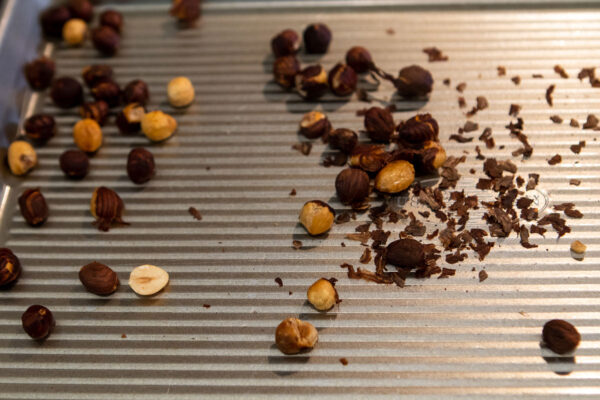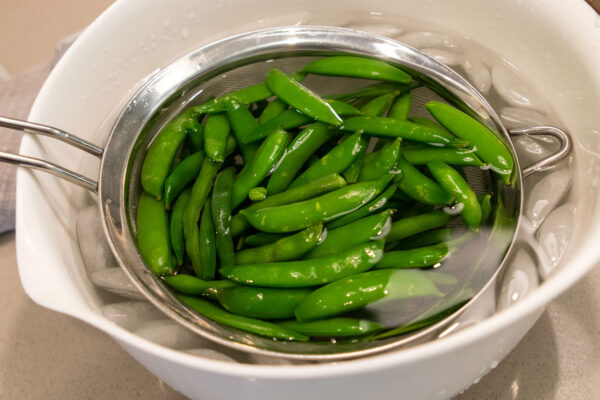 The salad gets a boost from toasted hazelnuts.  It's easy to toast them in the oven, and skinning them becomes a snap if you toss them around in a sealed container for a bit.  Don't worry if all of the skins don't come off.  It's not critical.
The green beans, sugar snap peas and frozen peas are lightly boiled and then zapped in an ice water bath to maintain the bright green colors and to stop the cooking (can't have mushy veggies, now can we?).
The dressing is light and citrusy, with the addition of blood orange juice, red wine vinegar, honey and Dijon mustard.
Arrange this pretty salad on plates, top with toasted hazelnuts and drizzle on some dressing.  This is a keeper!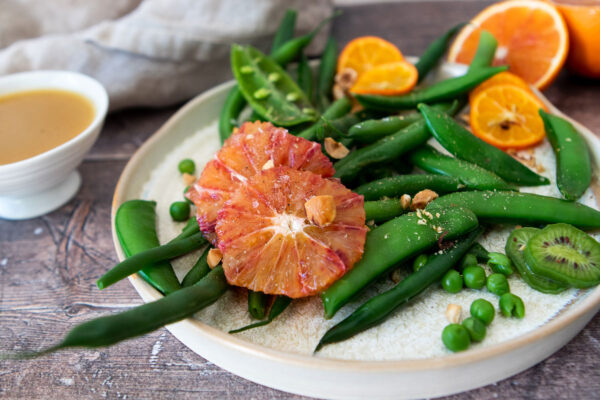 Lastly, if you make Green and Orange Spring Salad, be sure to leave a comment and/or give this recipe a rating! Above all, I love to hear from you and always do my best to respond to each and every comment. And of course, if you do make this recipe, don't forget to tag me on 
Instagram
! Looking through the photos of recipes you all have made is one of my favorite things to do!
Green and Orange Spring Salad
Makes: 4 servings
Prep Time: 20 minutes
Cook Time: 20 minutes
Total Time: 40 minutes
Ingredients
Salad:
1/3 cup unskinned hazelnuts

1

pound green beans, stem end trimmed

1 pound sugar snap peas, trimmed

1 cup frozen green peas

2 blood oranges (or any oranges available)
Dressing:
2 tbsp blood orange juice (or any orange juice available)

2 tbsp red wine vinegar

1/4 cup extra virgin olive oil

1 tsp honey

1 tsp Dijon mustard

1/2 tsp Kosher salt

1/4 tsp black pepper
Instructions
Preheat oven to 325°F with rack in middle. Toast hazelnuts on a small baking sheet until centers are golden, about 15 minutes (cut one open to test for doneness). Place hot hazelnuts into a medium sized Tupperware container with a tight-fitting lid and shake the container until all the outer skin of the nuts loosens and fall off the hazelnuts. Remove skinned nuts and discard skin.
Cut peel, including all white pith, from oranges with a paring knife. Cut orange into 1/4-inch thick slices.
Bring a large pot of water to a boil. Add 2 tablespoons Kosher salt to the water. Add green beans and cook for 3 minutes. Add sugar snap peas and frozen peas and cook for an additional minute. Drain pot and plunge vegetables into a large bowl, filled with ice water to stop cooking. Drain and pat dry.
Place all dressing ingredients in a jar and shake well to combine.
Arrange green beans, sugar snap peas and green peas on a platter. Scatter orange slices and chopped toasted hazelnuts on top of greens. Drizzle with dressing. Top with additional salt and pepper if needed
Recipe adapted from Salt & Serenity
Green and Orange Spring Salad