Grilled Mexican Street Corn (Elote Corn)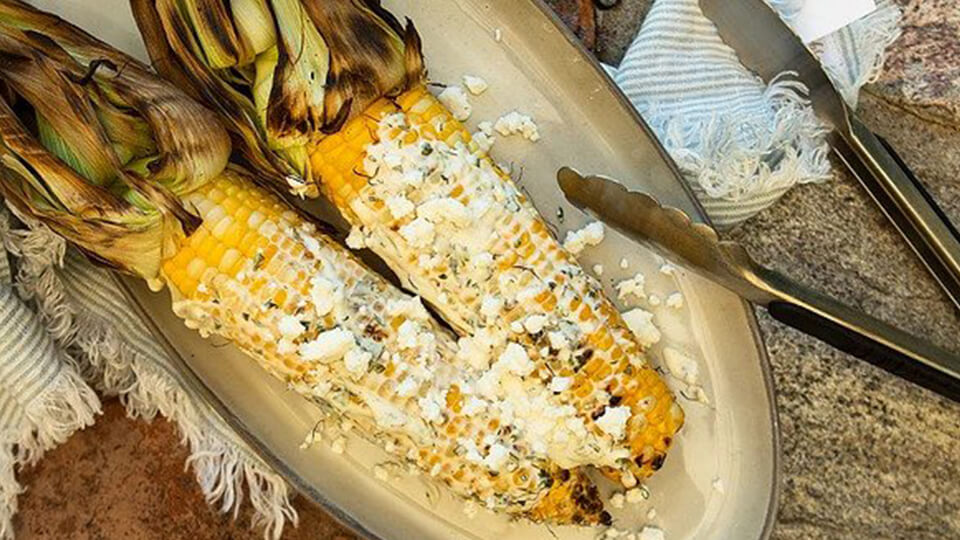 It is definitely corn season so I'm featuring a number of corn recipes. This recipe is one of the easiest preparations and gives you a huge bang for your small amount of work!
Grilled Mexican Street Corn is just that: corn on the cob that is grilled to char-perfection, then slathered in a creamy sauce and topped with Cotija cheese and cilantro. This Elote-style corn (pronounce ee-low-tay) is sold by street vendors all across Mexico and for good reason. The crunch and char of the corn, offset with the cool sauce of Mexican crema or sour cream, chipotle peppers and lime and then topped with the salty bite of the Cotija makes an irresistible side dish.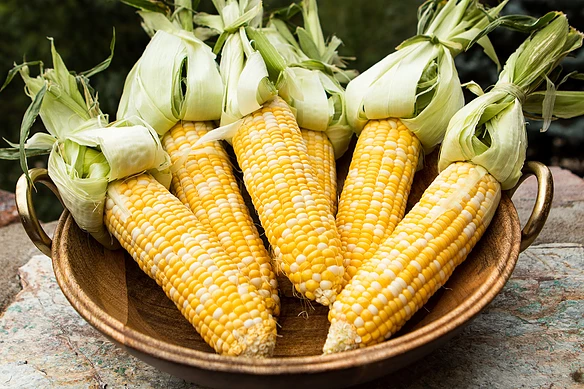 There are built in handles for the corn, as well. When you husk the corn, don't remove the husks all the way. Just pull them back and tie them up with a thin piece of husk or a piece of kitchen twine. Not only is it pretty, it's practical!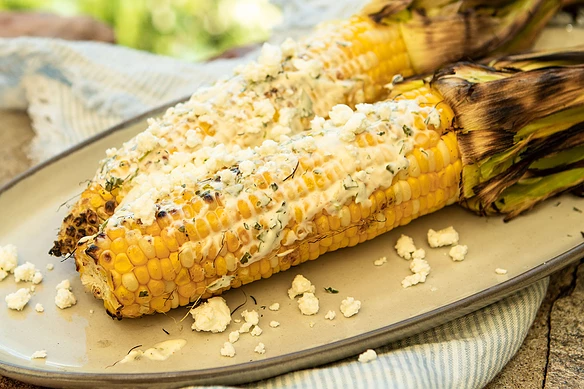 Lastly, if you make Grilled Mexican Street Corn (Elote Corn), be sure to leave a review down below at the bottom of this page (stars are also appreciated)! Above all, I love to hear from you and always do my best to respond to each and every review. And of course, if you do make this recipe, don't forget to tag me on 
Instagram
! Looking through the photos of recipes you all have made is one of my favorite things to do!
Grilled Mexican Street Corn (Elote Corn)
Makes: 6-8 servings
Prep Time: 10 minutes
Cook Time: 10 minutes
Total Time: 20 minutes
Ingredients
6 to 8 medium ears sweet corn, husks removed

1/2 cup Mexican crema, or sour cream

1/2 cup mayonnaise

1/2 cup minced cilantro

1 clove garlic, minced

1/4 tsp ground chipotle pepper, to taste

2 tsp lime zest, from one lime

2 tbsp lime juice, from one lime

1/2 cup cotija cheese, crumbled

Lime wedges, to serve
Instructions
Heat a gas or charcoal grill to 400°F. Clean the grates once it has heated.
In a bowl, whisk together the crema, mayonnaise, cilantro, garlic, chipotle pepper, lime zest and lime juice. Taste and season the mixture with salt if needed. (Crema has a little salt already, so add extra judiciously.) Set aside. 
Place the husked corn directly onto grill grates. Grill the corn for about 3 minutes, undisturbed, or until kernels begin to turn golden brown and look charred. Turn over and repeat. When all sides are browned, remove from the grill onto a plate.  
Using a brush or a spoon, coat each ear of corn with the crema mixture. Sprinkle with crumbled cojita cheese. Sprinkle with additional chipotle pepper, if desired. Serve immediately with extra lime wedges.
Recipe from Simply Recipes
Download PDF
Grilled Mexican Street Corn (Elote Corn)