Grilled Summer Squash with Pesto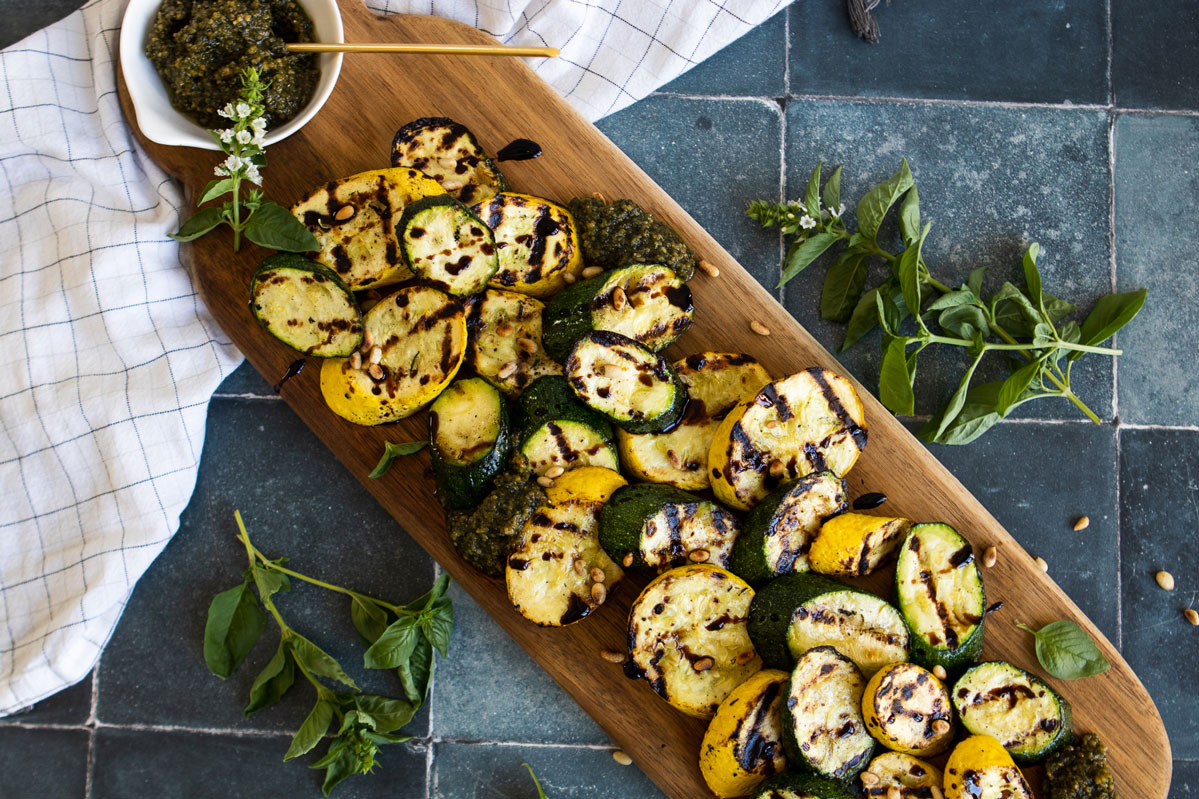 With the end of summer comes the end of grilling season in some areas but before that happens, you must try this wonderful Grilled Summer Squash with Pesto recipe!  Of course, in Arizona we are grilling year 'round, which makes this grillmeister very, very happy!
The grill brings out a wonderful flavor to vegetables with a bit of char that can't be achieved any other way.  While I love roasting my veggies, I adore them on the grill as well!
I also love that this recipe comes together in minutes!  The only lengthy part is salting the squash and letting it sit for about 30 minutes.  This is important so that the water gets pulled out of the squash and drains away.  We can't have soggy squash, now can we?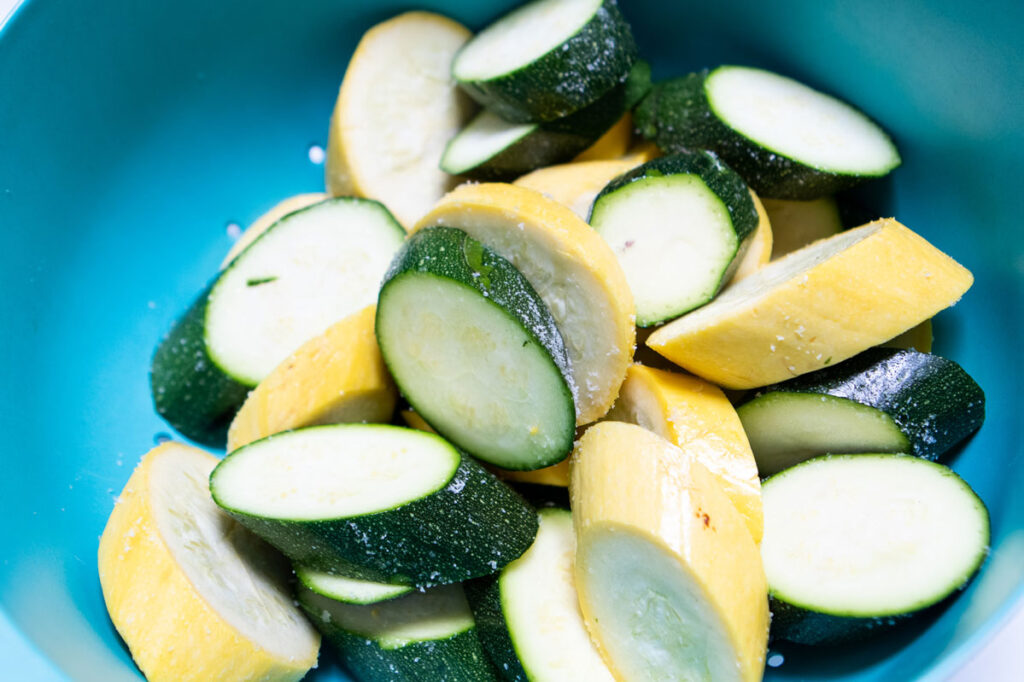 While the squash is draining, make your pesto by combining the basil, cheese, oil and salt in the food processor and purée it until it is smooth.  
As well, boil the balsamic vinegar in a small saucepan until it is reduced and syrupy.
I have two amazing time-saving hacks, as well!  Number 1:  buy jarred pesto sauce.  If you're in a hurry, there's always that little tip.  And, number 2:  buy balsamic glaze.  That will save you about 10 minutes of time.  However, you are waiting around for the squash to drain, so you may not want to spend the money on the glaze, even though it is relatively inexpensive. 
Once the squash have drained, drizzle some olive oil and black pepper over them and grill until they are tender and lightly charred.
Arrange them on a platter, dot them with pesto, drizzle with olive oil and balsamic syrup.  Sprinkle some toasted pine nuts over and enjoy!!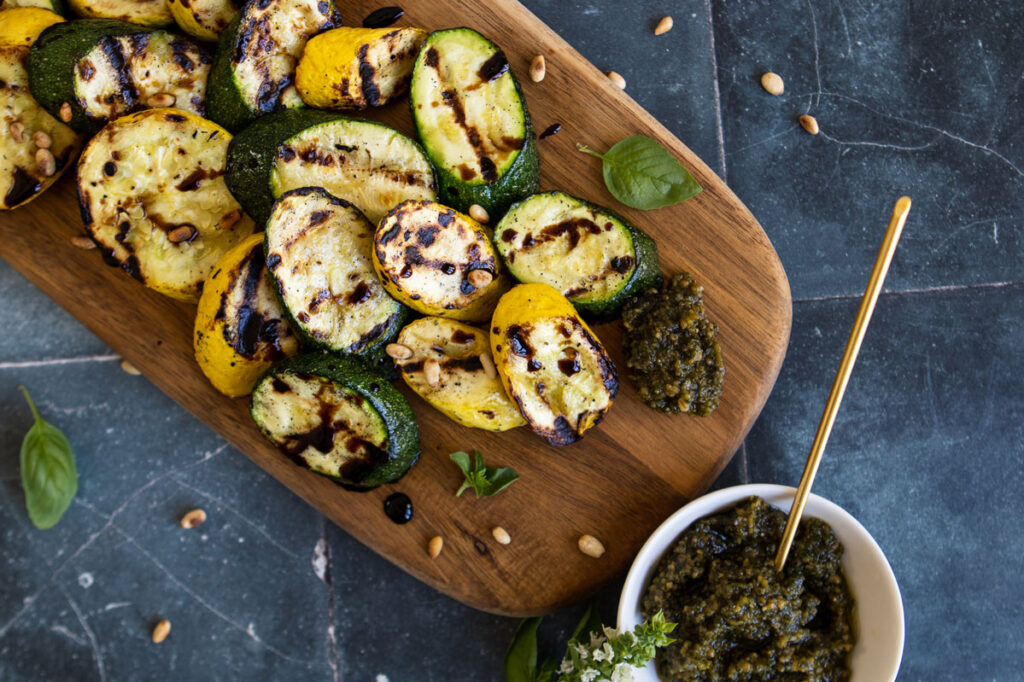 Lastly, if you make Grilled Summer Squash with Pesto, be sure to leave a comment and/or give this recipe a rating! Above all, I love to hear from you and always do my best to respond to each and every comment. And of course, if you do make this recipe, don't forget to tag me on 
Instagram
! Looking through the photos of recipes you all have made is one of my favorite things to do!
Grilled Summer Squash with Pesto
Makes: 4 servings
Prep Time: 35 minutes
Bake Time: 12 minutes
Total Time: 47 minutes
Ingredients
1 & 1/2 pounds assorted summer squash, trimmed and sliced diagonally into 1/2-inch thick ovals

Kosher salt

1 cup packed fresh basil leaves

1/4 cup plus 2 tbsp extra-virgin olive oil, more for drizzling

2 tbsp grated Parmigiano-Reggiano cheese

1/2 cup balsamic vinegar

2 tbsp toasted pine nuts
Instructions
Prepare a high gas or charcoal grill fire. In a colander, toss the squash with 2 tsp kosher salt and drain for 30 minutes; transfer to a large bowl.
Meanwhile, put the basil, cheese, 1/4 cup of the oil, and 1/2 tsp salt in a food processor and puree until smooth.
In a small saucepan over medium-low heat, boil the balsamic vinegar until syrupy and reduced to about 2 tablespoons, 8-10 minutes.
Toss the squash with the remaining 2 tablespoons olive oil and a few grinds of freshly ground black pepper. Grill, flipping once, until golden and tender, 8-12 minutes. Arrange on a platter, dot with the pesto, and drizzle with olive oil and the balsamic syrup to taste. Sprinkle with pine nuts and serve.
Recipe from Fine Cooking
Grilled Summer Squash with Pesto