Mexican Matzah Brei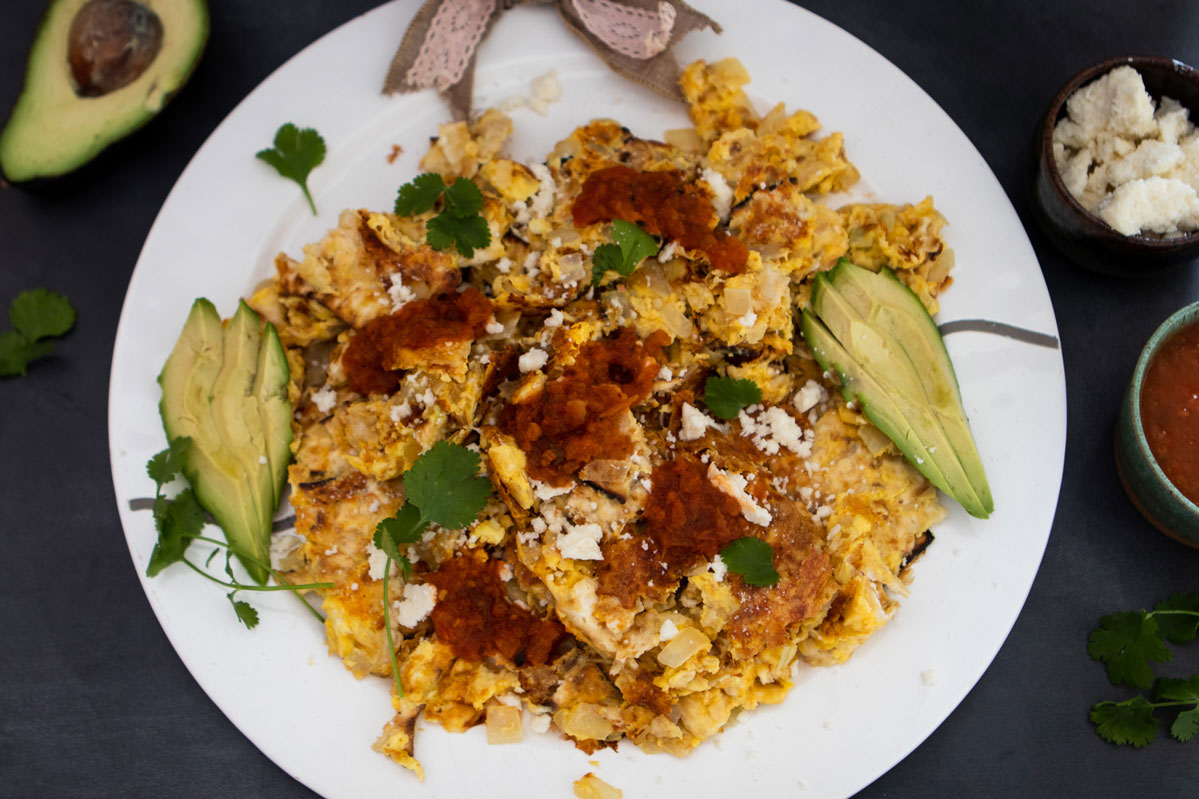 Mexican Matzah Brei is a wonderful addition to our breakfast recipes for Passover.  Since we aren't eating toast, English muffins or croissants during the 8 days of Passover, we need to get creative for our carbs. Heading in the Mexican food direction for this recipe, we are able to step this traditional egg dish up a notch.  
Matzah Brei is a combination of dampened matzah pieces and beaten eggs that get fried in butter or oil.  There is an ongoing debate in the Jewish community about whether you are a sweet or savory Matzah Brei lover…I only eat it savory, so I will always throw in some onions and lots of salt and pepper.  My kids say only sweet, so I leave out the onions, sprinkle lots of confectioners sugar over the top and serve it with maple syrup on the side.
But, back to the savory Mexican Matzah Brei…this is where it's at!  Melting Cheddar cheese along with the eggs, onions and matzah is the way to begin this.  Finish it off with salsa, avocados, queso fresco and cilantro, and you will be in heaven!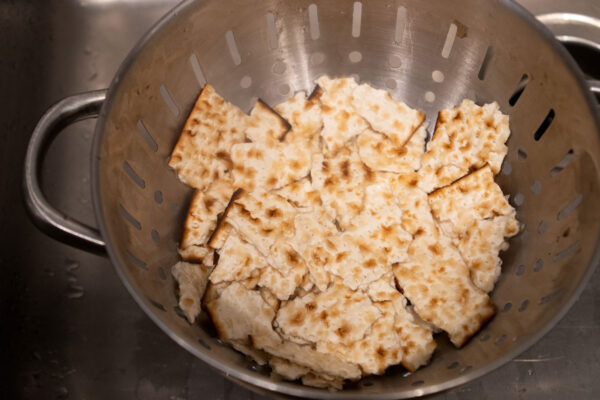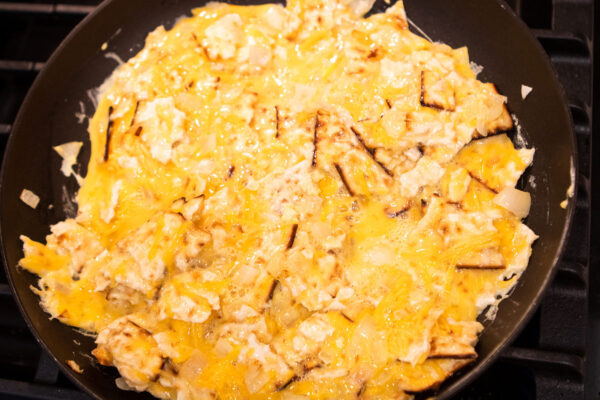 Begin making this by sautéing chopped onions in vegetable oil until they are lightly browned.
In the meantime, pour boiling water over broken matzah pieces that are in a colander until the pieces are soaked.  Drain them.
Beat the eggs and cheese together in a large bowl and add the broken matzah pieces.  Pour this mixture into the skillet with the onions.
Cook the Matzah Brei, stirring as necessary, until the eggs are set.
To finish, arrange the Matzah Brei on a large plate and dollop spoonfuls of salsa over it.  Garnish it with avocado slices, crumbled queso fresco and chopped cilantro.
I have a feeling that if you were a sweet lover of Matzah Brei, this might change your mind!  Happy Holidays!
For another wonderful savory Matzah Brei recipe, check out Asparagus Matzah Brei.
Lastly, if you make Mexican Matzah Brei, be sure to leave a review down below at the bottom of this page (stars are also appreciated)! Above all, I love to hear from you and always do my best to respond to each and every review. And of course, if you do make this recipe, don't forget to tag me on 
Instagram
! Looking through the photos of recipes you all have made is one of my favorite things to do!
Makes: 4 servings
Prep Time: 5 minutes
Cook Time: 20 minutes
Total Time: 25 minutes
Ingredients
2 tbsp vegetable oil

1 medium yellow onion, diced

4 matzah boards, broken into 1 inch pieces

6 eggs, lightly beaten

1 & 1/2 cup grated sharp Cheddar cheese

1/2 cup salsa

1 avocado, sliced

1/4 cup crumbled queso fresco

2 tbsp chopped cilantro
Instructions
Heat the oil in a 10-inch nonstick skillet over medium heat. Add the diced onion and sauté over medium-low heat until lightly browned, about ten minutes.
Meanwhile, place the broken pieces of matzo in a colander and bring a kettle of water to a boil.  Slowly pour the boiling water over the matzo until all the pieces are soaked. Drain in the colander, shaking gently.
Beat together the eggs and cheese in a large bowl. Add the damp matzo to the egg mixture in the bowl. Pour the egg and matzo mixture into the skillet with the onions.
Cook the matzah brei over medium-low heat, stirring as needed, just until the eggs are set.
Arrange the matzah brei on a large plate and pour the salsa over it. Garnish with avocado slices, crumbled queso fresco and chopped cilantro. Serve hot and pass extra salsa on the side.