Grilled Tuna with Cherry-Nectarine Chutney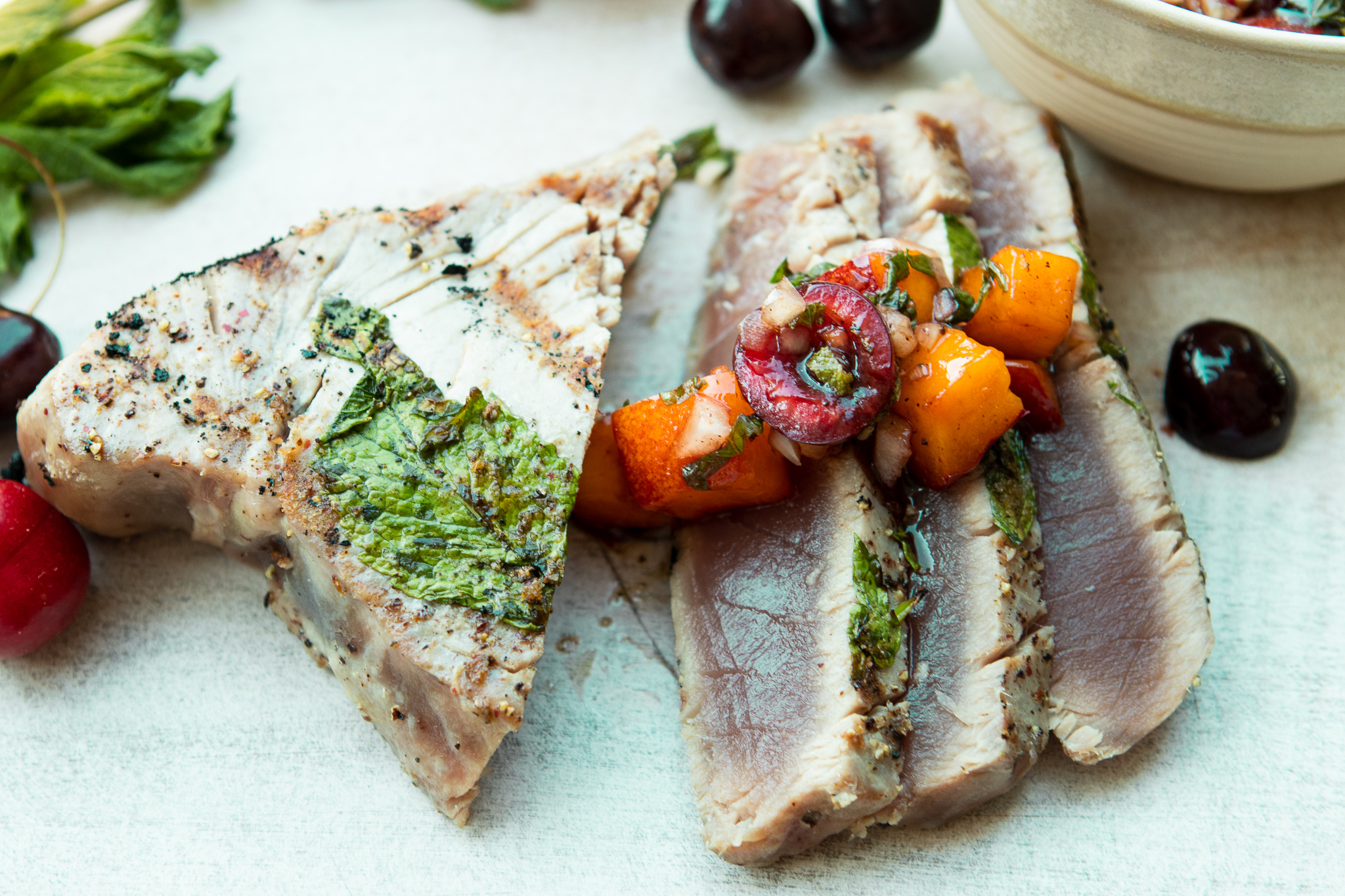 The combination of fresh ahi tuna with mint is outstanding, and when you throw it on the grill and top it with a stone-fruit chutney, it's heavenly.
Mint just speaks of summer…it's fresh and bold. For this recipe, dip the mint leaves in olive oil and rub them on both sides of the tuna to give it that bright flavor.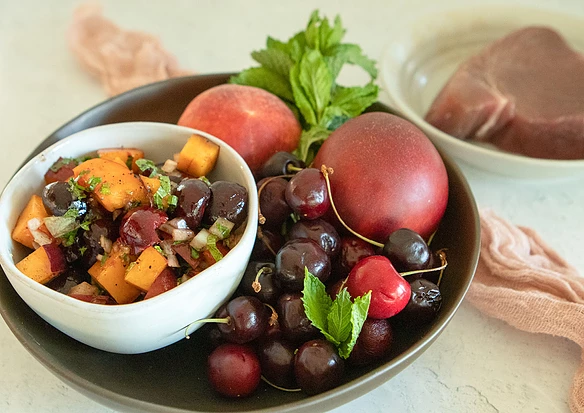 And the chutney…let's talk about that…
This is one of those wonderful recipes that encourages you to use anything you have. If you don't have nectarines, use peaches. If you don't have cherries, use figs. You get where I'm going, right? Add a little red onion for zing and a little mint for pop, mix it with some good aged balsamic and olive oil and you have the perfect topping for this lovely piece of grilled fish!
It's important for this recipe to have a sushi-grade piece of tuna. As you can tell, the tuna stays mostly raw, with a great sear on it from a couple of minutes on the grill. If your fish isn't of the freshest, highest quality, I would try a different recipe.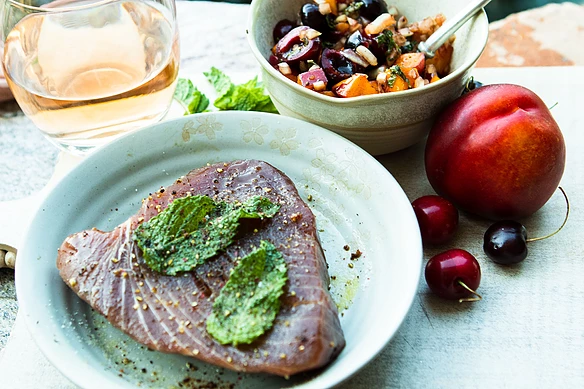 This entire dish comes together in virtually no time. If you don't think about the time that the chutney has to sit for the flavors to meld (30 minutes), this is a 10-minute recipe! Can't think of anything that makes me happier!!
Don't forget a gorgeous rosé or Sauvignon Blanc. It's the perfect accompaniment on a hot summer eve!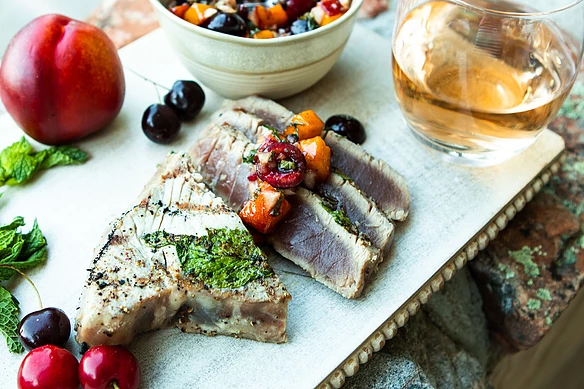 Lastly, if you make Grilled Tuna with Cherry-Nectarine Chutney, be sure to leave a review down below at the bottom of this page (stars are also appreciated)! Above all, I love to hear from you and always do my best to respond to each and every review. And of course, if you do make this recipe, don't forget to tag me on 
Instagram
! Looking through the photos of recipes you all have made is one of my favorite things to do!
Grilled Tuna with Cherry-Nectarine Chutney
Makes: 8 servings
Prep Time: 10 minutes
Cook Time: 5 minutes
Total Time: 30 minutes
Ingredients
Chutney:
12 cherries, pitted and quartered

3 ripe nectarines, pitted and cut into 1/2-inch dice

1/4 cup red onion, finely chopped

2 tbsp mint, chiffonade (See Chef's Note)

3 tbsp aged balsamic vinegar

2 tbsp olive oil

Kosher salt & freshly ground pepper
Tuna:
8 tuna filets (4-6 ounces each, 1 1/4″ thick)

1/4 cup mint leaves

1/4 cup olive oil

Kosher salt & freshly ground pepper
Instructions
Combine the cherries, nectarines, red onion, mint, vinegar and olive oil in a medium bowl and season with Kosher salt & pepper. Let sit at room temperature for 30 minutes. May be refrigerated for 1 day; serve at room temperature.
Preheat grill to high. Dip the mint leaves into the olive oil and rub them onto both sides of the tuna. Let the leaves "stick" to the tuna after rubbing the mint oil all over. Season with Kosher salt & pepper. Grill 1-2 minutes per side for rare. Place the tuna on a large serving plate and pile with relish alongside or on top of the fish.
Chef's Note:
To cut mint into chiffonade or fine ribbons, stack and roll up the leaves and cut into thin strips.
Grilled Tuna with Cherry-Nectarine Chutney