Sheet Pan Hoisin Salmon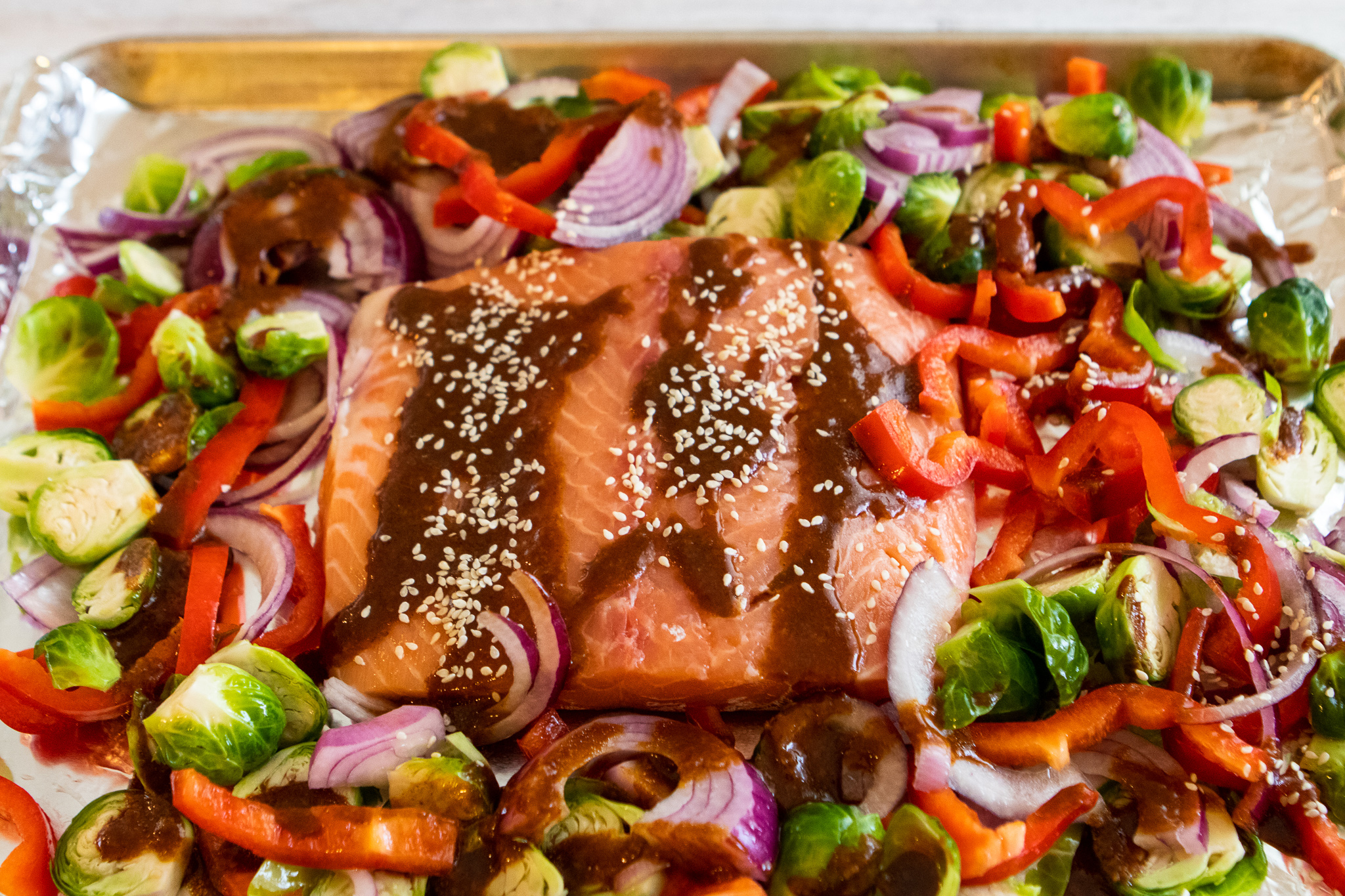 Ah, the joys of a wonderful dinner made with one sheet pan, namely Sheet Pan Hoisin Salmon!  Makes me do the happy dance!  In a nutshell, you have a beautifully-flavored salmon, roasted with a multitude of vegetables  all on one sheet pan.  It couldn't get simpler than that!  While it doesn't come in under 30 minutes to fit into that category of food, it's pretty darn close at 35 minutes.

The star of this dish, besides fresh salmon & veggies, is the sauce.  This sauce is a combination of hoisin sauce, lime juice, olive oil, fresh ginger, garlic & cayenne.  Doesn't that sound amazing??
The veggies I've used are Brussels sprouts, red bell peppers and thinly sliced red onions.  You could also use broccoli or cauliflower.  I would just caution you to use vegetables that have similar cooking times or you'll find some cooked before others.  Toss the veggies with some olive oil and salt.
The salmon gets placed on the sheet pan, with the vegetables arranged around it.  The hoisin sauce then gets drizzled over the top of the salmon & veggies.  Sprinkle on some sesam seeds and bake this bad boy at 375°F for 16-20 minutes.  You can drizzle some more hoisin sauce on after it's cooked and it's ready to serve!
Happy dance definitely!
Lastly, if you make Sheet Pan Hoisin Salmon, be sure to leave a comment and/or give this recipe a rating! Above all, I love to hear from you and always do my best to respond to each and every comment. And of course, if you do make this recipe, don't forget to tag me on 
Instagram
! Looking through the photos of recipes you all have made is one of my favorite things to do!
Makes: 2-3 servings
Prep Time: 15 minutes
Cook Time: 20 minutes
Total Time: 35 minutes
Ingredients
1/4 cup hoisin sauce

3 tbsp fresh lime juice (from 2 limes)

4 & 1/2 tbsp olive oil, divided

1 tbsp minced peeled fresh ginger (from 1 2-inch piece)

2 garlic cloves, minced (about 1 teaspoon)

1/4 tsp cayenne pepper

12 medium brussels sprouts, trimmed and cut into 1/4-inch-thick slices (about 1 & 1/4 cups)

1 small red bell pepper (about 6 ounces), cut into 1/4-inch-thick strips (about 1 cup)

2 cup thinly sliced red onion (from 1 medium onion)

1 tsp flaky sea salt, divided

1 pound skin-on salmon fillet (about 1-inch thick)

1 tsp sesame seeds
Instructions
Preheat oven to 375°F. Line a sheet pan with parchment paper or foil. Whisk together hoisin sauce, lime juice, 1 1/2 tablespoons oil, ginger, garlic, and cayenne in a small bowl; set aside.
Toss together brussels sprouts, bell pepper, onion, 1/2 teaspoon salt, and remaining 3 tablespoons oil. Place salmon on prepared sheet pan. Arrange vegetable mixture around salmon. Drizzle 1/2 cup hoisin mixture on salmon and vegetable mixture; reserve remaining hoisin mixture. Sprinkle salmon with sesame seeds.
Bake until salmon is cooked to desired degree of doneness and vegetables are tender, 16 to 20 minutes. Drizzle 2 tablespoons reserved hoisin mixture over salmon and vegetables, and sprinkle salmon with remaining 1/2 teaspoon salt. Serve with remaining hoisin mixture.