Lemon Bucatini with Garlic Breadcrumbs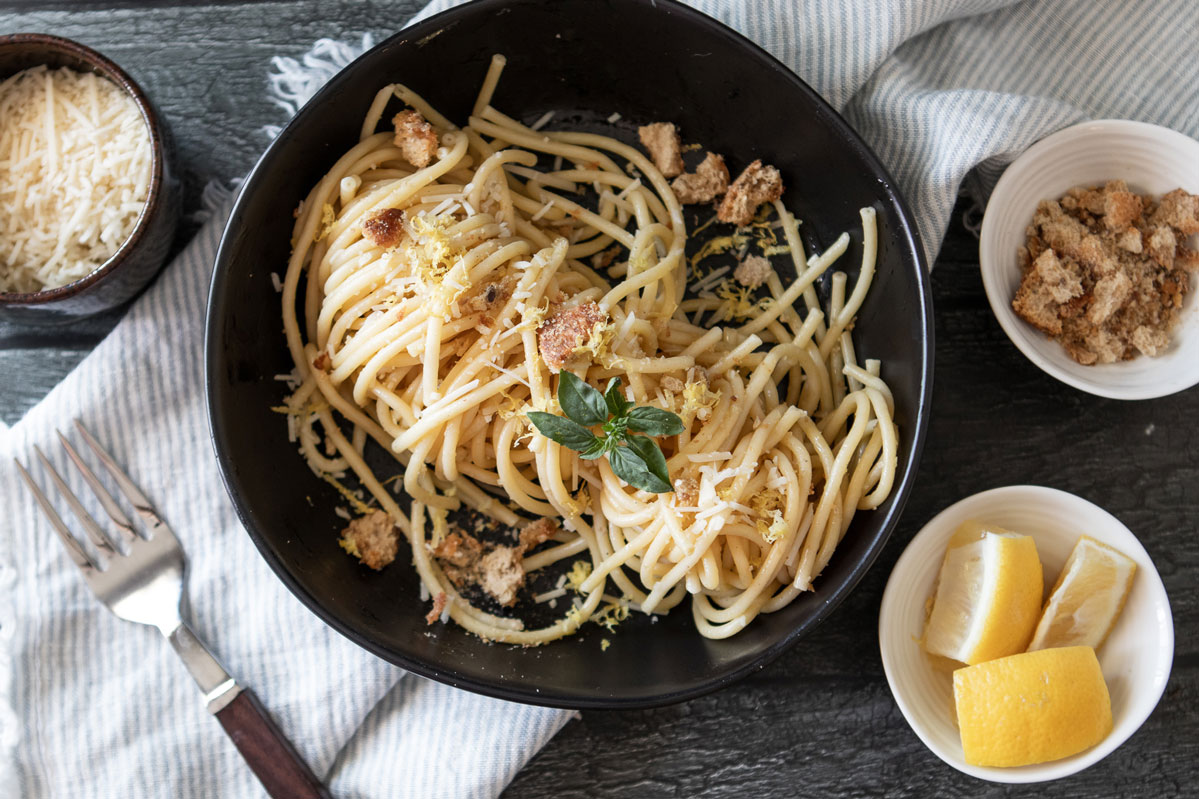 Light and tasty, Lemon Bucatini with Garlic Breadcrumbs is a wonderful summer choice!
Pasta can be a heavy dish to eat in the summer but you know you still want to eat it, right?  This Lemon Bucatini fills the desire for pasta and the desire for healthy and light.
It's a very simple pasta.  Bucatini gets cooked and then coated with a lemon vinaigrette.  The entire dish gets topped with garlic breadcrumbs that are so delicious you can eat them by the spoonful!
Simply process the bread in a processor with garlic, olive oil and parmesan cheese and then toast them until they are nicely browned and crunchy.  This recipe makes a whole lot more than you'll need, but use them to top any salad, soup or baked gratin.  Or just dip your spoon in!
My guy is a red sauce kind of guy but absolutely loved this dish!  I have a feeling you and yours will love this too!
Share Your Thoughts…
Lastly, if you make Lemon Bucatini with Garlic Breadcrumbs, be sure to leave a comment and/or give this recipe a rating! Above all, I love to hear from you and always do my best to respond to each and every comment. And of course, if you do make this recipe, don't forget to tag me on Instagram! Looking through the photos of recipes you all have made is one of my favorite things to do!
Lemon Bucatini with Garlic Breadcrumbs
Makes: 4 servings
Prep Time: 20 minutes
Cook Time: 30minutes
Total Time: 50 minutes
Ingredients
1/2 pound bucatini pasta (fresh is best, if available)
Breadcrumbs:
6 garlic cloves

4 slices of Italian bread (no need to remove crusts)

1 tbsp extra-virgin olive oil

1/2 cup parmesan cheese, grated
Vinaigrette:
1/2 cup extra-virgin olive oil

Zest from 1 lemon

1/2 cup fresh lemon juice (2-3 lemons)
Instructions
Preheat the oven to 350°F. Bring a large pot of water to a boil. Cook the bucatini pasta according to the package directions.
To make the breadcrumbs, process the bread in a food processor until it is in small pieces. Add in the minced garlic, olive oil and parmesan and pulse a few times to combine.
Toast the breadcrumbs in the oven for 5-7 minutes. Stir them and toast for another 3-4 minutes. Set aside until it's time to top the pasta.
While you are waiting for the pasta to cook, make the vinaigrette by vigorously whisking together the olive oil and lemon juice.
Combine the vinaigrette with the pasta, plate it and then top with the bread crumbs, some lemon zest and fresh parmesan cheese. Season with salt & pepper as needed.
Lemon Bucatini with Garlic Breadcrumbs