Maple and Sausage Bread Pudding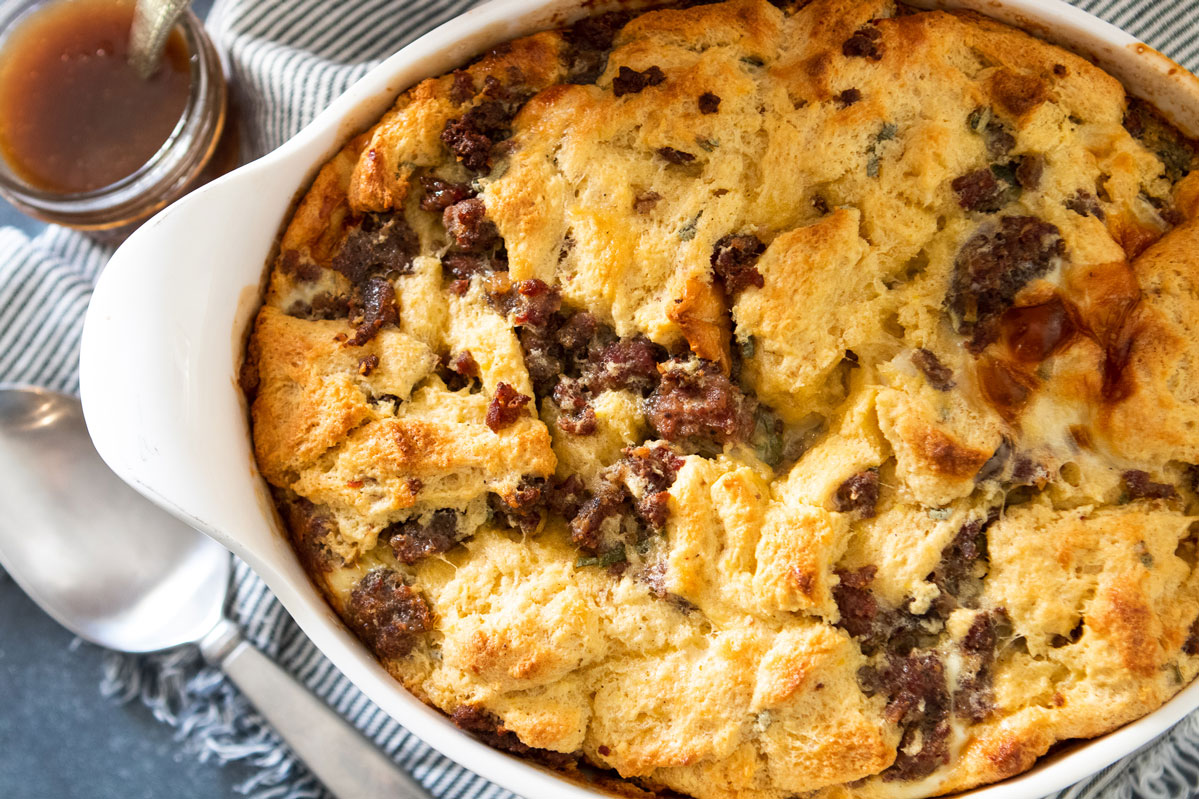 Maple and Sausage Bread Pudding gives us the best of everything you want in a brunch dish.  It takes like you've combined French toast, breakfast sausage and maple syrup into one amazing concoction.  Say it isn't so!
I have always loved sweet and savory combinations.  Cheese and caramel popcorn.  Ham and cheese crepes drenched in maple syrup.  Matzah Brei sprinkled with powdered sugar.  The list goes on and on.  So, it's no surprise that this combination of bread and savory sausage works so unbelievably well with the addition of maple syrup.
And, the addition of a secret ingredient goes a long way toward making this a very easy dish!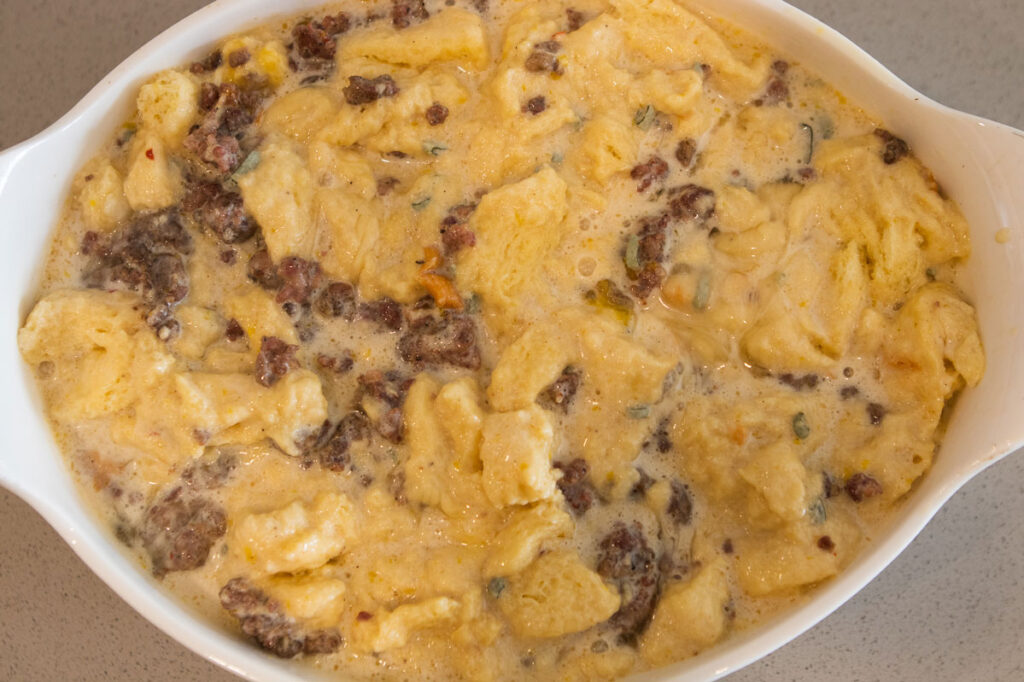 Typically, when we make a bread pudding, the inclusion of a custard as the base is mandatory. No need in this recipe as we're melting ice cream (yes, our secret ingredient), combining it with eggs, sage, and maple syrup and then adding brioche and cooked sausage to the bowl.  So easy, and we love easy!
Start by browning the breakfast sausage and then transferring it to a bowl to cool.  Beat the eggs with the melted ice cream, water, sage, salt and 1/2 cup of the maple syrup.  Fold in the cooked sausage and the brioche and pour it all into a baking dish and set it aside for 15 minutes.  This gives the bread time to soak in all of the lovin' goodness!  Go ahead and bake for 50-60 minutes or until the top is browned and the center is set.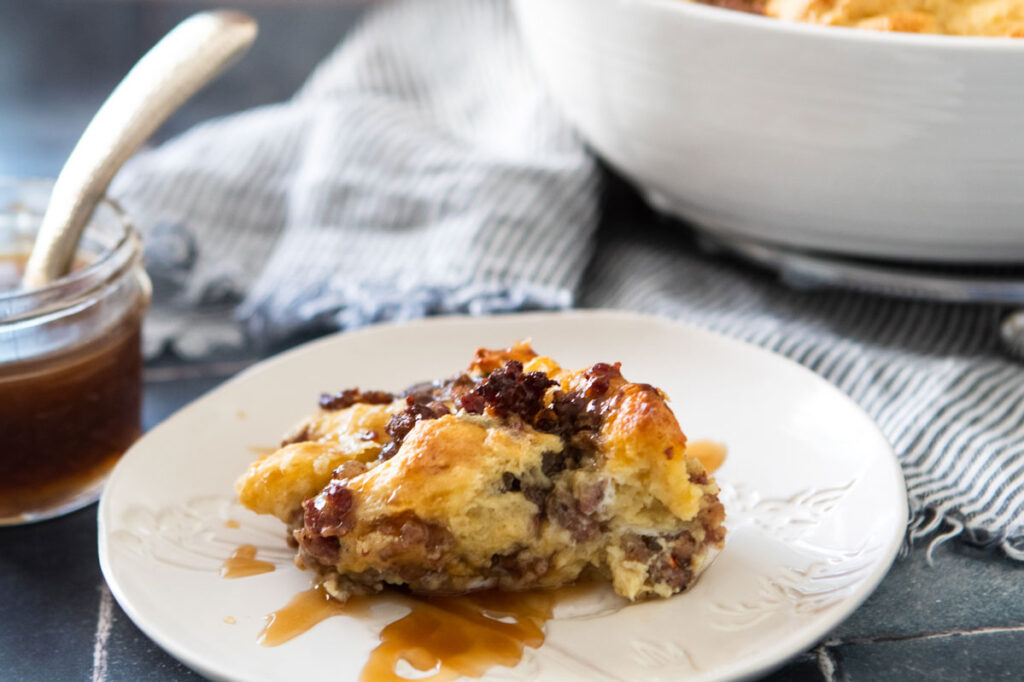 While the pudding is baking, make the maple syrup sauce by boiling 1/2 cup of syrup until it's reduced to 1/4 cup.  That should take 7 minutes.  Remove it from the heat and whisk in heavy cream.
Once the bread pudding is baked, serve it drizzled with maple syrup sauce.  You are gonna love this!
Lastly, if you make Maple and Sausage Bread Pudding, be sure to leave a comment and/or give this recipe a rating! Above all, I love to hear from you and always do my best to respond to each and every comment. And of course, if you do make this recipe, don't forget to tag me on 
Instagram
! Looking through the photos of recipes you all have made is one of my favorite things to do!
Maple and Sausage Bread Pudding
Makes: 6-8 servings
Prep Time: 30 minutes
Bake Time: 50-60 minutes
Total Time: 1 hour & 30 minutes
Ingredients
1 pound bulk breakfast sausage

6 large eggs

1 pint vanilla or cinnamon ice cream, melted

1/2 cup water

2 tsp thinly sliced sage leaves

2 tsp kosher salt

1 cup pure maple syrup

3/4 pound brioche, crusts removed and bread torn into 1-inch pieces (10 cups)

1/4 cup heavy cream
Instructions
Preheat the oven to 350°F. In a large skillet, cook the sausage over moderately high heat, breaking it up with a wooden spoon, until nicely browned and cooked through, 8 to 10 minutes. Using a slotted spoon, transfer the sausage to a bowl and let cool.
In a large bowl, beat the eggs with the ice cream, water, sage, salt and 1/2 cup of the maple syrup. Fold in the sausage and brioche. Scrape the mixture into a 9-inch square or 2-quart oval baking dish and let stand for 15 minutes. Bake for 50-60 minutes or until the top is browned and the center is set.
Meanwhile, in a small saucepan, boil the remaining 1/2 cup of maple syrup over moderate heat, stirring, until reduced to 1/4 cup, about 7 minutes. Remove from the heat; whisk in the cream. Serve the bread pudding with the maple cream.
Chef's Note:
The unbaked bread pudding can be made up to 6 hours ahead and refrigerated. Bring to room temperature before baking.
Maple and Sausage Bread Pudding