Peanut Butter S'more Ice Cream Cake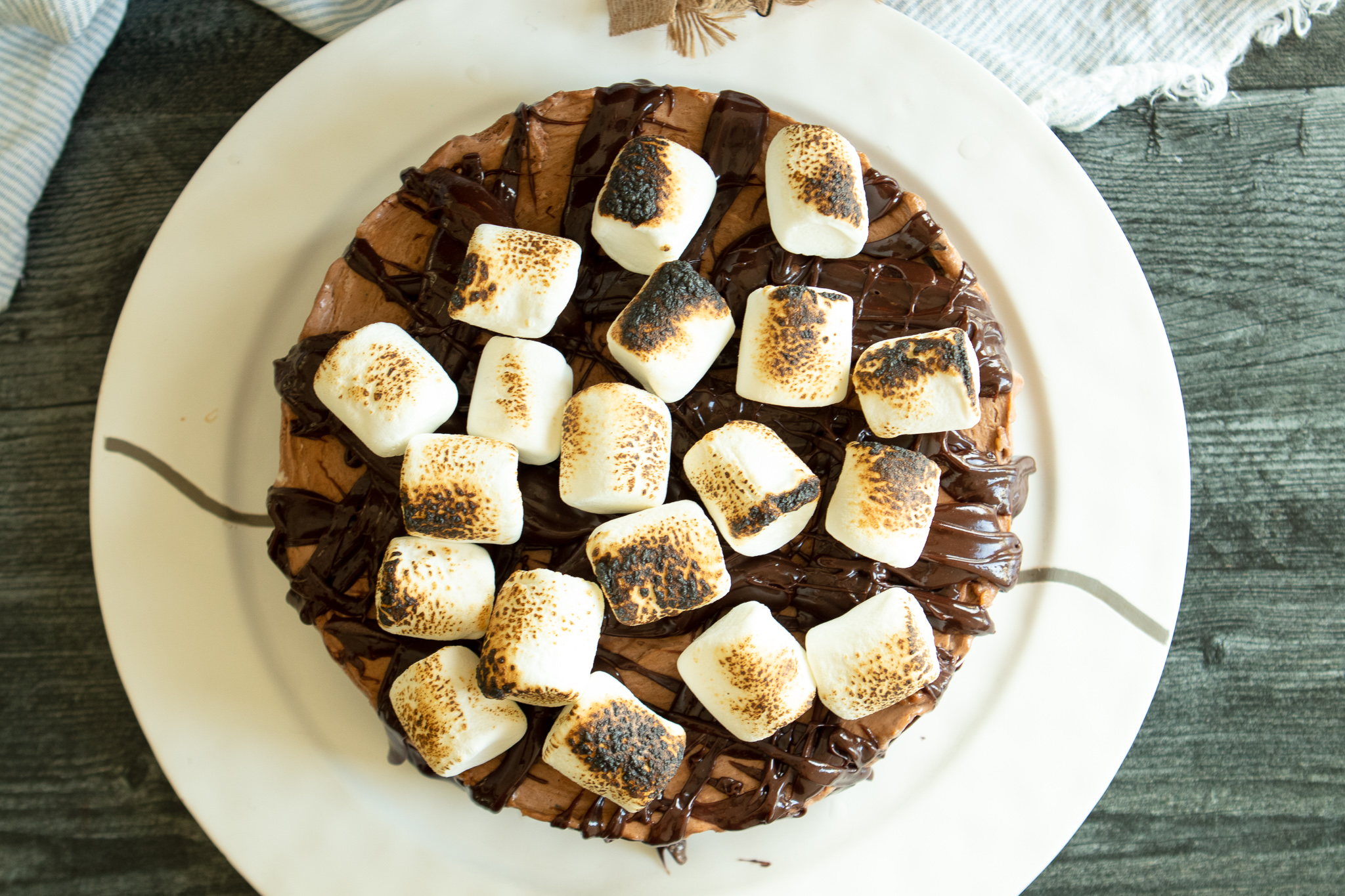 I know that Peanut Butter S'more Ice Cream Cake is an unusual dessert for this time of the year. Most people think of anything to do with S'mores as a summer campfire thing. But I think of anything with marshmallows, especially toasted ones, as a warming winter treat. Okay, I get that ice cream and warming don't typically go together, but don't tell me you don't eat ice cream in the winter!! I refuse to believe it!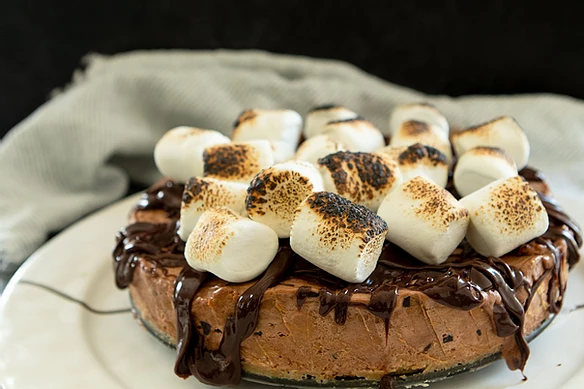 This ice cream cake is easy as pie (haha) to make. This is a no-bake dessert so it's quick to pull together (be aware that it will need 4-6 hours in the fridge to firm up).
The crust is a graham-cracker base. The ice cream gets swirled with creamy peanut butter and spooned on top of the crust. After some freezer time, a fudgy chocolate sauce gets drizzled over the top.
Finish this delicious dessert with marshmallows that get torched, and there you have it! It's almost like a cup of frozen peanut butter hot chocolate!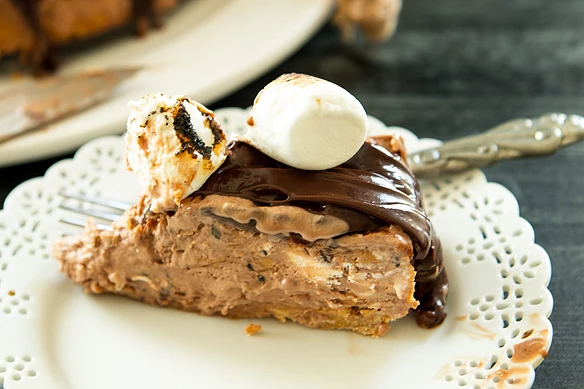 Lastly, if you make Peanut Butter S'more Ice Cream Cake, be sure to leave a comment and/or give this recipe a rating! Above all, I love to hear from you and always do my best to respond to each and every comment. And of course, if you do make this recipe, don't forget to tag me on 
Instagram
! Looking through the photos of recipes you all have made is one of my favorite things to do!
Peanut Butter S'more Ice Cream Cake
Makes: 8 servings
Prep Time: 20 minutes
Total Time: 20 minutes plus freezer time 4 hours
Ingredients
9 graham cracker sheets, crushed into fine crumbs

1 stick unsalted butter, melted

1 quart mixed chocolate/vanilla ice cream, softened (or favorite flavor that will combine well with peanut butter)

1 cup creamy peanut butter

1/2 cup sweetened condensed milk

3/4 cup semi-sweet chocolate chips

1 cup marshmallows or meringue

flakey sea salt, for topping (optional)
Instructions
Lightly grease an 8-9 inch springform pan.
In a small bowl, combine the graham cracker crumbs and butter and mix until combined. Dump the mixture out into the prepared pan and use your hands to press the crumbs into the bottom of the pan until you have a smooth, even crust.
Add the ice cream and peanut butter to a large mixing bowl. Using a spatula, mix the ice cream and peanut together until the peanut butter is swirled throughout the ice cream. Spoon the ice cream right on top of the crust and smooth it out into an even layer. Cover the cake with plastic wrap, pressing the wrap against the ice cream to help prevent ice from forming. Freeze for 4-6 hours or overnight.
To make the fudge sauce, in a microwave safe bowl, microwave the sweetened condensed milk until warm to touch, stirring every 30 seconds. Stir un the chocolate chips until melted and smooth. Remove the plastic wrap and drizzle the fudge sauce over the ice cream cake. Return to the freeze for another 30 minutes.
When ready to serve, top the cake with marshmallows or dollop with meringue. Using a blow torch, toast the marshmallow. Slice and serve immediately.
Chef's Note:
Allow 4-6 hours for freezing time
Ice cream choice is up to you. The original recipe called for Coolhaus Campfire S'more Ice Cream but I couldn't find it anywhere. I opted for a chocolate/white chocolate combo ice cream. It worked beautifully with the peanut butter. Coffee would be wonderful, too!
Recipe inspired by Half Baked Harvest
Peanut Butter S'more Ice Cream Cake