10-Minute Gooey Peach Mug Cake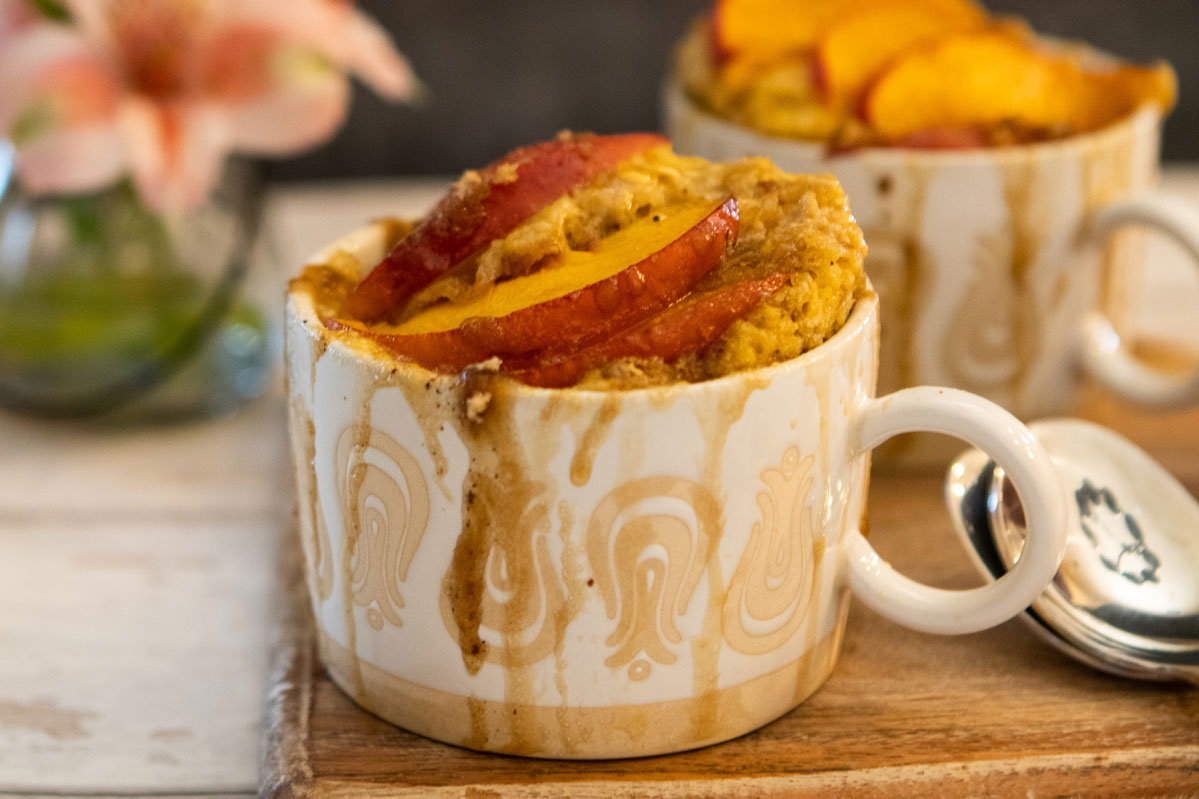 10-Minute Gooey Peach Mug Cake…doesn't that just say it all?  This peachy dessert takes only 10 minutes to make, it's filled with peaches and cinnamon-spiced cake, and has a beautifully caramelized brown sugar topping.
It's made in the microwave and literally takes minutes.  The idea of an individual mug cake is brilliant…it's the perfect snack when it's just you and you've got the urge to indulge.  It's also perfect when there are more snacky people around..just double or triple the recipe!
Layer some peach slices, brown sugar and butter in the bottom of a mug.  I used a 10-ounce mug, but you might want something a tiny bit larger as I got a little over-run.  There will be less cleanup if you use a bigger mug.
Since each microwave has a different wattage, you'll want to watch to see how long it takes to melt the butter and soften the peaches, but it shouldn't take more than one minute.
The cake batter is a combination of melted butter, brown sugar, egg and vanilla.  Once whisked, add flour, rolled oats, baking powder, and salt, and stir until it's just combined.
Pour the batter over the peaches that are already in the mug and place the remaining peaches on top, sprinkle some more brown sugar, butter and cinnamon over top and pop it back in the microwave for 2 minutes.
I love eating this with ice cream, but it's your world…you do you!
Lastly, if you make 10-Minute Gooey Peach Mug Cake, be sure to leave a comment and/or give this recipe a rating! Above all, I love to hear from you and always do my best to respond to each and every comment. And of course, if you do make this recipe, don't forget to tag me on 
Instagram
! Looking through the photos of recipes you all have made is one of my favorite things to do!
10-Minute Gooey Peach Mug Cake
Makes: 1 big mug
Prep Time:  7 minutes
Bake Time: 3 minutes
Total Time: 10 minutes
Ingredients
1/2 of a peach, sliced thin or chopped

3

tbsp

brown sugar

2 tbsp un

salted butter

1

egg

1 tsp

vanilla extract

1/4 cup

all-purpose flour

2 tbsp

old fashioned oats

1/4 tsp

baking powder

1/4 tsp

kosher salt

1 pinch

cinnamon
Instructions
Melt 1/2 tablespoon butter in a (10-12 ounce) microwave-safe mug with 3-4 peach slices and 1 tablespoon brown sugar for 30 seconds to 1 minute.
In a bowl, whisk 1 tablespoon melted butter with 1 tablespoon brown sugar, the egg, and vanilla. Add the flour, oats, baking powder, and salt, stirring until just combined.
Spoon the batter over the peaches in the mug. Do not stir. Place the remaining peach slices on top. Sprinkle with 1 tablespoon of brown sugar and a pinch of cinnamon. Add 1/2 a tablespoon of butter. Microwave on full power for 1 minute 45 seconds to 2 minutes (I always do 2 minutes). Serve with ice cream. ENJOY.
Recipe from Half Baked Harvest
10-Minute Gooey Peach Mug Cake