Mixed Citrus Salad with Feta and Mint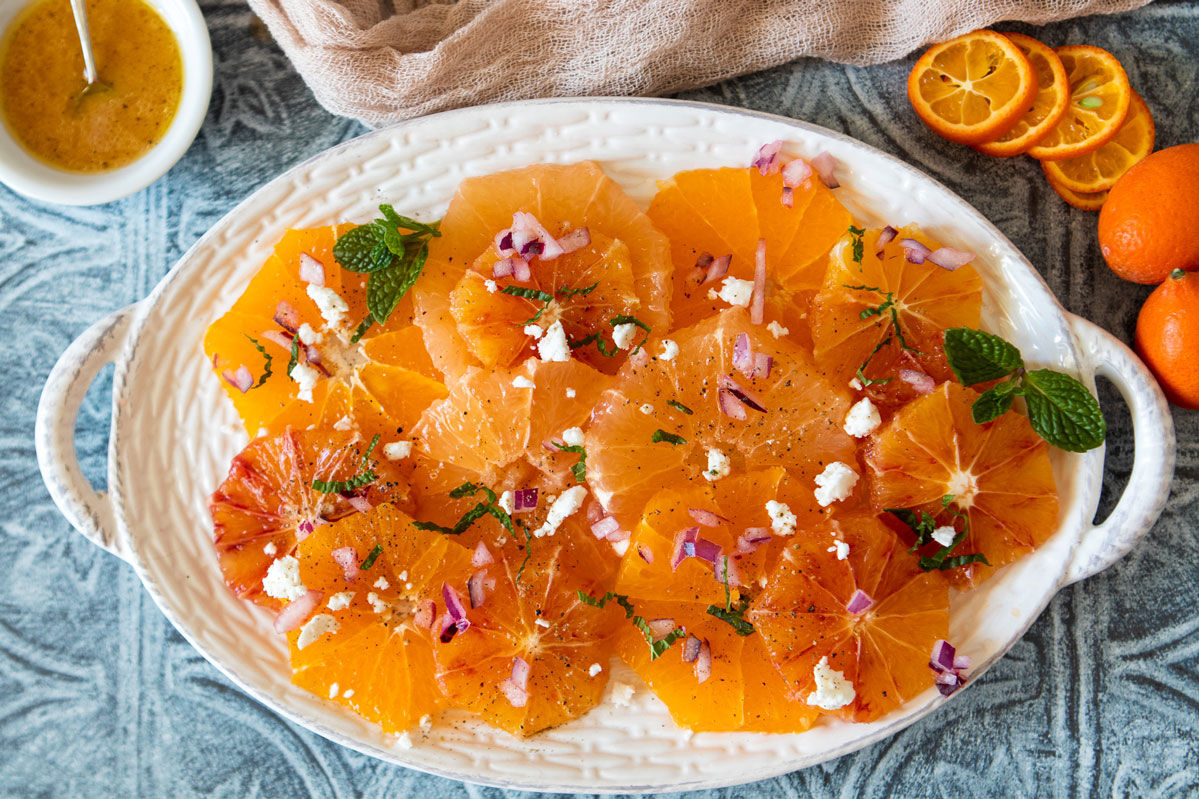 It's citrus season and that means that we can make this beautiful Mixed Citrus Salad with Feta and Mint.  The combination of different types of citrus is so pretty (think blood oranges, grapefruit, sumo mandarins, Cara Cara oranges).  Sprinkle some feta cheese and mint and drizzle a snappy dijon/red wine vinegar/citrus dressing over and you have an easy, beautiful salad for any occasion!
This is an Easy Peasy recipe…in under 15 minutes with a total of 6 items that may not be in your pantry, it's hard to beat a recipe like this!
Small bits of red onion are put into a bowl with a strainer over the top of them so that the juices from the cut citrus will drip over them and temper the sharp flavor of the onions.
When slicing the citrus, cut a flat surface on the top and bottom of the fruit, stand it on its end and slice off the peel and pith (that's the white stuff).
Spread the fruit on a platter and top it with some onion bits.
Make  a dressing from the leftover citrus juice, red wine vinegar, Dijon and olive oil.  Drizzle that over the fruit, sprinkle with feta and mint and a bit of salt & freshly ground pepper.
All that's left is to eat this yummy salad!
Lastly, if you make Mixed Citrus Salad with Feta and Mint, be sure to leave a review down below at the bottom of this page (stars are also appreciated)! Above all, I love to hear from you and always do my best to respond to each and every review. And of course, if you do make this recipe, don't forget to tag me on 
Instagram
! Looking through the photos of recipes you all have made is one of my favorite things to do!
Mixed Citrus Salad with Feta and Mint
Makes: 2 servings
Prep Time: 15 minutes
Total Time: 15 minutes
Ingredients
3 to 4 tbsp red onion, cut into tiny bits

4 pieces of citrus, preferably a mix of grapefruits and oranges

1 tbsp red wine vinegar or lemon juice

1 tsp smooth Dijon mustard

1 tbsp olive oil

Salt and freshly ground pepper, to taste

3 to 4 tablespoons (1.5 ounces) feta cheese, chopped or crumbled

1 tbsp fresh mint, chopped or cut into tiny slivers
Instructions
Place your red onion in the bottom of a medium bowl. Nest a strainer over the bowl.
Prepare your citrus fruits by cutting off the stem end of one, creating a flat surface and exposing flesh. Repeat on the other end. Rest your fruit on one of its now-flat surface and begin cutting the peel and pith off in large, vertical pieces. You want the fruit's exterior to be "white"-free.
Turn the fruit back on its side and cut it into 1/4-inch thick wheels, removing any seeds and thick white stem as you do. Place the wheels and any collected juices from the cutting board in the strainer over the bowl with onion. Repeat with remaining citrus fruits. (As the extra juices drip over the bowl, it will soften the raw onion bite.)
Spread the fruit slices out on a platter. Scoop out the onion bits (a slotted spoon or fork does the trick) and sprinkle them over, leaving the juice in the bowl.
Whisk one tablespoon of juice with red wine vinegar or lemon juice, Dijon and olive oil. Season with salt and freshly cracked black pepper. Drizzle the dressing over the citrus, sprinkle with feta and mint, adjust salt and pepper to taste, serve immediately.
Recipe from Smitten Kitchen
Mixed Citrus Salad with Feta and Mint