No-Bake Lemon Icebox Cake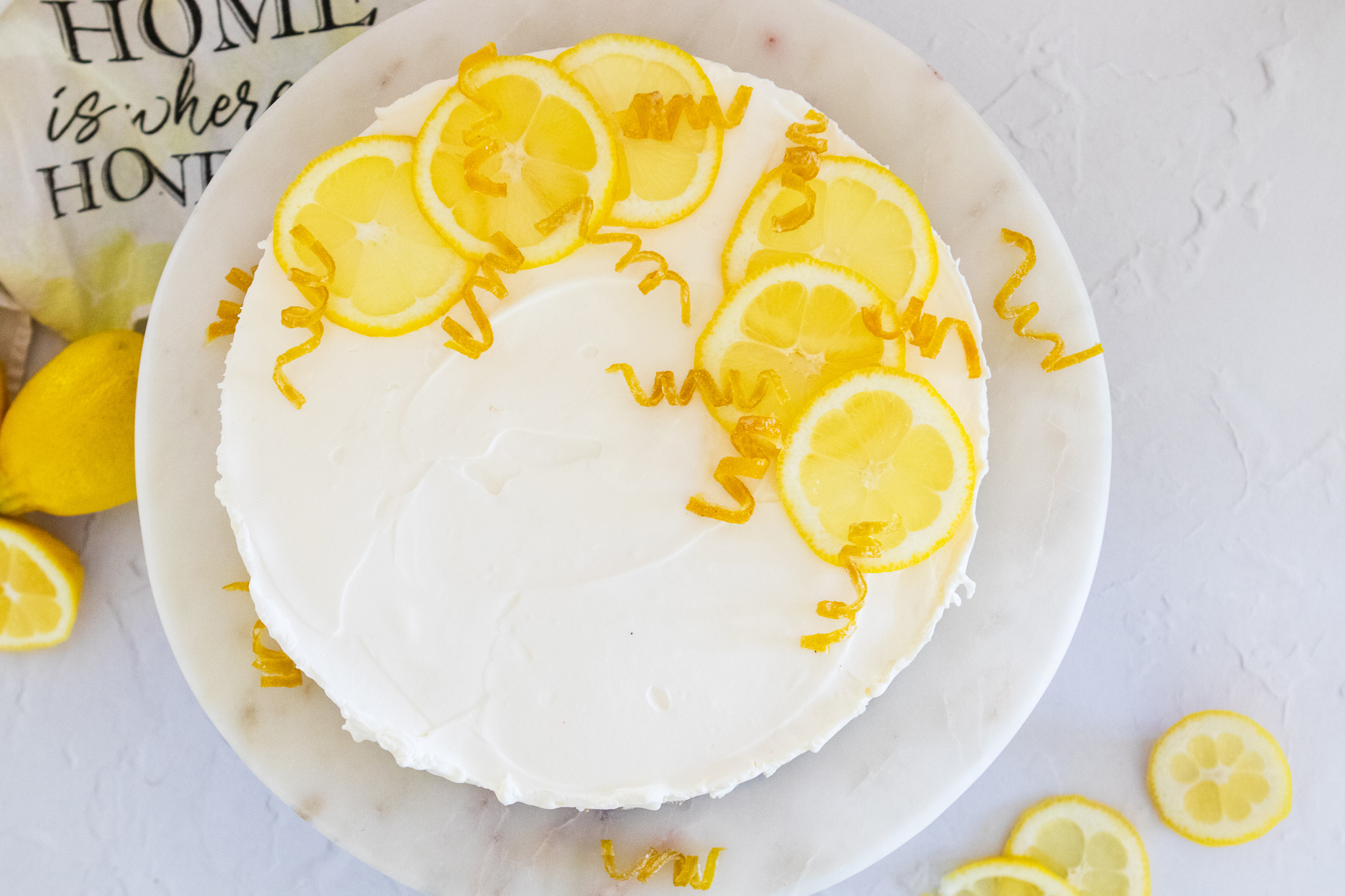 If you love lemons the way that I do, you must try this No-Bake Lemon Icebox Cake!  It's creamy and dreamy, sweet and tart and best of all, doesn't require you to turn the oven on.  Sold!
Okay, let me reiterate…this pie (more like a cake, if you ask me) is the perfect summer treat.  It's got a graham cracker crust that gets filled with a lemon- cream cheese mixture and topped with a whipped cream layer.  Like I said, creamy & dreamy, sweet & tart!
This lemon icebox pie is very easy to make.  Begin by crushing the graham crackers (or make it easy on yourself and buy the crumbs!) and combining them with melted butter and brown sugar.  Pat the crumb mixture into a 9-inch springform pan (here's a good one if you don't have one) and set it aside.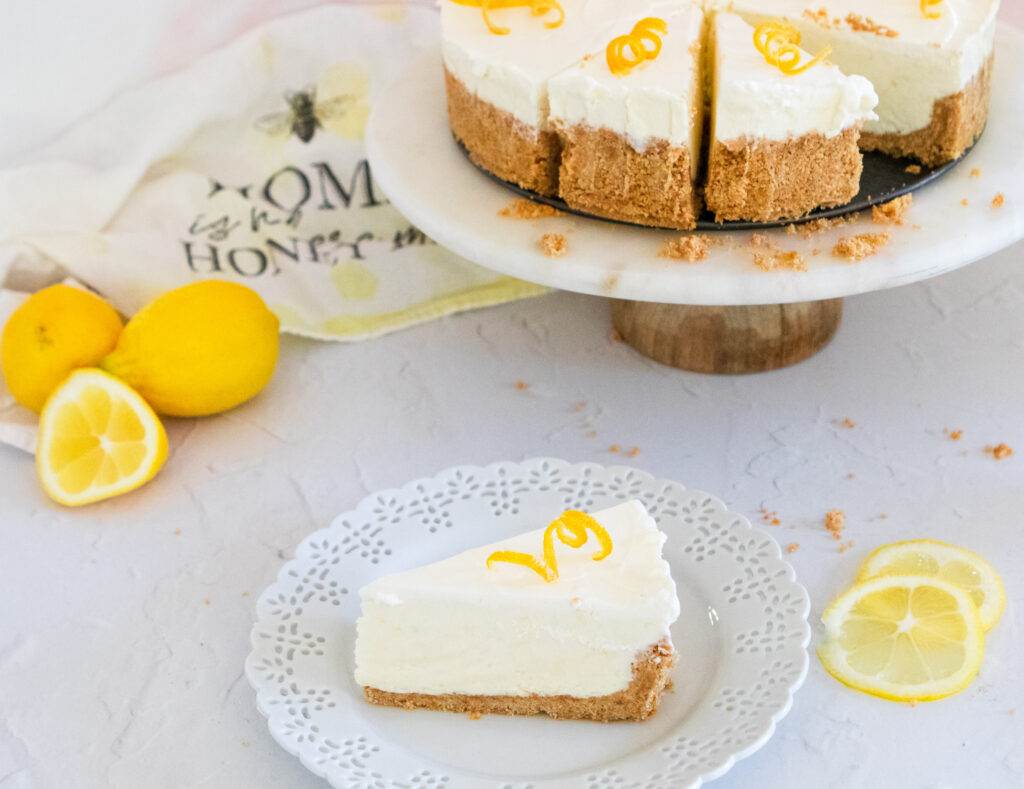 You make the filling by whipping up heavy cream until stiff peaks form.  Separately, beat cream cheese until it's smooth and stir in condensed milk, lemon zest & juice and then fold in the whipped cream.  Spread that filling into the prepared crust and freeze for a few hours.
After that's firmed up, make the whipped cream topping, spread it on the lemon filling and send it back to the freezer until it's very firm.  That's the only problem with this recipe…waiting for it to freeze!!  You'll want to eat it right away!
I like to decorate it with lemon slices and sugared lemon twists.  The twists take some extra time, but you've got lots of time while this baby is in the freezer, so give it a go!  Otherwise, lemon wheels and/or zest look beautiful on top of this pie/cake!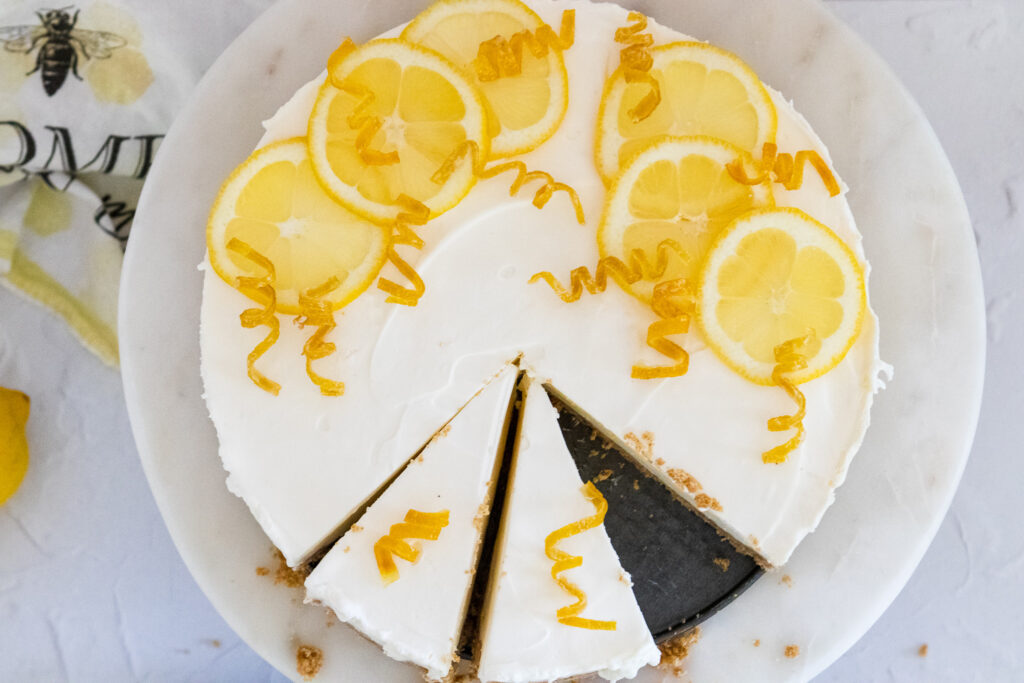 Lastly, if you make No-Bake Lemon Icebox Cake, be sure to leave a comment and/or give this recipe a rating! Above all, I love to hear from you and always do my best to respond to each and every comment. And of course, if you do make this recipe, don't forget to tag me on 
Instagram
! Looking through the photos of recipes you all have made is one of my favorite things to do!
No-Bake Lemon Icebox Cake
Makes: 9 servings
Prep Time: 20 minutes
Freezer Time: 8 hours
Total Time: 8 hours & 20 minutes
Ingredients
For the Crust:
16 graham crackers, crushed to crumbs

1/2 cup unsalted butter, melted

6 tbsp brown sugar, packed

1 tsp kosher salt
For the Filling:
1 & 1/2 cups heavy whipping cream

4 ounces cream cheese, room temperature

1 (14 ounce) can sweetened condensed milk

1 & 1/2 tbsp lemon zest

1/2 cup fresh squeezed lemon juice (from about 3 large lemons)
Topping:
1/2 cup heavy whipping cream

3 tbsp sugar
Garnish:
Instructions
To make the crust:
Combine all of the ingredients together in a large bowl until it comes together into a sandy mixture. Pat the crumbs into the bottom and 1" up the sides of a 9" springform pan. Set aside while you assemble your filling.
To make the pie:
In a large bowl, whip the heavy whipping cream on medium speed using the whisk attachment until stiff peaks form and the mixture becomes fluffy and cloud-like. Set aside.
In a separate bowl, beat the cream cheese until smooth and no lumps remain. Stir in the condensed milk, lemon zest, and lemon juice until smooth. Use a rubber spatula to fold in the whipped cream until fluffy and combined. Spread the mixture into the pan on top of the crust and place in the freezer to firm up, about 2 hours.
Once firm, make the topping by whipping the cream and sugar on medium speed until it thickens to a cloud-like consistency. Gently spread this on top of the lemon filling and place back in the freezer to freeze until solid, about 6 hours. When ready to consume, run a warm knife along the edges of the pan to release the pie from the sides.  Decorate with lemon slices, lemon zest and/or Sugared Lemon Twists.  Slice and serve cold!
Recipe from Wood & Spoon
No-Bake Lemon Icebox Cake