Peach Crumble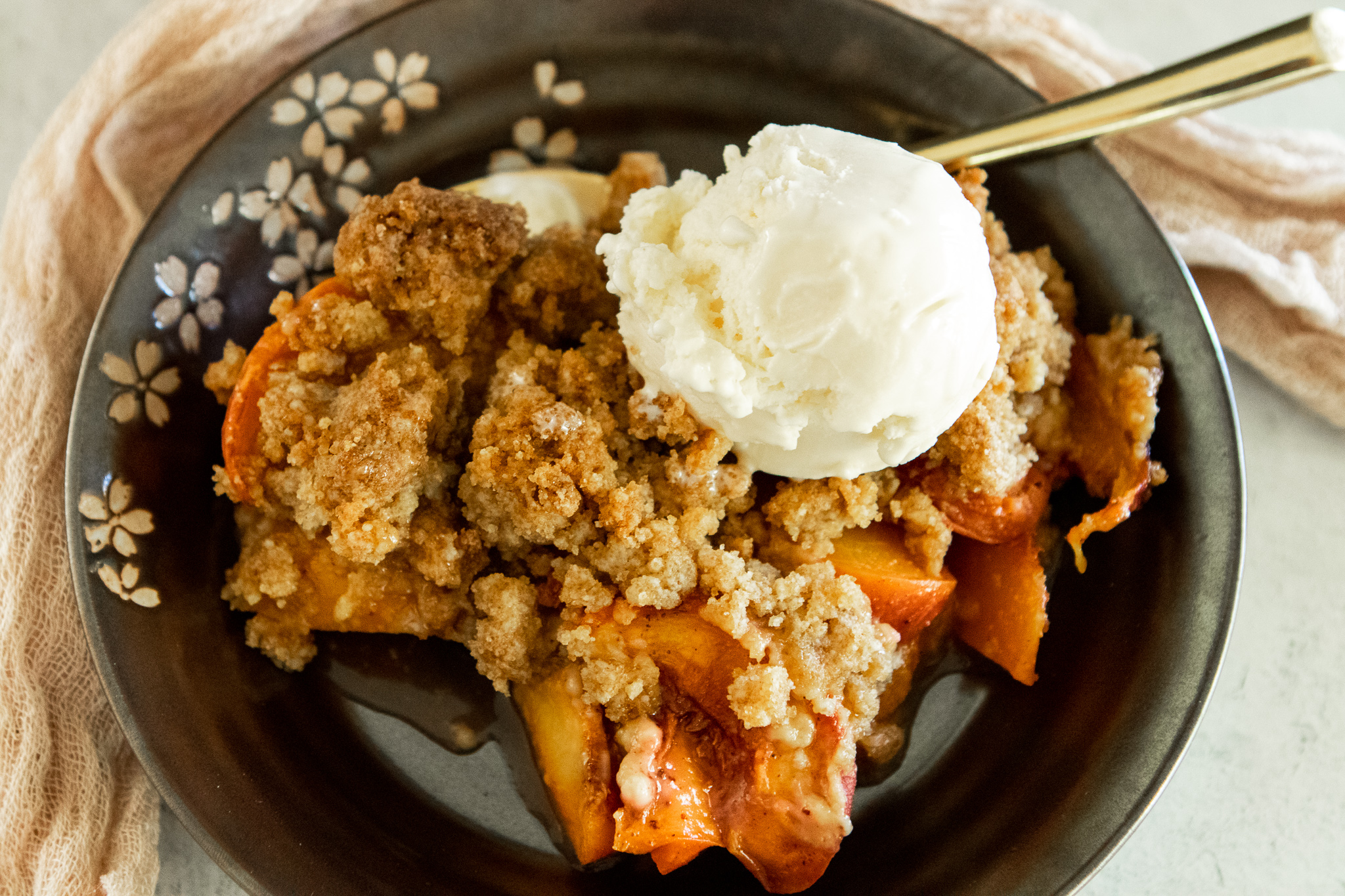 Peach Crumble. Not Peach Crisp. Not Peach Betty. Not peach pie.
This differs in that the buttery topping is piled high, so there is not a single crumble-less peach! This recipe is easy and makes the most of wonderful summer fruit!
As with most of my summer fruit recipes, it is perfectly acceptable to switch out the peaches for nectarines, plums, mixed berries or cherries. Or combine them. Just make sure you have plenty of topping!
The peaches get tossed with sugar, cinnamon & ginger.
The topping is a combination of flour, brown sugar, cinnamon and melted sugar. Mix it up and top the peaches before baking with this yummy goodness.
Make sure you have ice cream! Heavenly!
Try out these wonderful summer fruit recipes as well! Summer Fruit Crisp, Late Summer Plum Galette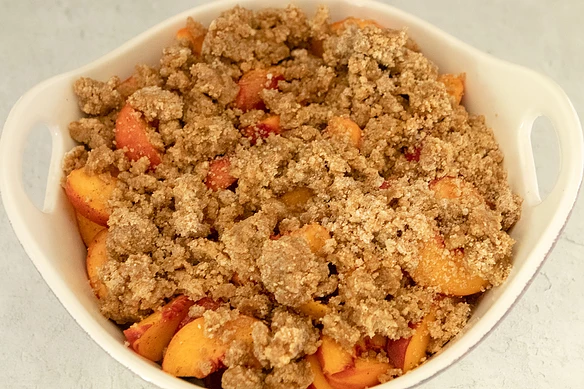 Lastly, if you make Peach Crumble, be sure to leave a review down below at the bottom of this page (stars are also appreciated)! Above all, I love to hear from you and always do my best to respond to each and every review. And of course, if you do make this recipe, don't forget to tag me on 
Instagram
! Looking through the photos of recipes you all have made is one of my favorite things to do!
Makes: 8 servings
Prep Time: 10 minutes
Bake Time: 50 minutes
Total Time: 1 hour
Ingredients
For the Peaches:
6 large peaches, sliced (about 2 & 1/2 pounds)

1/4 cup granulated sugar

Juice of 1/2 lemon

1/2 tsp ground cinnamon

1/2 tsp ground ginger

Pinch of kosher salt
For the Topping:
1 & 1/2 cups all-purpose flour

1 cup packed brown sugar

1/2 tsp kosher salt

1/4 tsp ground cinnamon

1/2 cup (1 stick) melted unsalted butter

Vanilla ice cream, for serving
Instructions
Preheat oven to 375°F.
Make Peaches: 
In a large bowl, combine peaches, sugar, lemon juice, cinnamon, ginger, and salt. 
Make Topping: 
In a medium bowl, combine flour, brown sugar, salt, and cinnamon. Pour in melted butter and stir until mixture resembles coarse crumbs. Pour peaches and juices into a large baking dish. Sprinkle crumb topping evenly over peaches. Bake until topping is golden and peaches are bubbling, 45 to 50 minutes.
Serve warm with ice cream, if desired.