Mixed Berry Crisp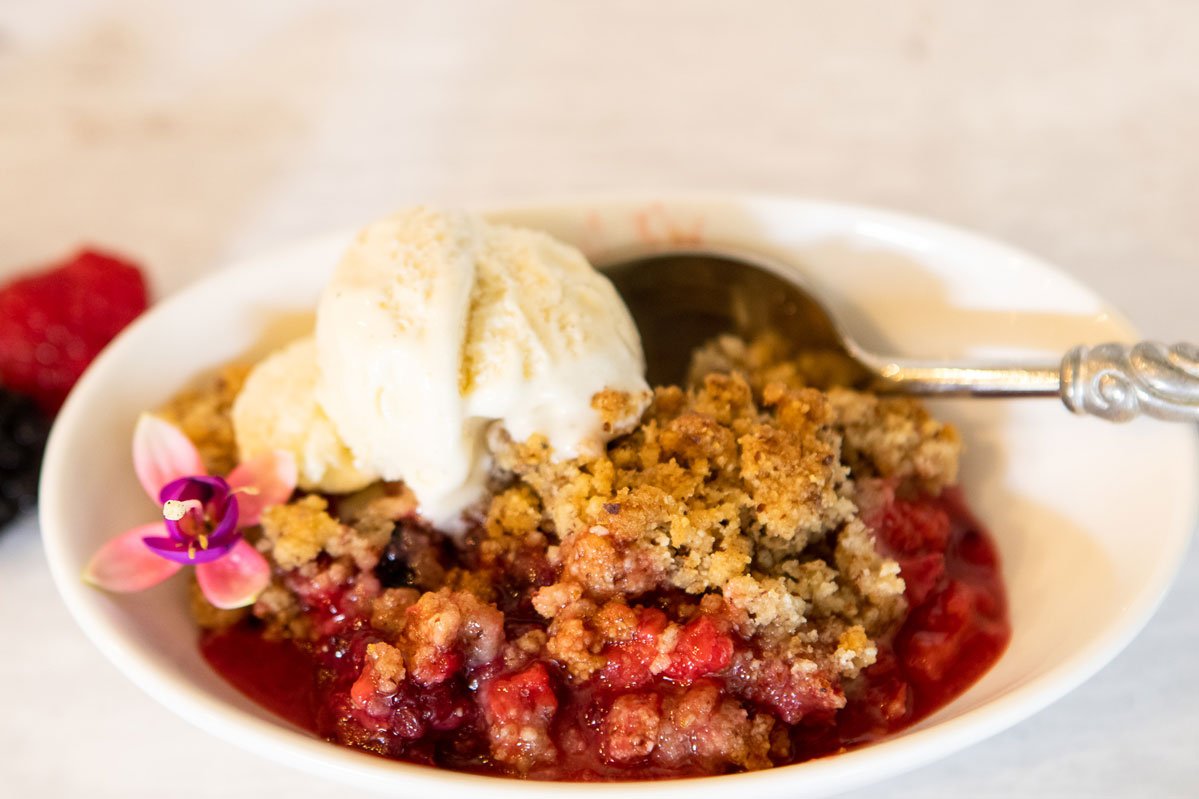 With beautiful berries in season right now, you MUST make this Mixed Berry Crisp.  The flavor of these baked berries topped with a crumble of almond flour, all-purpose flour, brown & white sugars, and butter is simply perfect for a hot, summer's eve.
Summer means lazy afternoons and meals that don't require a lot of effort. Dessert should be simple too, right?  This Mixed Berry Crisp is quick to put together and very easy to prepare.  In fact, a typical crisp is made by working the butter with a pastry knife but this recipe is even simpler…just melt the butter along with the remaining crumble ingredients and in minutes, you are ready to pop this bad boy into the oven!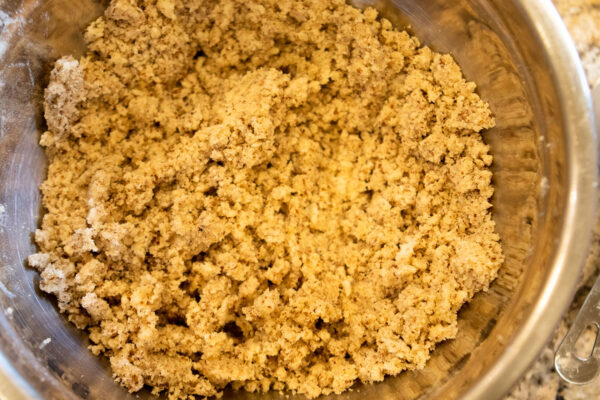 To begin, place all the berries in a bowl.  You can use all one type of berry or combine different berries.  Either way, it will be spectacular!  Add the lemon juice, flour and sugar to the bowl and stir gently until the flour is incorporated.  Transfer the berries to your baking dish.
Now, melt the butter and add the topping ingredients to the butter.  Mix them together until a crumble forms.  Take handfuls of the crumble topping and spread over the fruit.
Bake the crisp for 45-55 minutes or until the topping is golden brown and the fruit is bubbly.  If the topping gets too dark, cover it with loosely tented foil.
The last thing to do is serve this mouthwatering dessert with a scoop of ice cream!  Enjoy!
Lastly, if you make Mixed Berry Crisp, be sure to leave a comment and/or give this recipe a rating! Above all, I love to hear from you and always do my best to respond to each and every comment. And of course, if you do make this recipe, don't forget to tag me on 
Instagram
! Looking through the photos of recipes you all have made is one of my favorite things to do!
Makes: 10 servings
Prep Time: 10 minutes
Bake Time: 50 minutes
Total Time: 1 hour
Ingredients
For the Fruit Layer:
8 cups berries (can be all one kind or a combination of blueberries, blackberries and raspberries)

2 tbsp fresh lemon juice

1/3 cup all-purpose flour

1/4 cup sugar
For the Crumble Topping:
1/2 cup unsalted butter

3/4 cup almond flour

1/2 cup all-purpose flour

1/2 cup granulated sugar

1/4 cup brown sugar, packed

1/2 tsp kosher salt
Instructions
Preheat oven to 350˚F. Line a sheet pan with foil or parchment paper for easy cleanup and set aside.
Combine berries in a large bowl. Add the lemon juice, flour and sugar over the berries and stir gently until flour is incorporated. Transfer berries to a 2-quart baking dish.
Place butter in a medium-size, microwave-safe bowl. Cover with a paper towel and microwave on high power for 1 minute.  Combine all topping ingredients in a large bowl. Stir with a fork until crumbles form. Take handfuls of the topping and sprinkle over the top of the berries. Place pan on the ​prepared sheet pan.
Bake for 45-55 minutes or until topping is light golden brown and berries are bubbly. Check after 40 minutes and cover with foil if the topping is getting too brown but the berries still are not bubbly.
Serve warm in bowls with a scoop of vanilla ice cream.