Peanut Butter Swirl Brownies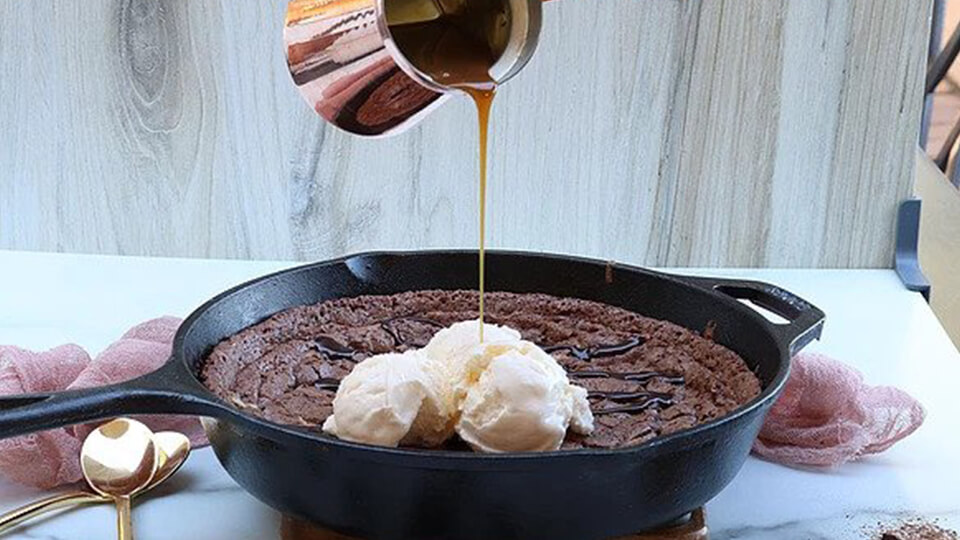 Probably the most requested recipe on Instagram, Pinterest and anywhere online has to be brownies.  The choices are endless:  dense, cake-like, chewy, with mix-ins like caramel or white chocolate, with nuts, without nuts…the list goes on and on.  Everyone claims to have THE BEST brownie recipe, so how can you know?  Straight up, you can't! 
But, I will say that this recipe is delicious and easy!  It has espresso powder mixed in for a lovely mocha flavor.  It has peanut butter swirled through the batter (what could be bad about that??).  It's also so much fun to set the skillet in the middle of the table, hand out spoons and let everyone just dig in!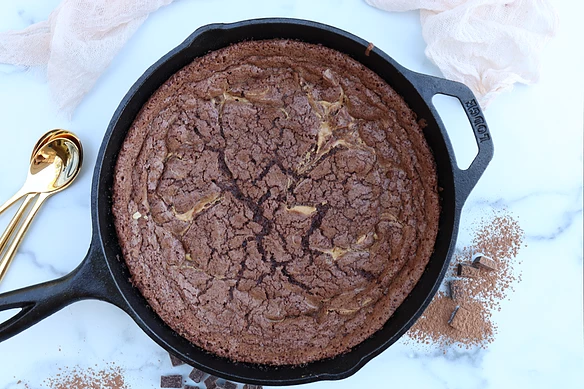 Whatever you do, don't forget the ice cream!!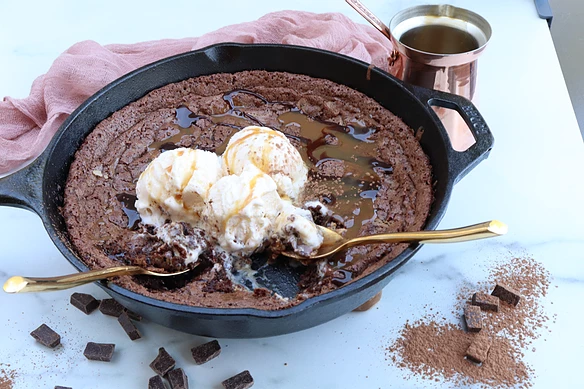 Lastly, if you make Peanut Butter Swirl Brownies, be sure to leave a review down below at the bottom of this page (stars are also appreciated)! Above all, I love to hear from you and always do my best to respond to each and every review. And of course, if you do make this recipe, don't forget to tag me on 
Instagram
! Looking through the photos of recipes you all have made is one of my favorite things to do!
Peanut Butter Swirl Brownies
Makes: one (8-10 inch) skillet or 16 squares
Prep Time: 10 minutes
Bake Time: 20 minutes
Total Time: 30 minutes
Ingredients
1/2 cup butter, melted

1 tbsp coconut oil

1 cup sugar

2 large eggs

2 tsp vanilla extract

1/2 cup all-purpose flour

1/2 cup unsweetened cocoa powder

2 tsp espresso powder

pinch of salt

1/3 cup smooth peanut butter

Chocolate Sauce

Caramel Sauce

Vanilla Ice Cream​
Instructions
Preheat oven to 350°F. Lightly grease 8×8 inch pan and line with parchment or lightly spray a cast-iron skillet with non-stick spray. Set aside.​
In a medium bowl, combine melted butter, sugar and coconut oil. Whisk vigorously for about a minute until sugar starts to dissolve. Add in vanilla and eggs. Whisk for another minute.​
In separate bowl, sift the flour, and cocoa powder, espresso and salt. Add the dry ingredients into the wet and fold until just combined. Don't over-mix or it will affect the texture. Pour batter into prepared dish. Drop spoonfuls of peanut butter over the batter, and using the tip of a sharp knife, swirl it into the batter.
Bake for 20 – 25 minutes. The edges should begin to harden and the middle shouldn't jiggle. Allow to cool.  If using an 8×8" pan, cut into 9 squares, and put one square on each plate.  Drizzle chocolate sauce over the brownies.  Top with ice cream and drizzle caramel sauce over that.  If using a skillet, just top with the chocolate sauce, ice cream and finally the caramel sauce.​
Peanut Butter Swirl Brownies