Peppermint Hot Chocolate Cheesecake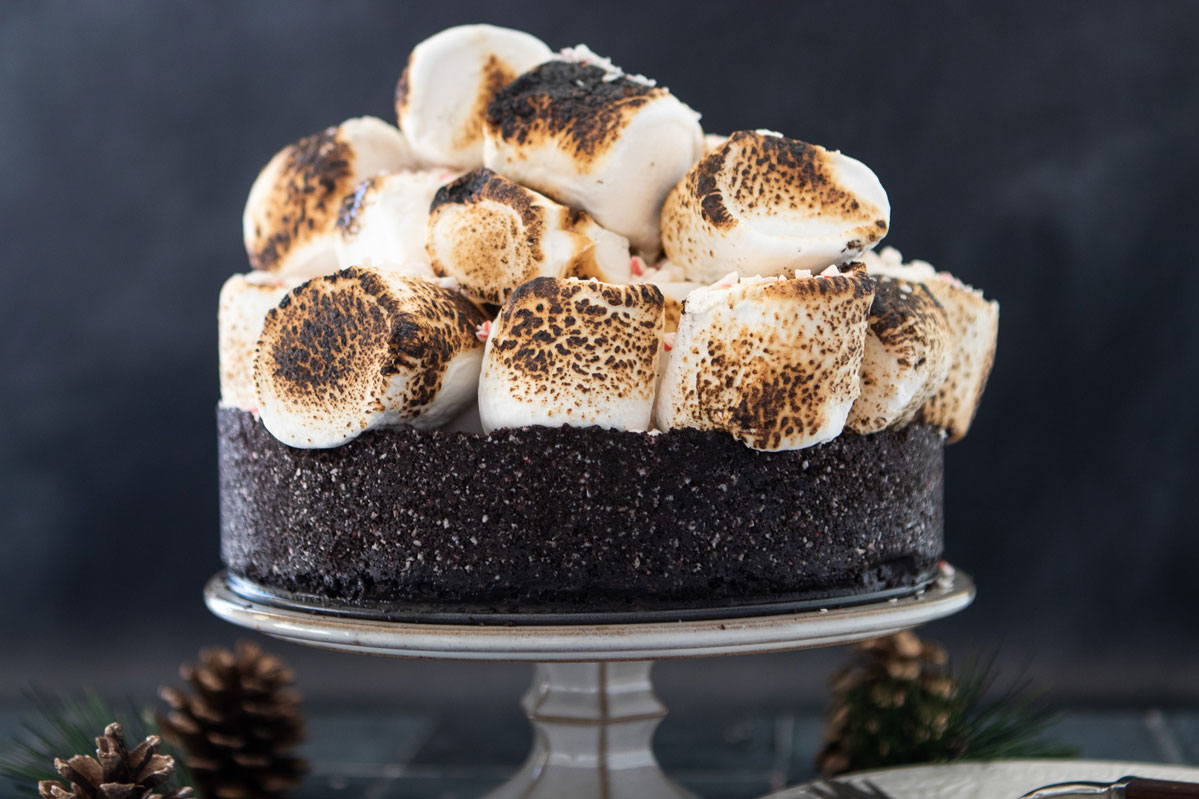 It's not too late to make this seasonal showstopper, Peppermint Hot Chocolate Cheesecake!  While we are relaxing today from all the Christmas crazies, New Year's Eve is next weekend, so you have plenty of time to prepare this beauty!
Everything you'd expect from peppermint hot chocolate is now in a cheesecake form:  luscious peppermint-flavored chocolate cheesecake nestled into a crunchy Oreo-peppermint crust and topped with toasted jumbo marshmallows and crushed peppermint candies.  Wow!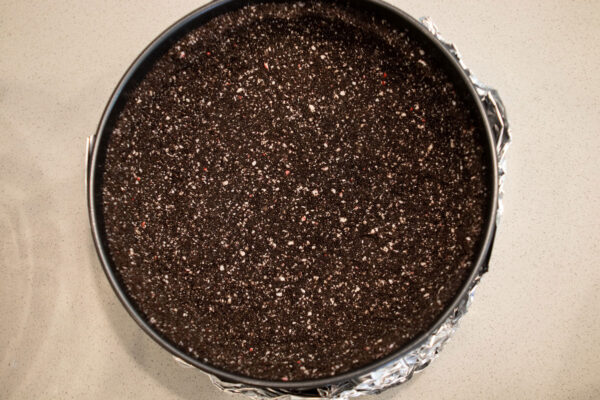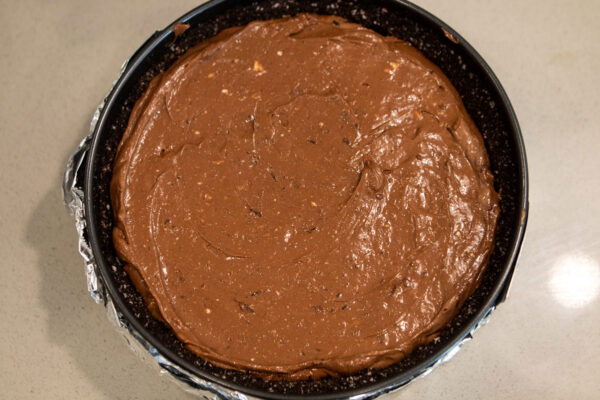 The crust comes together easily in the food processor:  crush Oreo cookies and their filling with the peppermint candies.  Add a little butter to hold it all together and then press it up the sides and on the bottom of a prepared springform pan.  
You'll want to lay some parchment inside the crust and fill it with pie weights for baking.  This will help to keep the crust in place as it bakes.  I used dried beans for my pie weights as I didn't have enough weights to come as high up the sides of the crust as I wanted.  Good news:  I can reuse those beans for pie weights in the future!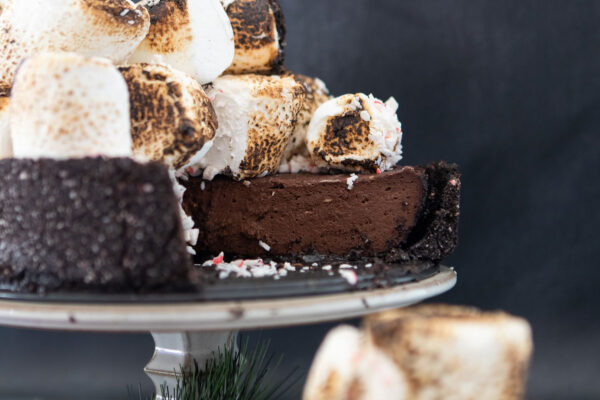 Prior to making the filling you want to melt the chocolate.  A double boiler or microwave works great for melting chocolate.  If you are using the microwave, be sure to stir after every 30 seconds.
Whisk together the sugar and cocoa powder.
In the bowl of a stand mixer, beat the cream cheese until it's nice and smooth.  Add the sugar/cocoa mixture and extracts, then the eggs (one at a time), and finally the cooled melted chocolate.
Pour the filling into the prepared crust and set it into a roasting pan in the oven.  Pour water into the roasting pan so that you have a water bath.  This will steam the cake as it's baking and prevent cracking on the top.
Bake the cake for about 1 hour, and then let it cool on the counter for a few hours.  Finally, refrigerate the cake overnight.
To finish this lovely cheesecake, randomly top it with jumbo marshmallows, fire them up with a kitchen torch (carefully, please) and sprinkle crushed peppermint candies on top!
Every slice will taste like a cup of peppermint hot cocoa!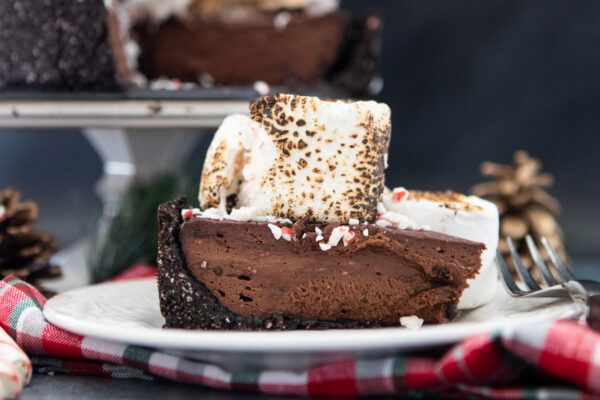 Lastly, if you make Peppermint Hot Chocolate Cheesecake, be sure to leave a review down below at the bottom of this page (stars are also appreciated)! Above all, I love to hear from you and always do my best to respond to each and every review. And of course, if you do make this recipe, don't forget to tag me on 
Instagram
! Looking through the photos of recipes you all have made is one of my favorite things to do!
Peppermint Hot Chocolate Cheesecake
Makes: 10 servings
Prep Time: 40 minutes
Bake Time: 1 hour & 12 minutes
Total Time: 2 hours plus chill time overnight
Ingredients
Crust:
25 cream-filled chocolate sandwich cookies, such as Oreos

1/2 cup peppermint candies, finely crushed

3 & 1/2 tbsp unsalted butter, melted
Filling:
1 cup chopped 60% cacao semisweet chocolate

3/4 cup granulated sugar

3 tbsp unsweetened cocoa powder

3 (8-ounce) packages cream cheese, softened

1 tsp vanilla extract

1 tsp peppermint extract

3 large eggs, room temperature
Garnish:
jumbo marshmallows

crushed peppermint candies
Instructions
Preheat oven to 350°F. Spray an 8-inch springform pan with baking spray with flour.
Crust:
In the bowl of a food processor, place cookies with filling and candies; pulse until finely ground. Add melted butter; pulse until combined. Press mixture into bottom and up sides of prepared pan. Freeze 10 minutes.
Top with a piece of parchment paper, letting ends extend over edges of pan. Add pie weights, filling about half way up sides of pan. Bake until set and fragrant, 10 to 12 minutes. Carefully remove parchment and pie weights. (If sides dipped any during the baking process, use the sides of a measuring cup to gently press back into place while crust is still warm.) Let cool on a wire rack for 30 minutes.
Wrap bottom and sides of pan in a layer of heavy duty foil; place in a large oven bag, tucking ends so bag is flush with top edge of pan. (If you do not use an oven bag, wrap in a double layer of foil.)
Reduce temperature to 325°F and position oven rack in bottom third of oven.
For Filling:
In the top of a double boiler, place chocolate. Cook over simmering water, stirring frequently until melted. (You can also melt chocolate in a microwave-safe bowl in the microwave, stirring every 30 seconds until melted.) Remove from heat and let cool slightly, about 10 minutes.
In a medium bowl, whisk together sugar and cocoa.
In the bowl of a stand mixer with the paddle attachment, beat cream cheese at medium speed until smooth and creamy, 1 to 2 minutes, stopping to scrape sides of bowl. Add sugar mixture and extracts; beat at medium-low speed until sugar is combined and mixture is smooth. With mixer on low speed, add eggs, one at a time, beating just until combined after each addition and stopping to scrape sides of bowl.
Beat in cooled chocolate until smooth, stopping to scrape sides of bowl.
Pour filling into prepared crust. Transfer springform pan to a large roasting pan; place in oven. Pour enough water into roasting pan to come 1 inch up sides of springform pan. Bake until edges are set but center is slightly jiggly, about 1 hour. Let cool in pan on a wire rack for 1-2 hours. Refrigerate in pan on a wire rack overnight, loosely covering with foil only when completely cool to prevent condensation from forming on top of cheesecake.
Carefully remove cooled cheesecake from pan and transfer to a serving plate. Top with marshmallows, if desired. Using a handheld kitchen torch, brown marshmallows, watching carefully. Top with candies, if desired.
Recipe from Bake from Scratch
Peppermint Hot Chocolate Cheesecake