Primavera Carbonara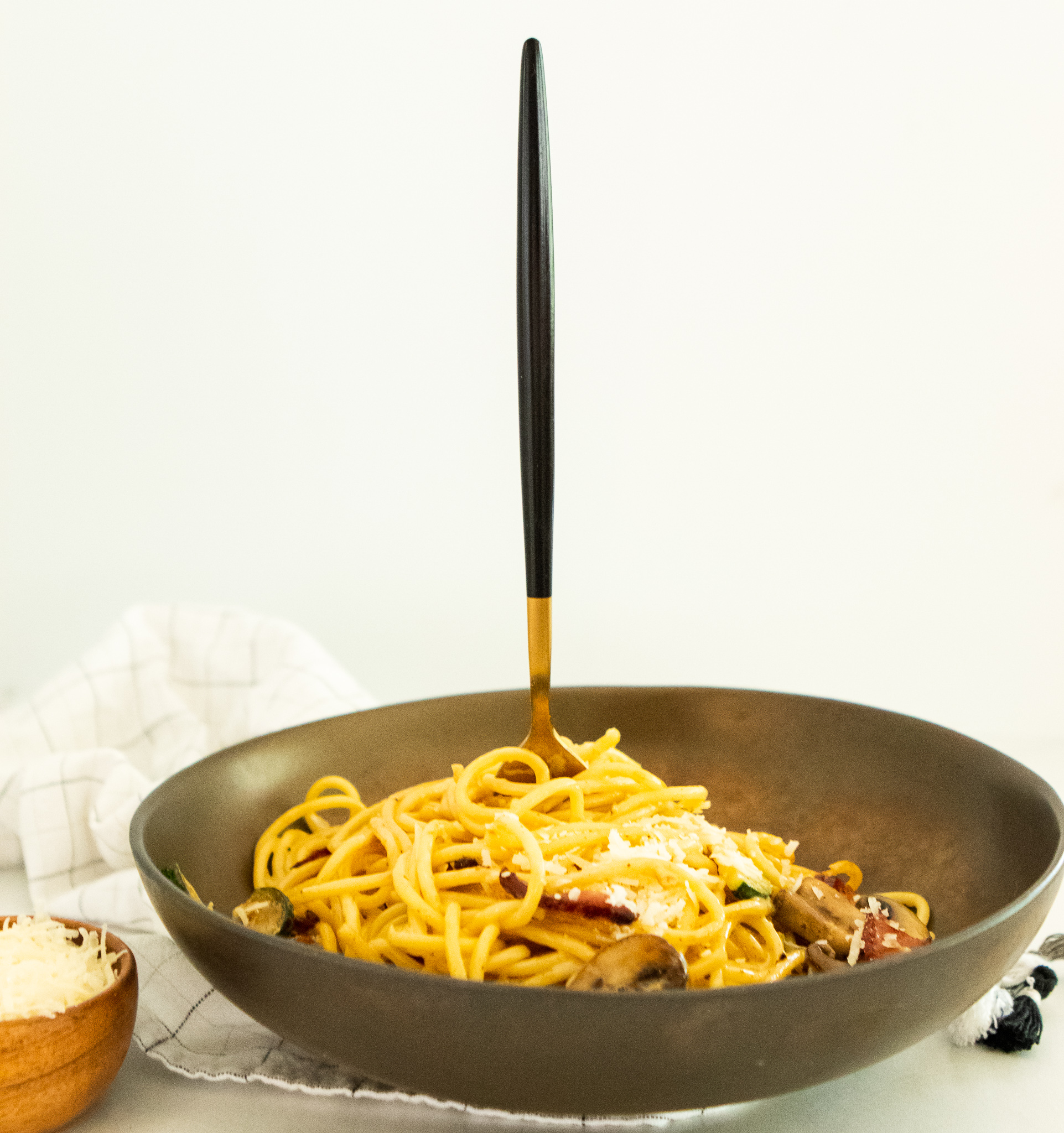 I must confess that it's a rare day that I will eat pasta, but when I do, it's got to be rich, creamy, and fattening as heck!!  So bear with me, but you are going to want to make this pasta!  Let's start with the healthy news:  zucchini, onions and mushrooms.  Now for the not-such-healthy news, but you gotta have it:  bacon (oh yayyyy)!  And not at all healthy but absolutely delish: a creamy carbonara sauce made from egg yolks, heavy cream and Parmesan cheese (I warned you).  Now, add some spaghetti and we are in heaven, my friends!
Lastly, if you make Primavera Carbonara, be sure to leave a comment and/or give this recipe a rating! Above all, I love to hear from you and always do my best to respond to each and every comment. And of course, if you do make this recipe, don't forget to tag me on 
Instagram
! Looking through the photos of recipes you all have made is one of my favorite things to do!
Makes: 4 servings
Prep Time: 5 minutes
Bake Time: 27 minutes
Total Time: 32 minutes
Ingredients
6 slices bacon, cut into 1″ pieces

1 zucchini, cut into half moons

1/2 red onion, thinly sliced

4 ounces baby bella mushrooms, sliced

3/4 pound spaghetti, cooked according to package directions

5 egg yolks

1 cup heavy cream

1/2 cup freshly grated Parmesan, plus more for serving

Kosher salt

Freshly ground black pepper
Instructions
In a large skillet, over medium heat, cook bacon until crispy, 10 minutes. Remove bacon from skillet, reserving the bacon grease. Over medium heat using the same skillet with the reserved bacon grease, cook zucchini, onions, and mushrooms until soft, 7 minutes. Turn off heat and add cooked spaghetti and cooked bacon.  
In a medium bowl, whisk together egg yolks, heavy cream, and Parmesan. Pour over spaghetti while it is still hot and toss to combine. Season with salt and pepper.  Serve with more Parmesan.
Recipe from Delish.com