Honey Loaf Cake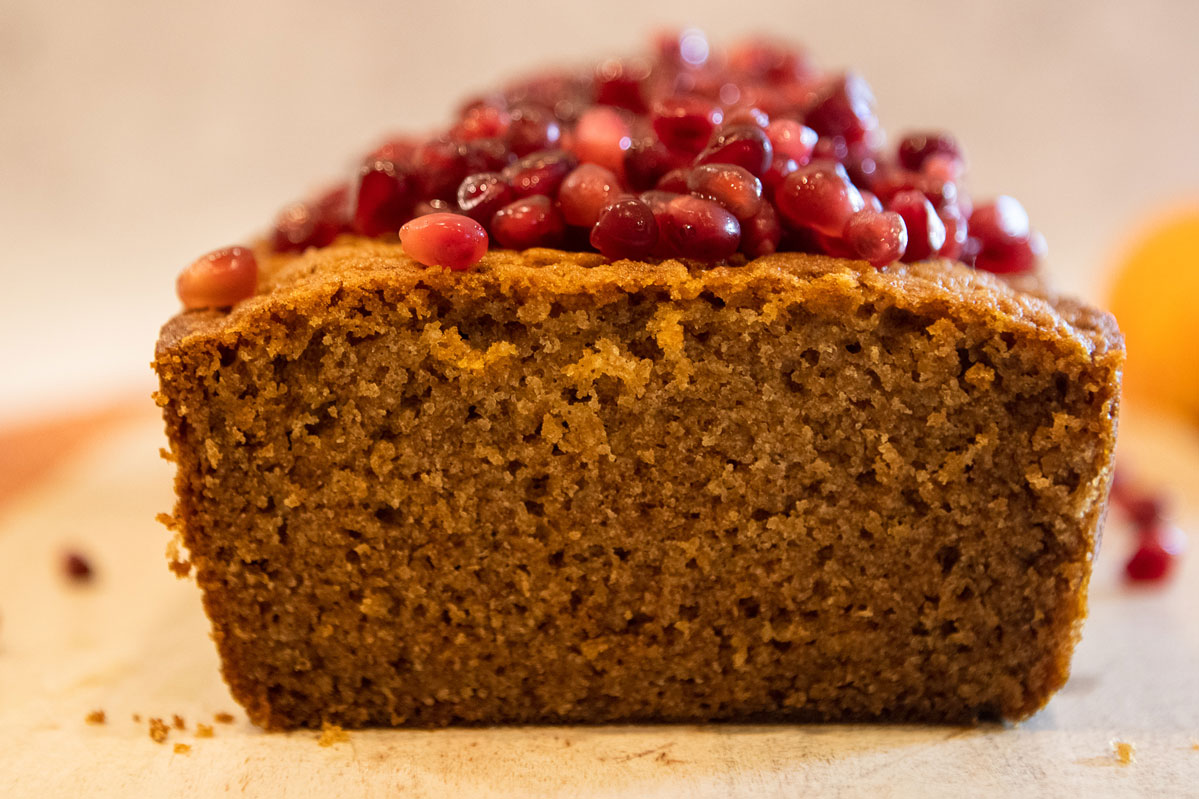 For a different take on a Rosh Hashana tradition, try Honey Loaf Cake.  Most of us are familiar with honey cake, but baking it in a loaf pan gives us another delicious way to snack on it.
Anything that includes honey (for a sweet New Year) is a tradition for the Jewish people as we celebrate the arrival of the Jewish New Year.  This twist on the traditional cake is sweet with honey and rich in flavor from the dark brown sugar.  Apple sauce (another nod to the tradition of Apples & Honey) is incorporated into the batter to moisten this cake.  I like to think that it's healthy in that I'm getting my fruit for the day!  Nice try, right?!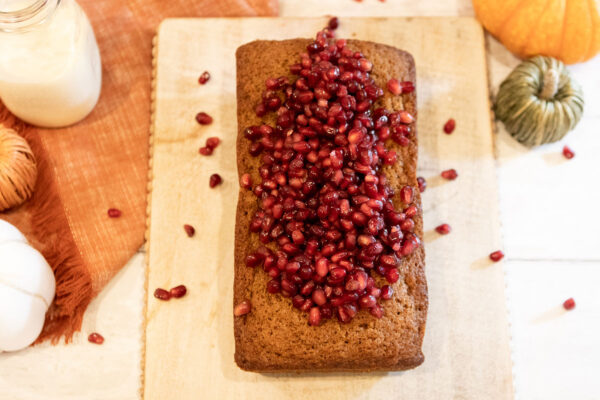 To make this delicious loaf cake, combine the flour, cinnamon, salt and baking soda in a medium bowl.  Mix the applesauce and honey in a small bowl or measuring cup.
In a stand mixer, beat the sugar and eggs on medium speed for a few minutes and drizzle the oil in slowly.
Finally, add the flour in three additions alternating with the applesauce mixture.
Pour the batter into a loaf pan and bake it until it's golden and the center is baked through.
Serve it topped with pomegranate seeds, drizzled with honey or dusted with powdered sugar (or all of the above)!
Lastly, if you make Honey Loaf Cake, be sure to leave a comment and/or give this recipe a rating! Above all, I love to hear from you and always do my best to respond to each and every comment. And of course, if you do make this recipe, don't forget to tag me on 
Instagram
! Looking through the photos of recipes you all have made is one of my favorite things to do!
Makes: 8 servings
Prep Time: 15 minutes
Bake Time: 40 minutes
Total Time: 55 minutes
Ingredients
1 & 2/3 cup unbleached all-purpose flour

2 & 1/2 tsp ground cinnamon

1/2 tsp baking soda

pinch kosher salt

1/3 cup + 2 tbsp honey

3/4 cup unsweetened apple sauce

3/4 cup dark or light brown sugar

2 large eggs

1 cup vegetable oil

2 cups pomegranate seeds, optional
Instructions
Preheat the oven to 340°F. Line the bottom of a nine-inch loaf pan with parchment paper and grease the sides.
In a medium bowl, sift the flour, cinnamon, salt, and baking soda together and set aside. In a large measuring cup, mix the applesauce and honey. Set aside.
In a bowl of a standing mixer, place the sugar and eggs and mix on medium speed for a few minutes until the mix is lighter in color. Slowly drizzle the oil into the bowl. Mix just until incorporated.
Add the flour in 3 additions alternating with the applesauce/honey mixture, starting and ending with the flour mixture.
Pour the batter into the greased loaf pan or divide between the mini pans. Bake until the center is golden and a toothpick comes out with a few moist crumbs from the center of the cake, about 45-50 minutes.
Remove the cake from the oven and let cool before slicing.
If you chose, drizzle the cake with 1/4 of warm honey or dust it with some powdered sugar.
Chef's Notes:
Do not over-mix the eggs, sugar, and oil otherwise; the cake will collapse at the center.
You can replace the applesauce with other acidic ingredients such as sour cream, buttermilk, or coffee.
Add up to 1 cup of chopped nuts and raisins to the batter.
The cake can be baked in a bundt pan, mini loaf pans, cupcake liners, or as a layer cake. Be sure not to fill the pan more than 3/4 full.
Best to store the cake at room temperature, covered for up to 3 days. Do not refrigerate.
To freeze, wrap the cake with plastic wrap and in a plastic bag and freeze for up to two months.
Recipe by One Sarcastic Baker