Red Velvet Crinkle Cookies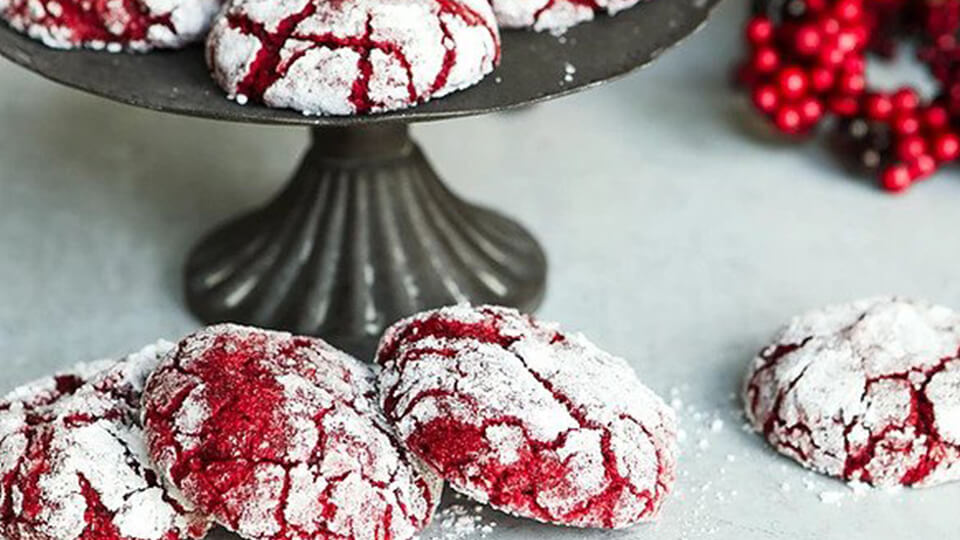 It is that time of year when all I want to do is bake and Red Velvet Crinkle Cookies are top of mind.  While I love savory cooking, it just feels like it's all about cookie exchanges, edible gifts, hostess bring-me's, teacher gifts…you get the drift.
​I adore making fancy cakes and tarts, but cookies are something that creates a wonderful nostalgic feeling for me.  My mom was a wonderful baker and always had delicious yummies for when we got home from school…chocolate sheet cake, apple crisp, and of course, cookies!  What I never experienced growing up, however, was red velvet.  Red velvet anything…not cookies, not layer cake, not muffins.
When I saw this recipe by Broma Bakery I thought it was just too pretty to pass up!  This is basically a light chocolate-flavored cookie with a lot of red food coloring.  Roll it, dip it in sugar and bake!  That's it!  Really!
What I love is that this can easily be an after-school treat for the kiddos or as part of a dessert buffet on New Years Eve!  You decide…either way, it's definitely a winner!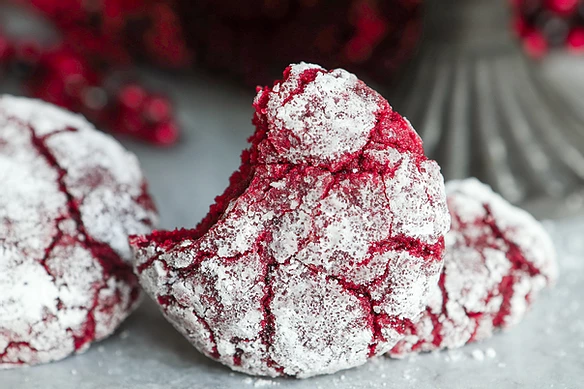 All you need to make this recipe is a mixer (I prefer the Kitchenaid…it's been my mainstay for over 40 years of baking. Yikes…hard to believe I've been baking that long!).  Blend the ingredients, use a cookie scoop for making uniform-size cookie balls, and then roll them in granulated sugar followed by a roll in confectioner's sugar.  Rolling them first in granulated sugar will help the confectioner's sugar stay affixed.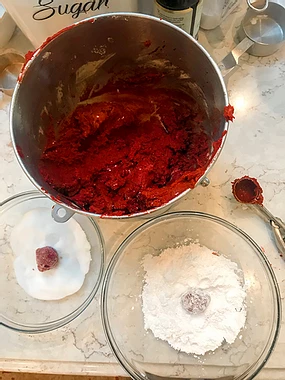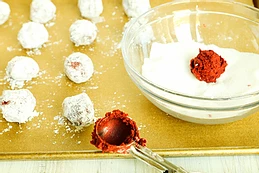 All those you gift these pretty little things to will be very happy!
Enjoy!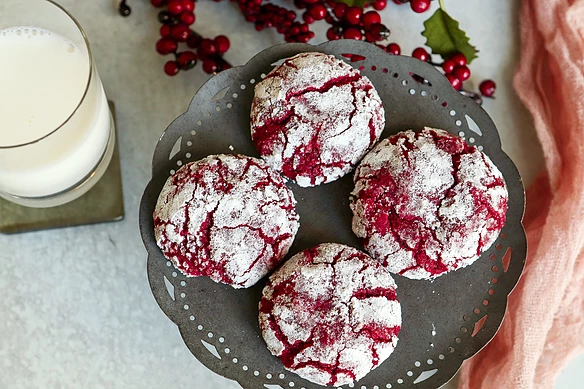 Lastly, if you make Red Velvet Crinkle Cookies, be sure to leave a comment and/or give this recipe a rating! Above all, I love to hear from you and always do my best to respond to each and every comment. And of course, if you do make this recipe, don't forget to tag me on 
Instagram
! Looking through the photos of recipes you all have made is one of my favorite things to do!
Red Velvet Crinkle Cookies
Makes: 24 cookies
Prep Time: 20 minutes
Bake Time: 10 minutes
Total Time: 30 minutes
Ingredients
1/2 cup butter, softened

3/4 cup brown sugar

1/2 cup granulated sugar

2 eggs, room temperature

2 tsp vanilla extract

1/2 tsp red food coloring

2 cups all purpose flour

1/3 cup cocoa powder

1 & 1/2 tsp baking powder

1/2 tsp salt
For Dipping the Cookies:
1/2 cup granulated sugar

1/2 cup powdered sugar
Instructions
Preheat the oven to 350°F and line a baking sheet with parchment paper. Set aside.
Cream the butter, brown sugar, and granulated sugar together in a large bowl until light and fluffy. Scrape down the bowl and add the eggs one at a time, beating between each addition. Add the vanilla and red food coloring, and mix well.
In a separate bowl sift together the flour, cocoa powder, baking powder, and salt to combine. Add the dry ingredients to the wet and beat together until combined.
Fill one bowl with granulated sugar and one bowl with powdered sugar. Use a 1 ounce cookie scoop (or tablespoon) to scoop cookies out. Roll the balls first in the granulated sugar and then in the powdered sugar to completely coat the cookie balls. Place on the prepared cookie sheet an inch apart. Bake for 10 minutes or until the cookies have puffed up and cracked, but are still a little gooey in the center. Allow to cool and enjoy with a glass of milk!
Recipe from Broma Bakery
Red Velvet Crinkle Cookies