Roasted Artichokes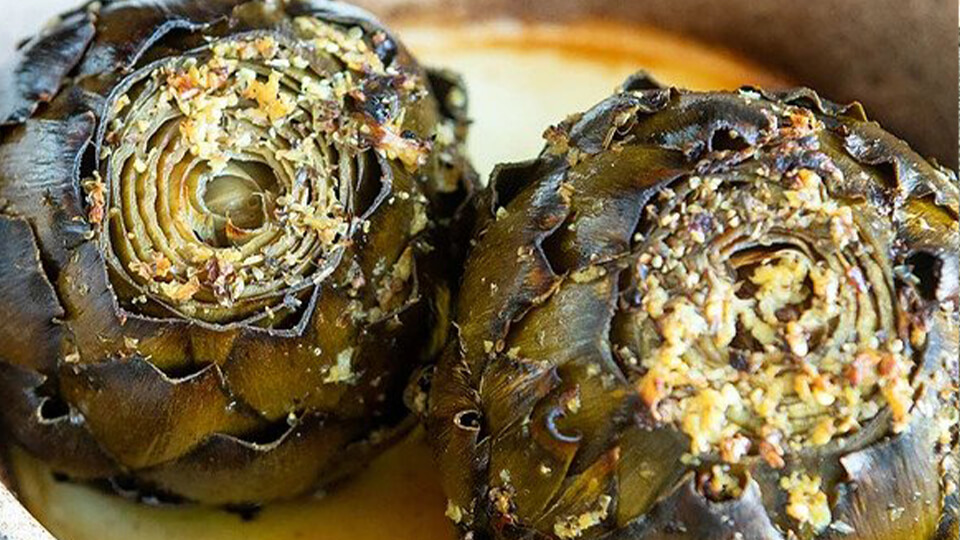 This classic Italian dish of Roasted Artichokes, also known as Carciofi Arrostiti, of artichokes basted with a delicious mixture of white wine, olive oil, oregano, garlic and chile flakes is a delicious addition to any main course. It is typically roasted over open embers, but with this easy process, you won't even have to get your hands dirty!
Right now, globe artichokes are plentiful. Look for an artichoke that is solid with tight leaves. Cut off the stem as close to the artichoke as possible and try to get it flat so that it can stand up.
Then, trim one inch off the top as in the middle photo above. I always cut the sharp tip off the remaining leaves. Pour the delicious sauce over the artichokes and roast at a high heat in the oven while basting with the flavorful sauce. These are delicious!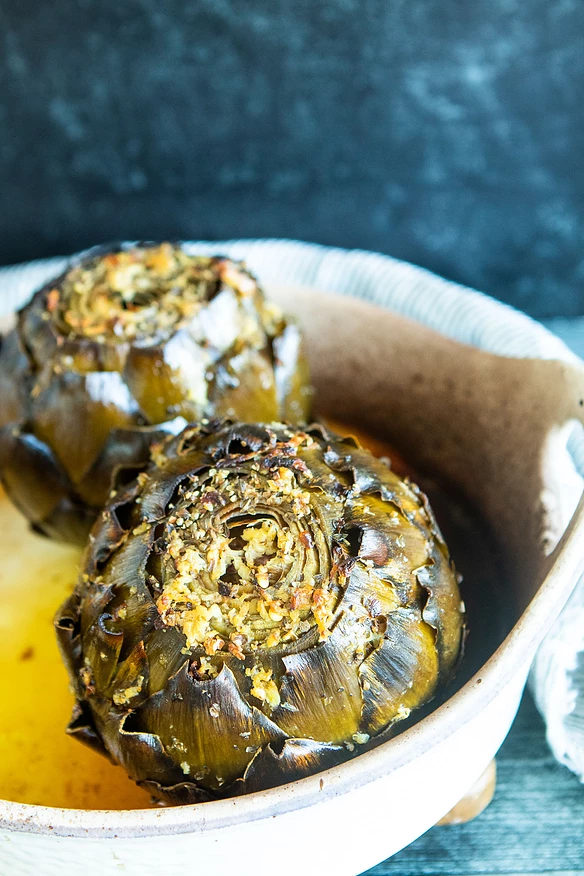 Lastly, if you make Roasted Artichokes, be sure to leave a review down below at the bottom of this page (stars are also appreciated)! Above all, I love to hear from you and always do my best to respond to each and every review. And of course, if you do make this recipe, don't forget to tag me on 
Instagram
! Looking through the photos of recipes you all have made is one of my favorite things to do!
Makes: 4 servings
Prep Time: 10 minutes
Cook Time: 1 hour & 15 minutes
Total Time: 1 hour & 25 minutes
Ingredients
3/4 cup olive oil

3/4 cup dry white wine

1 tbsp dried oregano

1/2-1 tsp crushed red chile flakes, to your taste

6 cloves garlic, finely chopped

4 globe artichokes, stems cut close to base and flat as possible

Kosher salt & freshly ground pepper, to taste
Instructions
Heat oven to 500°F. In a medium bowl, whisk together oil, wine, oregano, chile flakes, garlic, salt and pepper. Set aside.
Cut 1 inch off top of each artichoke. Using a kitchen scissors, snip off the sharp tips of the remaining leaves. Gently pull the leaves apart to open artichokes. Place them, standing up on their bases, in a small roasting pan or dish large enough to hold them in one layer.
Pour oil mixture over each artichoke, making sure it reaches in between all leaves.
Cover with aluminum foil, and bake for 45 minutes. Uncover and bake, basting often with juices, until browned and tender, about 30 minutes more. Let cool for 10 minutes before serving warm with pan juices.
Recipe from Saveur Magazine
Download PDF