Summer Fruit Crisp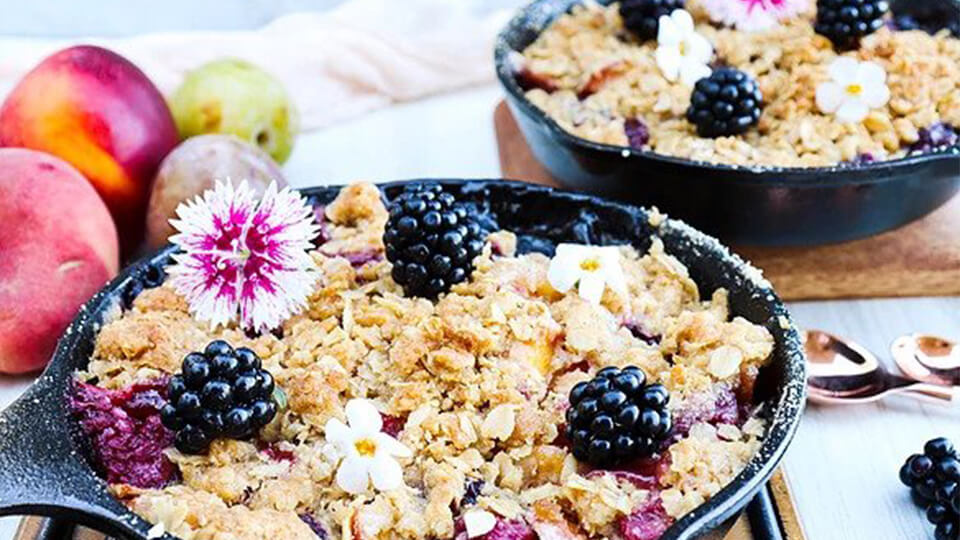 Happy Labor Day!  While this typically signifies the end of summer, there is no way I can let this weekend  go by without one last plug for summer fruit!  Summer brings the most amazing fruit. Not to say that I don't love a nice, crisp apple or pear, but there is something so delicious about peaches, berries, plums… summer fruit also brings a sense of nostalgia to me. Biting into a ripe, juicy peach reminds me of the peach tree growing in our back yard in Toronto. My 4 siblings and I would sit on the edge of the deck with peach juice running down our chins, and we'd then run through the sprinkler to clean up. I think of the raspberry bushes growing at the side of our house and the mouth-watering desserts our mom would bake for us. I am reminded of the plum tree that we'd have to be quick in the nabbing or the birds would beat us to the ripe bounty.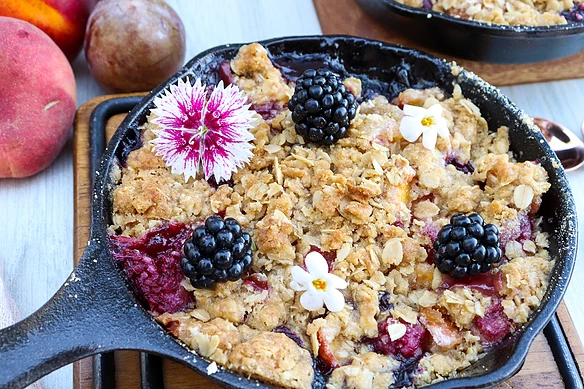 So when the summer fruit is in season, I'm all in! I'm baking pies and tarts. I'm freezing peach melba ice cream. I'm mixing blueberry lavendar Vodka Spritzes. But, my all-time fave is a summer fruit crisp. This one can use any summer fruit that you have; as long as it's ripe and sweet, go for it! I love to make my crisps in a castiron skillet (I especially love the presentation when using mini-skillets) but an 8"x8" baking dish or pan works just fine as well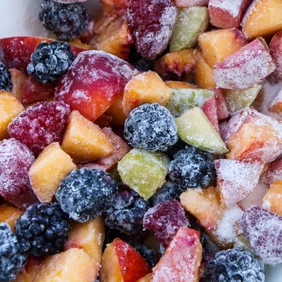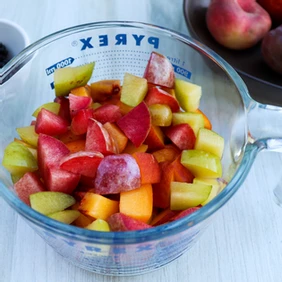 One thing to remember…ICE CREAM!!! How can you have summer fruit crisp without it??!!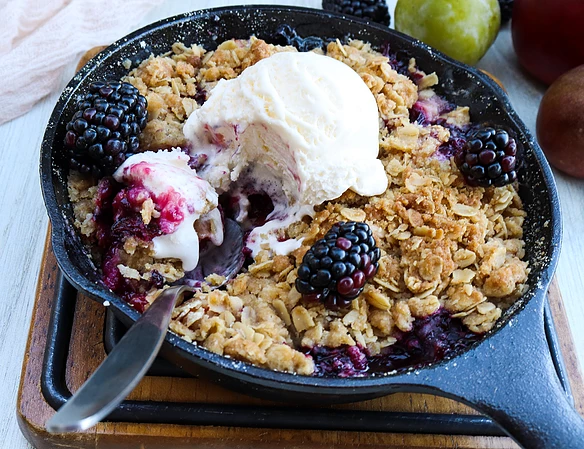 Lastly, if you make Summer Fruit Crisp, be sure to leave a comment and/or give this recipe a rating! Above all, I love to hear from you and always do my best to respond to each and every comment. And of course, if you do make this recipe, don't forget to tag me on 
Instagram
! Looking through the photos of recipes you all have made is one of my favorite things to do!
Makes: 4 servings
Prep Time: 10 minutes
Bake Time: 45 minutes
Total Time: 55 minutes
Ingredients
Filling:
5 cups chopped mixed fruit

(I used a combination of plums, nectarines, peaches, blackberries and raspberries)

3 tablespoons flour

1/3 cup granulated sugar

1/8 teaspoon vanilla extract
Crisp Topping:
1 cup oats

1/2 cup brown sugar

1/2 cup flour

1/2 cup butter, softened

 
Instructions
Preheat oven to 350°F. Have a 10-12" cast iron skillet ready.
In a medium bowl, mix fruit with flour, sugar and vanilla.
In a small bowl, mix oats, brown sugar and flour. Using a pastry cutter, chop butter into dry mixture until small clumps form.
Add fruit to the skillet and top with the Crisp Topping, spreading the topping evenly to cover the fruit (it's okay to have a little fruit showing through). Bake for 45 minutes until bubbly and the crisp topping is lightly browned.
Serve warm or at room temperature. Ice cream is a perfect accompaniment!