Salmon with Basil Sauce and Tomato Salad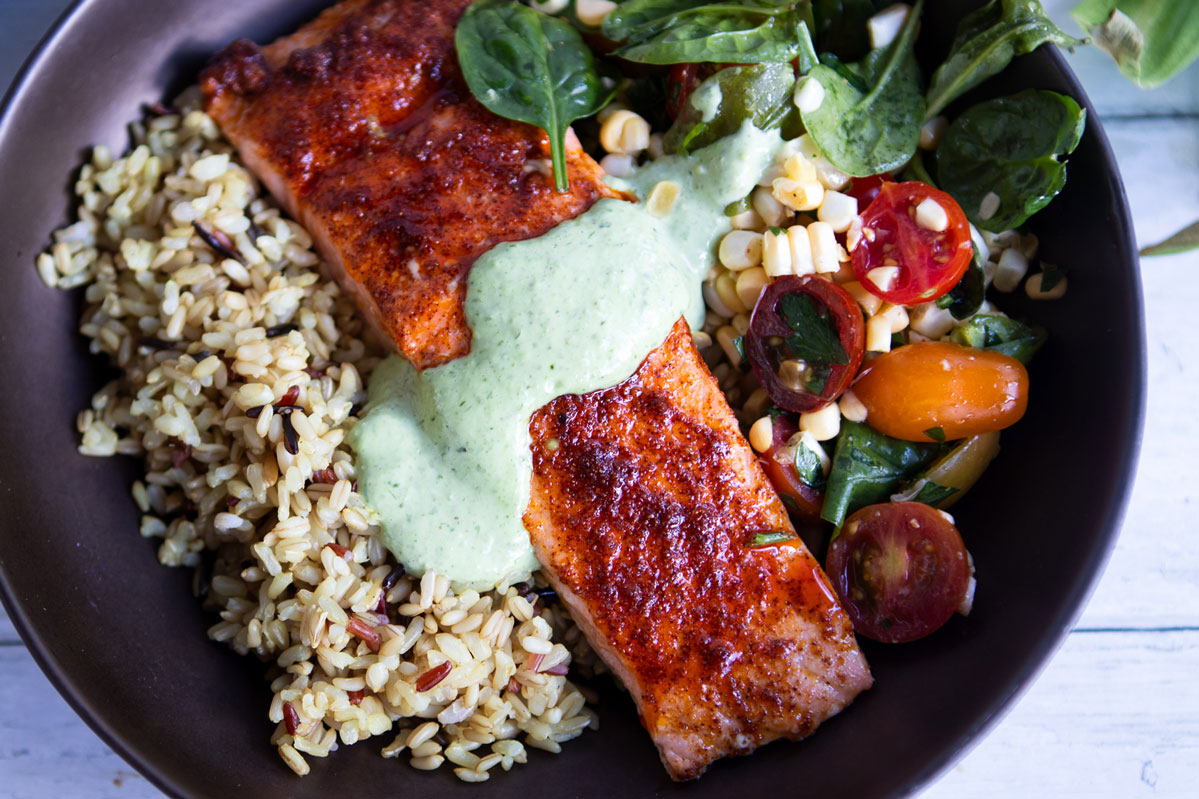 Salmon with Basil Sauce and Tomato Salad is a lovely, all-in-one dinner that will satisfy everyone!
A spice-rubbed salmon is baked and then plated with a fresh summer tomato and corn salad and topped with an herby basil sauce.  Add a rice pilaf or grain of any kind and you have everything you could want on the plate!
This is such an easy recipe!  It doesn't take any fancy utensils or appliances.
Simply combine the salad ingredients and set them aside.
Mix up the basil sauce by blending all of the ingredients in a blender or food processor.  Simple so far, right? You can even make the sauce a day ahead!
Combine all of the rub ingredients and coat the salmon filets.  Place the salmon in a pre-heated oven and bake for 9-12 minutes until it's done to your liking.
Prepare some rice or grains (I like to use the frozen, precooked ones and just heat them in the microwave).
Plate the salmon over the rice or grains.  Spoon some of the salad on the side and drizzle the basil sauce over the salmon.
Serve extra sauce on the side.  Enjoy this quick and simple dinner!
Lastly, if you make Salmon with Basil Sauce and Tomato Salad, be sure to leave a review down below at the bottom of this page (stars are also appreciated)! Above all, I love to hear from you and always do my best to respond to each and every review. And of course, if you do make this recipe, don't forget to tag me on 
Instagram
! Looking through the photos of recipes you all have made is one of my favorite things to do!
Salmon with Basil Sauce and Tomato Salad
Makes: 2-3 servings
Prep Time: 20 minutes
Cook Time: 12 minutes
Total Time: 32 minutes
Ingredients
Spice-Rubbed Salmon:
1 tsp paprika

1/2 tsp garlic powder

1/2 tsp onion powder

1/2 tsp coarse kosher salt

1 tsp granulated sugar

1 tbsp olive oil

1 pound salmon filet, cut into 2–3 pieces
Basil Sauce:
1/2 cup packed fresh basil

1 small bunch of fresh chives

1 tsp dried oregano, optional

1 clove garlic

1/2 cup mayo (more as needed to keep it creamy)

1/4 cup grated Parmesan cheese

1–2 tbsp lemon juice

small pinch of salt, to taste
Tomato Salad:
1 & 1/2 cup halved cherry tomatoes

2 ear sweet corn, cut off the cob

1–2 cups fresh spinach or spring greens

1 tbsp olive oil

2 tbsp minced chives or parsley

Salt, pepper, and garlic powder to taste

2 cups cooked rice or grains for serving (I use precooked to make it easy)
Instructions
Prep the tomato salad by combining all the salad ingredients and tossing. Set aside.
Make the basil sauce by blending the basil sauce ingredients in a food processor or blender until almost completely smooth, with just a few flecks of basil remaining.
Preheat the oven to 425°F. Mix the spices in a small bowl and stir in the olive oil. Coat the salmon with the spice paste.
Bake the salmon a parchment-lined baking sheet for 9-12 minutes, or until 135°F in the thickest part. (It's all personal preference, but this is the doneness that we like best – it's a medium-well done salmon.)
Plate the salmon over the rice, serve with salad, and spoon the sauce over the top. Season with salt and pepper. Enjoy!
Recipe by Pinch of Yum
Salmon with Basil Sauce and Tomato Salad